… like sinking into a hot bath, it's great to get back to the kitchen… (yes, even my soon-to-be-oven-less kitchen) and whilst, of course, I always appreciate the opportunity my job gives me to travel the world, the older I get, the happier I am to be home… especially when you have to deal with nasty, evil, bitter PR girls who have nothing better to do but make you feel small.
… and so to update you on the kitchen… the new extension seems almost complete from the outside, which means that they'll soon be knocking through from the inside… and then I really will no longer have a kitchen… it's all a bit dusty at present but we're coping fine… in fact The Viking writes about it very eloquently
here.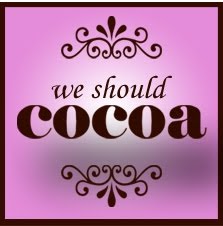 … so I thought the first thing I should do was to bake a cake and what better place to start than with my favourite bloggers challenge,
we should cocoa
, hosted this month by the lovely Chele at
The Chocolate Teapot
… it's a great challenge, which, if you don't already take part, I implore you to give it a go… each month the challenge ingredient changes but whatever they choose must be made alongside chocolate… anyway, its brilliant, so check it out…
… this month its apricots!… i do love these plump little nuggets of intense sunshine… I love them fresh, dried, tinned and they're especially nice in this cake!
Apricot Preserve and Dark Chocolate Cake
2 dessert spoons (4oz) apricot preserve
4oz chopped dried apricots
2oz chopped green and blacks dark chocolate with ginger
– quite literally bung it all (except for the chopped apricots and chocolate) into a bowl and mix it up into a batter
– stir in the chocolate and apricots then pour into a prepared tin.
– bake for 45 mins on 170C
i've melted some apricot jam and brushed the top, then sprinkled with some grated chocolate…
… eat and of course, enjoy!