me and the very lovely Penny Smith
… today I had my TV debut and it was OK… if I don't sound overly enthusiastic about it it's because I feel like crap with a stinking cold… which made it a little hard to sparkle… we're also really busy at work at the moment and my mind is elsewhere.
also, it's a funny, soulless business… all the staff are running around frantically working to deadlines and so they kind of throw you in and chuck you out and before you know it they've turned the spotlights off and you're left standing on a dark TV set wondering where the green room is, which they won't let you in to anyway because the assistants assistant might get fired if you catch a glimpse of Penny Smiths' elbow…
… I don't want to sound completely ungrateful… they were a lovely bunch really, the food was excellent and I got to meet one of my blog heroes Simon Majumdar from Dos Hermanos… who seemed to know EVERYTHING and anything about food and was full of wonderful words of encouragement about my blog.
Simon 
Majumdar
from Dos
Hermanos
and Mark the chef
I also do really love the premise of the show, which is all about hi-lighting locally grown food and producers; the idea is that the 2 chefs travel around the UK and talk to growers and bakers and then come back to the studio to cook the food… the two episodes I shot were all about South Wales… 
… I asked if they were planning to do one about Lincolnshire but all I got was blank stares…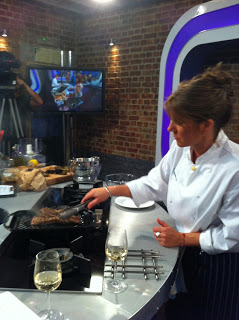 Maria, cooking her neck of lamb
… Mark and Maria cooked up some amazing seafood and shellfish in the first program followed by some incredible salt-marsh lamb and puddings made with Welsh whisky in the second… we also met an incredible cake baker who had produced a stunning decorated cake in the shape of a bag of Welsh produce… all in all an interesting day and a fascinating insight into the world of TV cookery… and I would love to go back and talk more passionately about my local food.
Mark's delicious whisky pecan brownie in a pan with whisky and vanilla cream
Maria's spicy neck of lamb with Baba Ganoush
lamb chop with pan-fried kidneys and sweet potato mash
the fruitcake masterpiece
… I believe the show airs sometime in November and I'll keep you all updated as to when and where… until then its back to the kitchen…