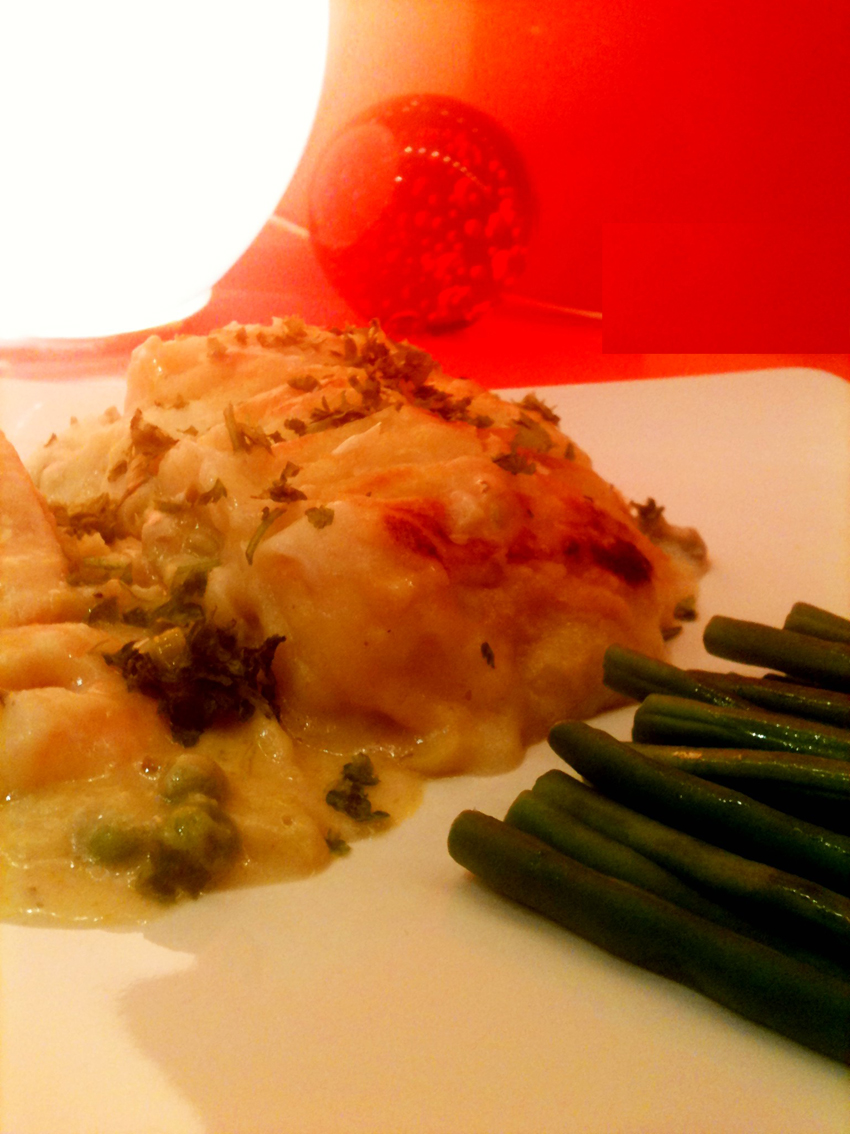 … down in London this weekend due to work load… big event with the Koreans on Monday (more of that next week…) and i'm fortunate enough to have some very good friends who are glad to have me snore on their spare bed for the odd weekend… The Viking and I used to live next door to Jenny and George back in the 90's… back in our heady club days… and there would be many a Sunday when we'd all gather hung-over  in one of our kitchens waiting for a chicken to roast…
… last night Jenny and I went out for a bit of a boogie and today we're both pretty much broken…
… so today an easy, but exceptionally tasty meal was called for and I could think of nothing better than fish pie.  We've slightly cheated with the mash potato topping… courtesy of Jenny's inspiration, via Delia and some frozen Aunt Bessie's mash… but all the other ingredients were freshly prepared… I mean for goodness sake, who can be bothered with mashing potatoes..? and like I say, we are broken!


recipe for a very large pie for 3 broken people

300g salmon
300g smoked haddock
300g black bream (although you could use any other plain white fish… we just found a good deal)
280g organic, raw tiger prawns
3 medium leeks
1 small fennel
a handful of frozen peas
1 tablespoon capers
2 teaspoons Dijon mustard
2 teaspoons English mustard
a glass of white wine
1 pint milk
1/2 pint Marigold Bouillon
2 tablespoons plain flour
some strong cheddar – grated
3 bay leaves
a handful of chopped chives
a handful of chopped parsley
s and p
– place all the fish, except for the prawns, into an oven-proof dish, add the bay leaves, cover with the milk and bake in a hot oven for 6-10 minutes – the fish should be just undercooked and you'll have wonderful stock for your sauce
– saute the leeks and fennel in butter until tender and then place in your pie dish
– once the fish is done, drain the milk (but keep it for the sauce) and place it into the pie dish with the leeks and fennel… add the un-cooked prawns, peas, the chopped capers, the chives and parsley
– melt about 4 teaspoons of butter in a heavy pan and then, off the heat, add the flour and stir until the butter is absorbed and it becomes a thick paste, gently heat this for about 2 mins until it turns dark golden  and smells slightly nutty.
– poor the poaching milk into the made up veg-stock and add a glass of white wine.  Slowly add this to the butter and flour paste, stirring all the time until you have a glossy, runny, sauce… at this stage it should be the consistency of single cream, but it will thicken
– you can turn the heat up now slightly but continue to stir and cook until it thickens to your desired consistency.. add the grated cheese and the mustards until it tastes how you want it to taste… we went slightly mustard-tastic because we need the punch to wake us up a bit!
– poor the sauce onto the fish pie and very gently mix it up… you want keep big chunks of fish
– place the frozen slabs of potato onto the top and bake in a hot oven for about 30 mins… don't forget to to fork the potato half way through cooking and grate some more cheese on top for extra cheesy crispy-ness.
totally perfect, intensely rich, easy peasy, fish pie loveliness… slightly less broken…
eat and of course, enjoy!