meanwhile in other parts of my life I have to remember that I still need to pay the bills and there are events for clients that need planning…
… in my real life I run an event production company called The Persuaders…  I often get to work with some interesting brands and sometimes if I'm lucky enough I get to travel to far-off exotic climes but nothing really prepared me for working with the Korean Ambassador and his team over the last few weeks…
… we were invited to produce an event to celebrate 60 years since the Korean War.  The event was an auction of amazing Korean art, followed by sumptuous 8 course dinner of Korean food designed by Paul Schenk, Head Chef and now Director of Food and Beverages at The Grand Intercontinental Seoul.  Paul specializes in a western version of traditional Korean dishes and he's been perfecting his art (and in this case it really is an art-form) for the last 6 years in Korea…
… the event itself was pretty simple but the logistics were a nightmare, organising dinner for 90 in a small venue with no kitchen, liaising with a chef who was thousands of miles away and 8 hours ahead of me and working with a team from the Embassy who'd never really done anything like this before but had very exacting ideas of what they wanted, which clearly didn't correspond with what they could afford!
We got there in the end and as you can imagine, the highlight for me was getting to work with such an amazingly creative chef and better yet, to sample all the incredible food!…
… I also got to meet the lovely Sunyoung Kang who runs URBY International which is the only organic food producers association in Korea… she was an incredible, feisty woman who has single handedly changed the face of the Korean organic food production… and as a gift to the diners at the event she had produced the most beautiful hand bound book of the menu, with recipes and photos for each course.
… the 8 courses were as follows:


Japache
sun-dried vegetables wrapped in a light noodle pouch constructed to represent a traditional Korean money pouch known as a Bokjumoney.  The dish was served with 2 seared scallops and an intense garlic and bellflower root pesto.
Manduguk
steamed Korean tofu dumplings served in an incredibly light beef broth, traditionally served on New Year's Day as each dumpling represents a wrapped fortune.
Haemul Pajeon
a seafood savory pancake, traditionally eaten when it rains.  This dish was very light yet was intensely prawn flavoured.
Ginseng Sorbet
This course was designed as a pallet cleanser.  The work that went into the sugar art was phenomenal.  The ginseng tasted of Asia…. it's hard to describe… but that's what I got from it.
Kalbi Gui
a very unique dish to Korea… the ribs are marinated and cooked over charcoal and has a sweet intensity to it.  The special pine mushrooms were £600 per kilo and the chef bought 7 kilos from Korea with him!
Bibimbap
the signature dish of Korea which is so simple to make and very healthy and tasty.  It includes steamed rice, pumpkin, bellflower roots, bracken, egg, kelp and a red pepper paste.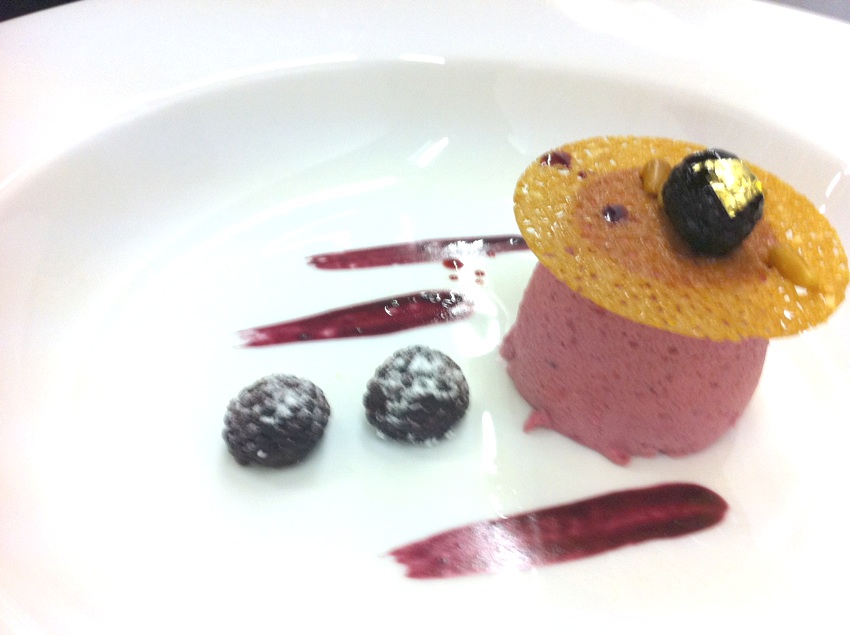 Bokbunja
a wild blackberry native to Korea, used for making herbal medicines.  Here it was made into a light mousse, topped with a Korean style hat of caramel and real gold leaf.
… the final course was an Omija Cha or Korean herbal tea made from dried fruits.
… the whole meal a delight for both the pallet and the eyes and a wonderful way for
us to learn about the culture and fascinating history of Korean food.  I promise to try my hand at some of the recipes from Suny's amazing book and post them up here sometime soon.