… or so said Erik the really cool surfer-dude at Rudy's Barber Shop on Main Street in Santa Monica, who cut my hair last week… and he totally did… best looking hair I've ever had.
… he also told me of some great places to visit and more importantly made some wonderful suggestions for places to eat… an insiders view of any city is always worth listening to and this guy was no exception, plus he was so totally amazing looking I think I would have taken his advice had he told me to eat at McDonald's!
… I guess this holiday could be split into three, so seeing that this first portion of the trip is coming to an end I thought I'd find the time to up-date you all on our fabulous Californian vacation… so whilst I sit here in the lobby of The Delfina in Santa Monica at 7am in the morning I am reminded of some of the highlights…
… it mainly revolves around breakfast… they just do it so well… and with so many options… and it's so filling… eggs come fried (sunny side up or over-easy), scrambled or as an omelet (egg white only, should you be so inclined)… bread comes white, sour-dough, rye, wheat… and you know, I'm the kind of guy that has to try it all… I swear to god my stomach is hanging ever so slightly larger than this time last week!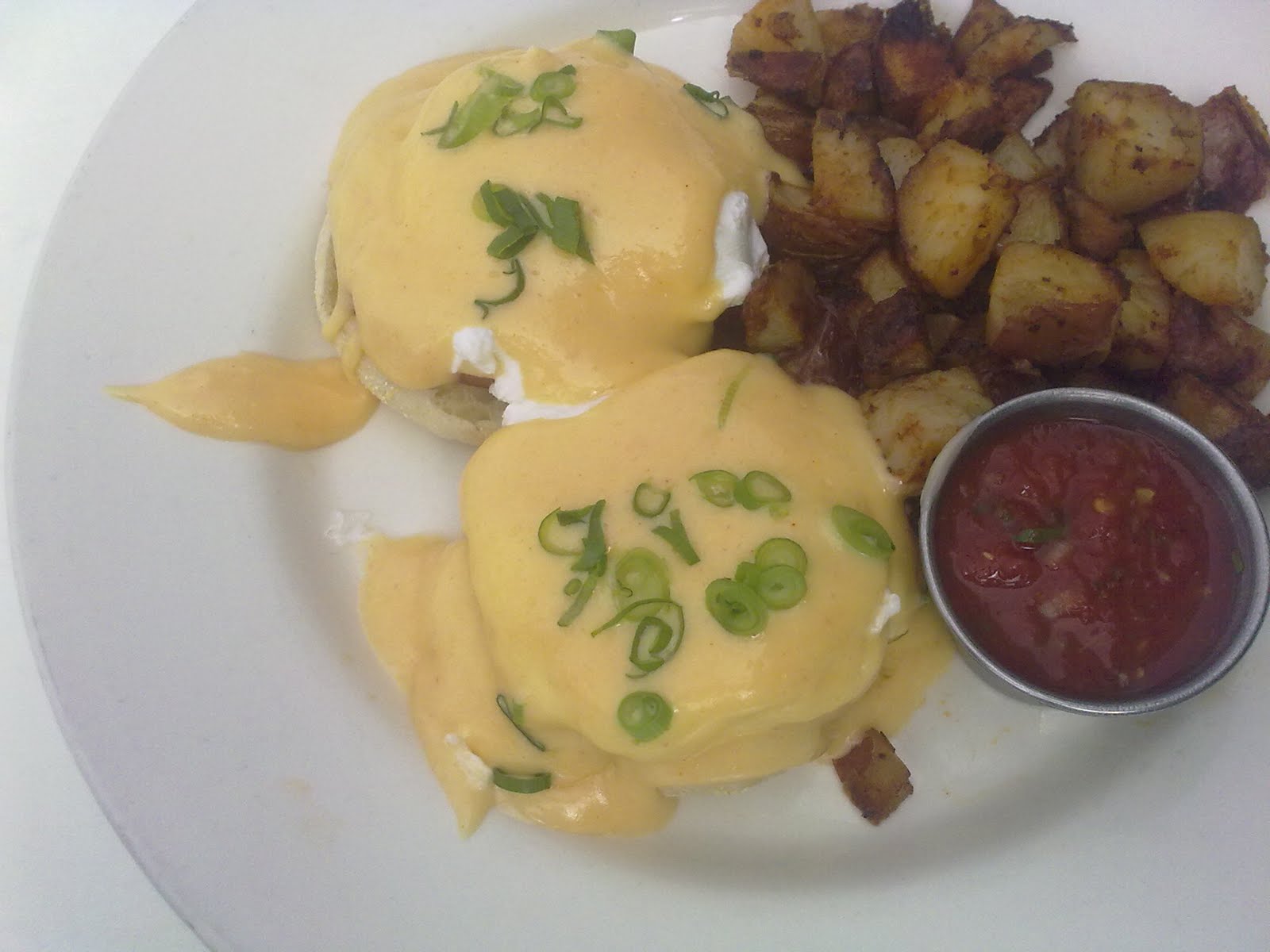 eggs Benedict at The Figtree
… we discovered The Fig Tree cafe the first time we were fortunate enough to come here for work and it's remained a favourite for breakfast ever since… and what's not to love?… situated on the beachfront in Venice, it's a short stroll past the crazy LA morning joggers, roller-bladers, surfer-dudes, hippies, muscle queens and general madness that is Venice to this breakfast joint that comes with a Mexican twist.  Omelets are served with a chili sauce and all the food comes with spicy fried potatoes…
… other highlights include a stunning birthday dinner at The Little Door, a French/Moroccan restaurant where I had a succulent roasted duck leg which was, quite literally to die for!… Toast, a very trendy little spot in Hollywood where I had a splendid Cob Salad…. the Intelligentsia Cafe which served the MOST pretentious (but delicious) coffee I've ever drunk anywhere in the world, served by the MOST pretentious staff in the world… ever… and we can't forget the pretzel pizzas at 3 Squared, situated on our new favourite street Abbot Kinney.
I love the styling and shape of this lemonade bottle
plus the bottle top (see above) has the coolest message
coffee from intelligentsia
pretentious… moi?
We also had an impromptu mezze at the home of our dear friend Danelle (and her lovely partner Ken)… a simple dish of Goats Cheese served with a sliced cured meat, some delicious heirloom tomatoes, salted and dripping with olive oil and some incredible ricotta buffalo mozzarella… this dish has totally inspired me and I will be serving and blogging this on my return to the UK.
cake stands anyone?
Clearly there's too much to go into in one post so I will leave some of the details till I return… next on our tour is the road trip up the coast to San Fran… we plan to stay in some cute B and B's en-route and I'll report back once we're eating somewhere fabulous on the road!
until then, wish my stomach good luck!