… so we're driving up the Pacific Coast Highway from LA to San Francisco and we blow a tyre… all very exciting, particularly when Jane, the very small but bossy lady who lives in the Sat Nav directs us to the nearest Auto Repair place which just happens to be in a nowhere town called Gilroy, home of Garlic World (a museum dedicated to the garlic) and the cutest mural proclaiming that Gilroy is indeed the Garlic Capital of the World… how profoundly perfect for a food blogger… did we stay to look around and discover Garlic World and all it had to offer?…. did we hell…
… previous to this we stopped at the quantest town in the world (my moniker, not theirs)… a place called Cambria…
… it's a very small town split in half by the PCH… on one side it has the beach and about 10 streets of delightful, wood-clad houses, all rambling up the side of the hill and all with the most incredible views of the coast and on the other side is Main Street which has a row of quant little Bed and Breakfast homes and chocolate-box style restaurants and cafes and a smattering of galleries and shops offering delightful and charming quirky gifts and home-made goods, such as Linn's who serve locally grown and baked on the premises, Olallieberry pies….(FYI the Olallieberry is a cross between a loganberry and a youngberry… it looks like a giant loganberry and tastes devine!) … and The Garden Shed where Abner the cat sat proud amongst the whimsical signs and antiquated plant pots…
… the local architecture is American Victorian which essentially means all the houses look like they're made from gingerbread and anything new built has to blend in… including the car wash!
… we stayed a couple of nights and ate really well, particularly at the Italian restaurant where I had a huge bowl of pasta and meatballs that was so fabulously a perfect representation of traditional american food and quite frankly delicious.
… it was hard to say goodbye to the delights of Cambria but we had to continue our drive up the PCH towards San Francisco… the PCH hugs the coast as it climbs up and down through nature reserves and pine forests… passing little towns such as Carmel and San Simeon as well as larger cities such as Monterey… we've done the drive before but never in such misty conditions… they've had a bad summer on the west coast this year and we've been through a lot of it!
… the first time we did this drive, about 10 years ago, we happened across a wonderful restaurant called Nepenthe, in Big Sur… this redwood, hand-built building, erected in the 50's is a place of folklore and legend, with tales of hippies, film stars, artists and food… 'Nepenthe' in Greek means 'Isle of no care' and it truly is a place to stop, to dream and to lift a cup of kindness…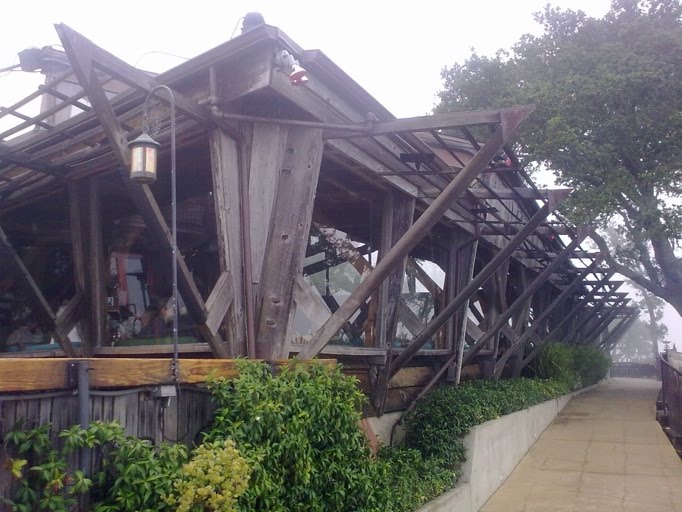 …. shrouded in mist, with (when visible) stunning views of the ocean, I liken it more to the mythical town of Brigadoon which appears only once every hundred years… it holds a special place in my heart, as the second time we did the drive we couldn't find the place… but this time we did and i'm so glad we re-discovered their HUGE basket of fench fries!  (on our first visit I had just finished a year on the dreaded Atkins diet and these were the first potatoes I had eaten since I had lost 2 stone… so you can imagine how much I enjoyed them!…)
… this visit I had their special of the day which was a roast brisket sandwich with a red-cabbage coleslaw… oh so packed with that intense brisket beef flavour… and  The Big V had the Vegetarian Burger, a clever grilled tofu pattie, served with all the trimmings… it truly was one of the best meals we've eaten and we savoured every moment…
… it was after this lunch stop-over that we blew our tyre and had the mini visit to Gilroy… it was then on to San Francisco for a very brief day and night of more food and fun… dinner and even more pie at The Grove restaurant in Pacific Heights and a funky manga themed hotel in Japan Town called Tomo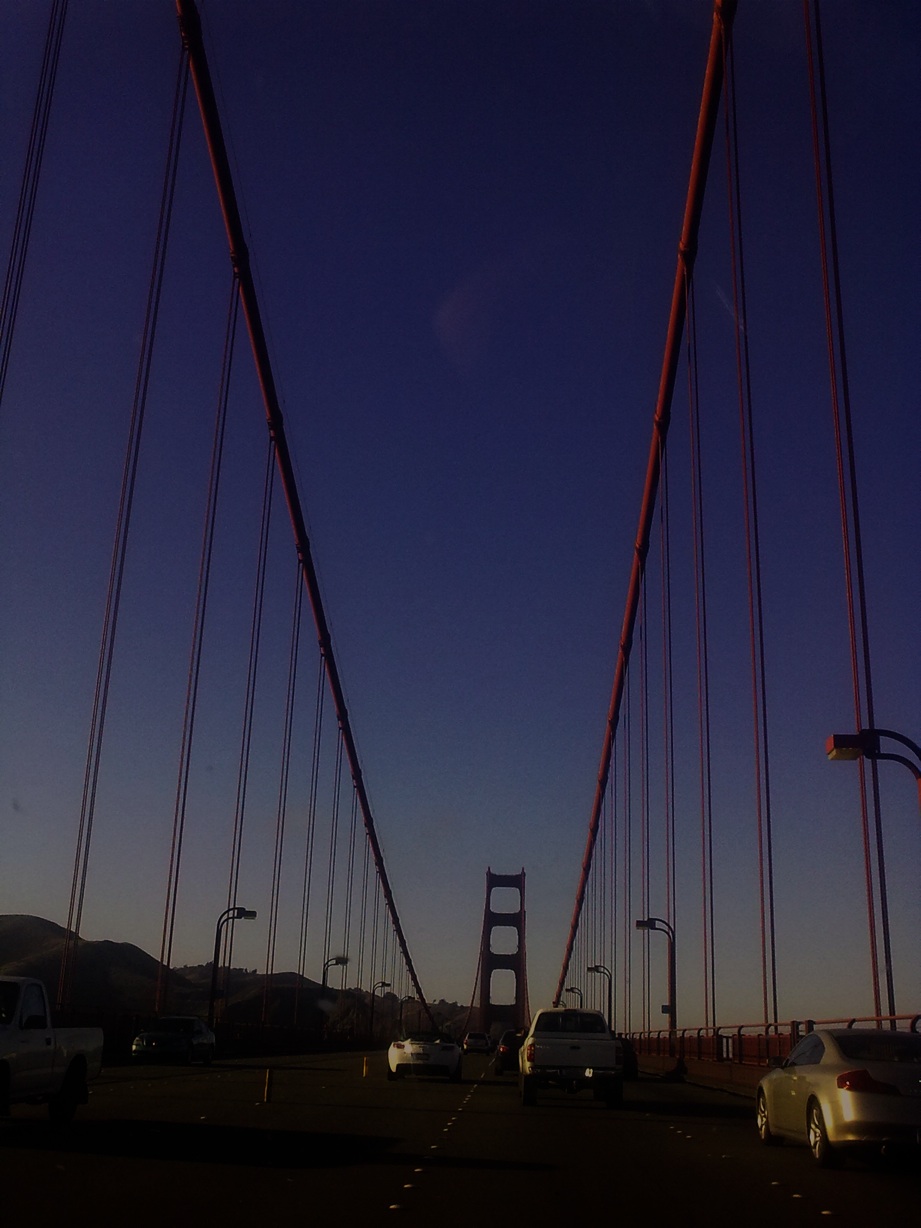 blackberry pie at The Grove
… we also visited the infamous Fisherman's Wharf…. totally tacky but well worth the visit… the Americans really seem to know how to do the tourist stuff well, everything is so perfectly 'disneyfied' from the boardwalk to the quant chocolate shops… but even the sandwich emporiums and food they have to offer are better quality than we would do it in the UK…
Boudin's
, famous for it's sourdough, whilst packed with tourists, was still baking fresh bread on the premises (in the shape of sea creatures) and its clam chowder in a bread bowl looked very tempting!… and finally the sun came out too! 
what a cool and clever way to serve take out
love this… only in America!
boudin bakery lobster sourdough
The final part of our road trip begins today as we're off to visit my dad and family… it's wine country so i'm off to stock up on hangover pills now!