As I type this the smell of warm bread wafts gently and tantalisingly through the cottage…
…well, that's what i want to type but it's not true.  It's 9am on Saturday and whilst that's not particularly early, I'm knackered because at 6am this morning I got up to knead the dough for my cottage loaf, put it in the airing cupboard, went back to bed, then got up at 8am to knead again and am now waiting for that final rise to take place before I can shape it and bake it!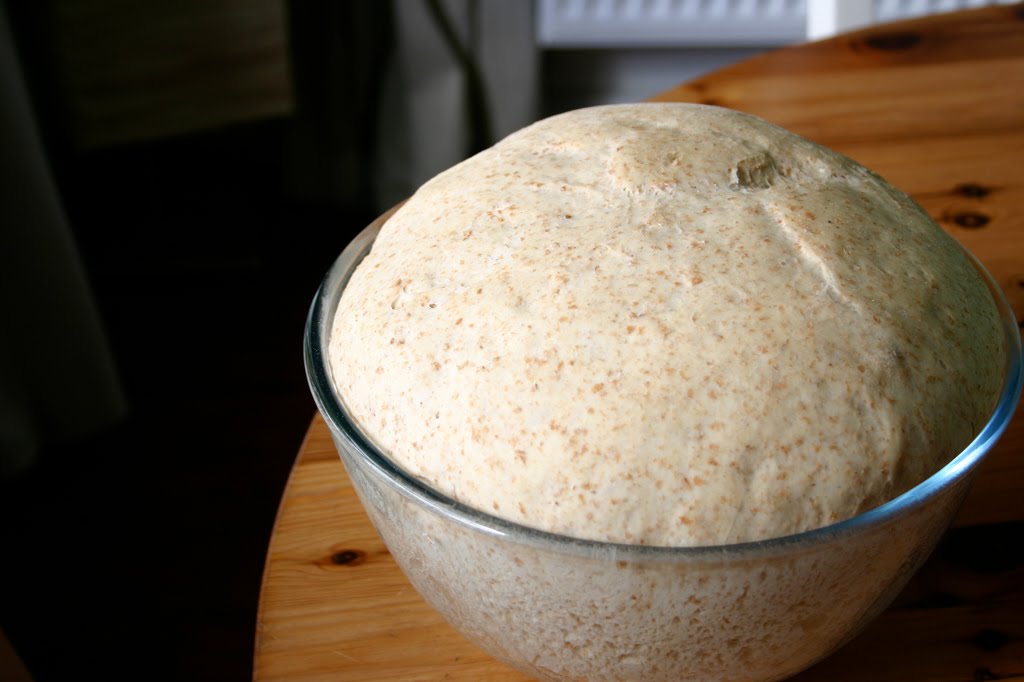 At this rate the bread won't be ready till lunchtime…. For goodness sake… what time would I have to get up to have fresh baked bread for breakfast?
…so now i'm going back down to switch the oven on and finally bake the bread…
45 minutes later and wow, she's a beauty!
I'm following a classic cottage loaf recipe taken from one of those thin 'how to…' recipe books that my neighbour Tracey lent me.  Remember this is practice for the loaf i'll bake for the Village Show in August so it has to be a classic recipe… nothing fancy or clever… not too large or too small… just a traditional Cottage Loaf.. or as we say here in Belleau Cottage… a… loaf.
It asks you to make a 'starter' with the yeast and some extra flour and this really makes the whole thing rise to titanic proportions.
The Recipe
Makes 2 loaves
Ingredients


10oz / 275g wholemeal flour
10oz / 275g plain flour
4oz / 115g strong white flour
4 tsp salt
2oz / 50g butter at room temp
16fl oz / 475ml lukewarm milk
FOT THE STARTER
1 sachet (7g) dried yeast
8fl oz / 250ml lukewarm water
4oz / 115g plain flour
1/4 tsp sugar
1. For the starter, stir together the yeast, water, flour and sugar. Cover and leave in a warm place for 2-3hrs or overnight in a cool place. (I left mine overnight)
2. Place the flours, salt and butter in a bowl and rub together (you can do this bit in a food processor.) Stir together the milk and the starter, then slowly poor it into the mixed flour bowl and start to bring it together… I folded this with a spatula and as it started to come together I moved in with my hands… this bit is very tacky and messy but it's supposed to be… keep the bag of flour open and close by so you can throw some in when it gets too much!  Transfer it all to a floured surface and knead until smooth and elastic… took me 15 minutes and plenty of flour.
3. Place in an ungreased bowl, cover and leave to rise for 11/2 hours.
4. Transfer to a floured surface and knead briefly, return to the bowl and leave to prove for a further 11/2 hours
5. Divide the dough in half and then cut off one third of each half.  Roll all your sections into balls.  You should have 2 large balls and 2 small balls.  On a baking sheet covered in greaseproof paper place the small balls on top of the large balls to form 2 cottage loaves. Press the centre with the handle of a wooden spoon to secure and slash the top.  Cover with a plastic bag and let them rise again for about 15mins
6. Preheat the oven to 200c and bake the dough, sprinkled with a little wholemeal flour for 40-45 mins or until browned.
Now the house smells amazing! I think I may be in with a chance…
eat and of course, enjoy!