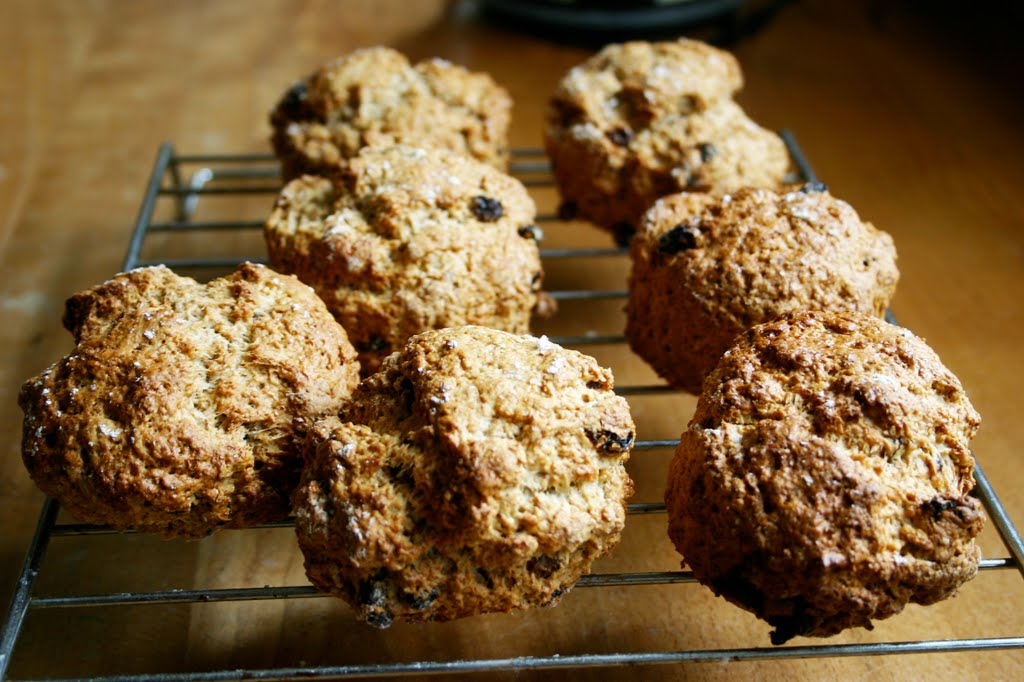 Sometimes I feel like I'm living in some kind of twisted Enid Blyton book… it's not all cream teas, cucumber sandwiches and lashings of ginger beer y'know but some weekends, when the sun is out and we're sitting on the upper terrace playing scrabble as the barn owl flies past with a small furry creature in it's talons… as Holly runs down to the babbling river and chases after ducklings and we find little frogs hiding under stones in the lupin beds… then, yes, it's all a little Swallows and Amazons!
…next paragraph to be read in a plummy English accent:
Today was no exception when all of a sudden Tracey came up with the most spiffing idea… why don't we make scones when we get back from the gardening centre?… we'll pop into the local green grocers and pick up some freshly made raspberry jam and some double cream for whipping!… ooh rather, said the boys with glee in their eyes…
Somehow the next scene is me in kitchen, baking scones and them in garden waiting for scones… but hey ho… I'm the one with the food blog…
I've decided rather deliberately to steer away from the plain fruit scone today and go for something more exotic… um… the wholemeal scone.  As most avid readers will know I follow a Delia recipe for my plain scones and it has never failed me yet, so I've tweaked that a bit and added an egg for richness and here we are…
and a little tip here… if you wish for well risen scones, I have found you need to double any recipe you see written down (except this one… I've done that for you) and don't roll out the dough, just pat it down to just over half the depth of your pastry cutter.  Scones don't rise you know.  They swell, so you need to make them the depth you want them…
oh and be quick and light with your hands.. don't knead this, you're not making bread!
Ingredients
6oz wholemeal flour
6oz self-raising flour
2oz butter or margarine
2 tsp baking powder
3 oz brown sugar
1/2 tsp ground Cinnamon
2oz mixed fruit (i used raisins)
2 eggs – beaten
4 tablespoons milk (or more if it's a bit dry)
Put the flours into a bowl with the sugar, baking powder, cinnamon and sugar and rub in the fat.  Add the mixed fruit and then the beaten eggs and milk and bring together with a pallet knife.
Form into a dough with your hands and quickly turn out onto a floured surface to cut.  Brush the top with milk and bake for 15 Min's at 200c or until golden.
eat and of course, enjoy!