I've been doing an awful lot of savoury stuff recently and now I fancy something rich and sweet…. I've adapted the very popular Delia Smith recipe for Baked Apple and Almond Pudding to make the most of the last of the rhubarb… I thought it had all gone but Tracey trimmed and tidied her plant and cut off the very last of the stems.  Some too woody to use but what I managed to put into this pudding still tastes sweet and sharp and full of summer.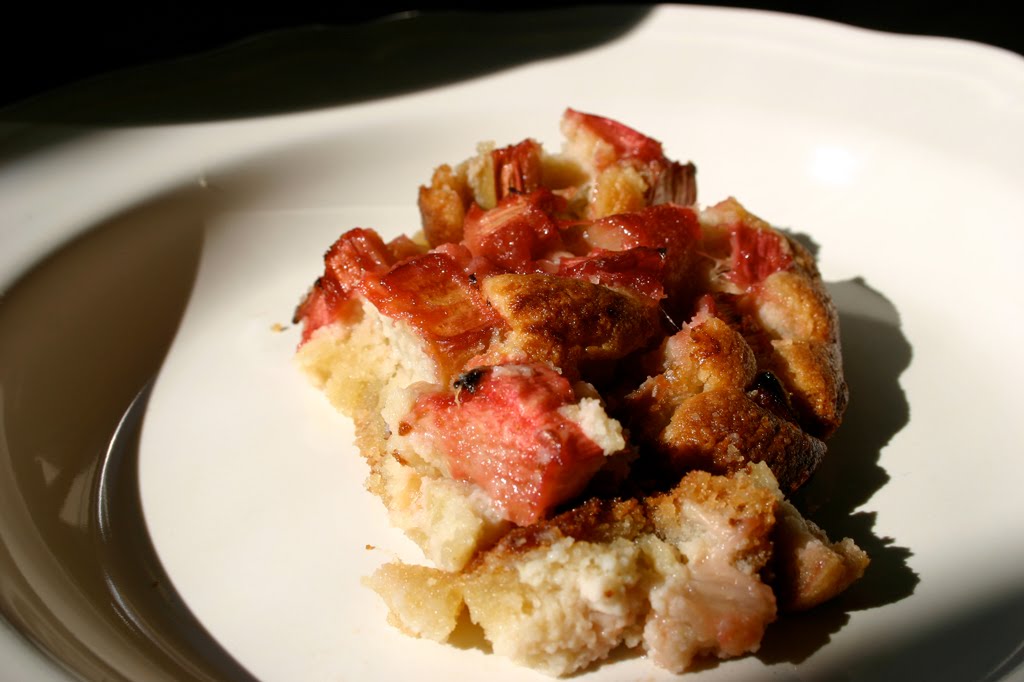 Our Lady Delia of Smith says that the baked apple version can be eaten hot or cold and will keep in the fridge for up to 3 days (and I assume the same for my rhubarb adaptation…) but what with The V and Nigel working up a sweat digging in their gardens it hasn't actually lasted to the end of this post…
Ingredients


1lb of rhubarb (i used about 6 stalks cut into chunks)
2oz soft brown sugar
4oz butter at room temp
4oz caster sugar
2 large eggs beaten
40 oz ground almonds
On a very low heat place the cut rhubarb and brown sugar into a large saucepan and let it all melt together, but watch it… don't let it burn.
Meanwhile, cream the butter and caster sugar till light and fluffy, then add the beaten eggs a bit at a time, stirring until it's all incorporated.  Then gently fold in the ground almonds.
By this point your rhubarb should be ready… In Delia's recipe she says to put the baked apples into the pie dish first but i'm doing it the other way round… poor the almond mix into the dish and lay the rhubarb on top.  Bake it for 1 hour at 180c.  This way, as it cooks the rhubarb will caramelise and the almond mixture will rise up and gently surround the fruit, wrapping it in a soft blanket of sweetness.
eat and of course, enjoy!