chicken thigh, butterbean and orzo casserole
It's casserole and stew season and for me that can only mean one thing… chicken thighs. This chicken thigh, butterbean and orzo casserole is a divine way to cook them.  I've made my case for chicken thighs a thousand times before and quite frankly, if you haven't been paying attention then, more fool you.  In brief, they are without doubt, the best part of the bird.  With bone in and skin on, they are tender, moist and have a layer of fat wrapped around the juicy little nugget of flesh that keeps them self-basting in a slow-cook casserole.
Here's I'm cooking them with butterbeans, green beans and orzo for the ultimate one pot meal.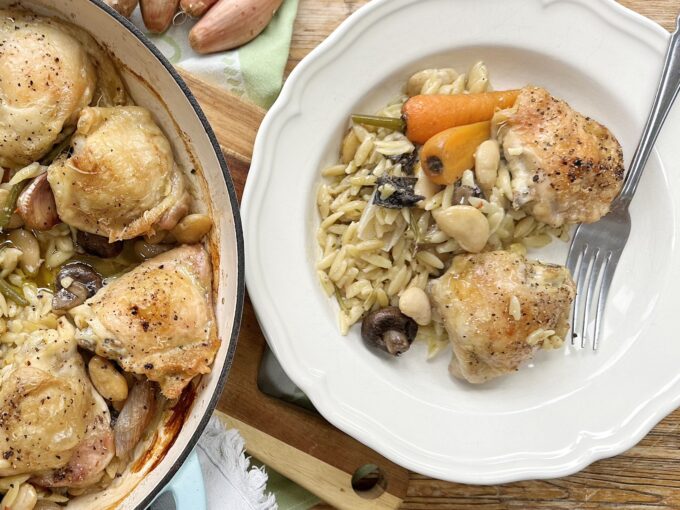 cooking
I'm using my 30cm shallow casserole pot with a lid from Denby. Any roasting tin or casserole will do, shallow is my preference as I think it makes it look prettier and is easier to serve.  If you don't have a lid, you can use foil.
4 chantenay carrots – halved
3 banana shallots – peeled and halved
150g button chestnut mushrooms
100g green beans – halved
4 cloves garlic (I don't bother peeling them)
1 x 400g tin butter beans – drained
fresh rosemary and thyme
salt and pepper
one glass white wine (or 150ml chicken stock if you want to be alcohol free.))
olive oil
150g orzo pasta
8 chicken thighs – skin on, bone in (don't argue with me on this!)
Time to cook
Pre-heat your oven to 170C (fan) / 338F
Start the dish by placing all the veg, the butterbeans and the fresh herbs into your pot, drizzle with oil and season well with salt and pepper. Lay the chicken thighs on top. Skin side up and pour over the wine or stock. Place the lid on (or cover tightly with foil.) Place in the oven and roast for 45 mins.
Remove from oven (and turn the oven up to 180c / 356F)
Take off the lid (or foil) and set aside somewhere safe, then remove the chicken thighs from the top and place them on a plate.  Pour in the orzo and stir everything around.  There should be plenty of liquid from the wine / stock and the chicken thighs but you can always add a splash of water if needed.
Place the chicken thighs back on top and season them with salt and pepper and a little drizzle of oil.  Now it's time to place the dish back in the oven without the lid for another 45 min or until gloriously golden and all the liquid is absorbed into the pasta.
Serve in the centre of the table, family style.
For more chicken thigh recipes, check these out on Dom in the Kitchen.
Eat and of course, enjoy!