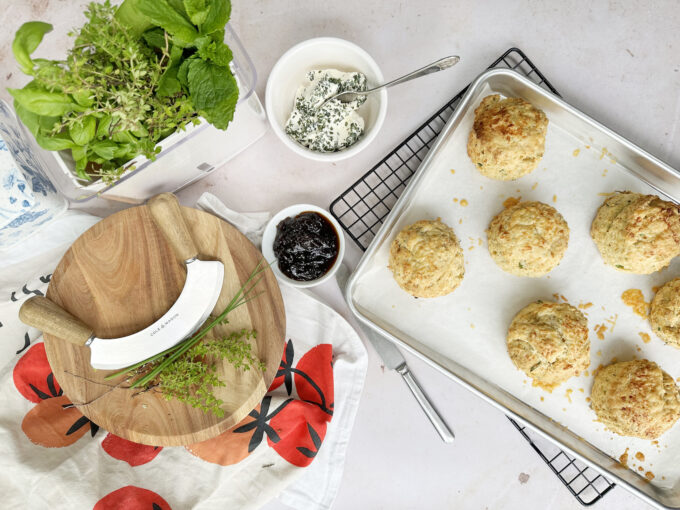 One of my favourite things to eat is a scone.  Come summer or winter I will whip up a batch just as a special treat.  I usually go for the sweet version but these cheese and herb scones are undeniably delicious and work just as well as a savoury treat as their sweet counterpart.
Cole & Mason
I've developed these cheese and herb scones as part of my paid partnership with Cole & Mason.  As they're packed with fresh chopped herbs, I'd recommend using the Tealby Freshly Cut Herb Keeper Pot and the Ashden Acacia Mezzaluna Herb & Chopping Board
340g self-raising flour, plus extra to dust
1 tsp baking powder
½ tsp salt
½ tsp cayenne pepper
1 tsp Dijon mustard
1 tablespoon fresh chopped chives
1 tablespoon fresh chopped thyme
83g chilled salted butter, cubed
150g mature cheddar, finely grated, plus 50g grated
90ml skimmed milk
pre-heat the oven to 200°C fan/ and line a baking sheet with parchment paper.
Sift the flour, baking powder, salt and cayenne pepper into a bowl. Add the cubed butter and rub together with your hands until it resembles fine breadcrumbs.
Mix in the finely grated cheese and chopped herbs.
Stir the mustard into the milk and pour into the bowl and, using a knife with a cutting motion, mix everything together quickly and evenly. Bring the mixture together quickly with your hands into a smooth ball, then put on a lightly floured work surface. Resist the temptation to knead it.
Gently press out the mixture using the heel of your hand to 2.5cm thick. Cut out the scones using a 6cm scone cutter.
Brush the tops of the scones with milk and sprinkle with a little more grated cheese.
Place the scones onto the baking sheet, spaced well apart, then bake for 12-14 minutes until richly golden and cooked though. Remove the scones from the oven and allow to cool slightly before serving.
For more scone recipes, check these out on Dom in the Kitchen
Eat and of course, enjoy!