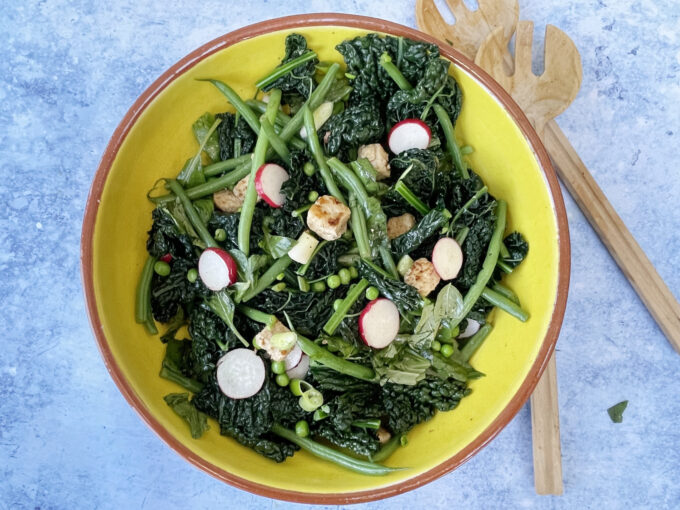 The cavolo nero, green bean and pea salad is the very expression of Spring.  Yes,  I know it's only January, but I desperate for Spring to be in the air and I wanted to share something wonderfully green (and ever so slightly virtuous!) I also wanted to make something using some of the delicious fresh new Spring veg and this Cavolo Nero, which is essentially a fancy Kale is not only perfectly in season it's also locally grown here in Lincolnshire which is a double bonus.
The dressing for this cavolo nero, green bean and pea salad is inspired by Asian flavours and is delightfully tangy with a piquancy that compliments the green veg beautifully whilst it tickles your tastebuds!
For the salad
150g Cavolo Nero – roughly chopped
150g fine green beans
6 radish – sliced
5 spring onions – chopped
75g frozen peas – defrosted
The juice of half a lemon
150g Quorn Chicken Style Pieces (could use diced chicken)
1 teaspoon Chinese 5 Spice
1 tablespoon sesame oil
For the dressing
2 tablespoons sesame oil
2 tablespoons olive oil
2 teaspoons apple cider vinegar
2 teaspoons soy sauce
1 teaspoon honey
Steam the Cavolo Nero and Green Beans for no more that 4 minutes, then plunge them into ice cold water. Drain well and pat dry with towel.
Defrost the peas and then plunge them into ice cold water. Layer all the veg into a large salad bowl and squeeze the juice of half a lemon all over.
In a wok or frying pan (or an air fryer) sauté the Quorn chicken-style pieces in the sesame oil and 5 spice until they begin to turn golden.  Lay them across the top of the salad.
The Salad Dressing
To make the salad dressing, place all the ingredients into a clean jam jar with a lid (or bowl) and shake vigorously until combined.  Pour all over the salad and then toss the salad well.
For more salad recipes, check these out on Dom in the Kitchen.
Eat and of course, enjoy!