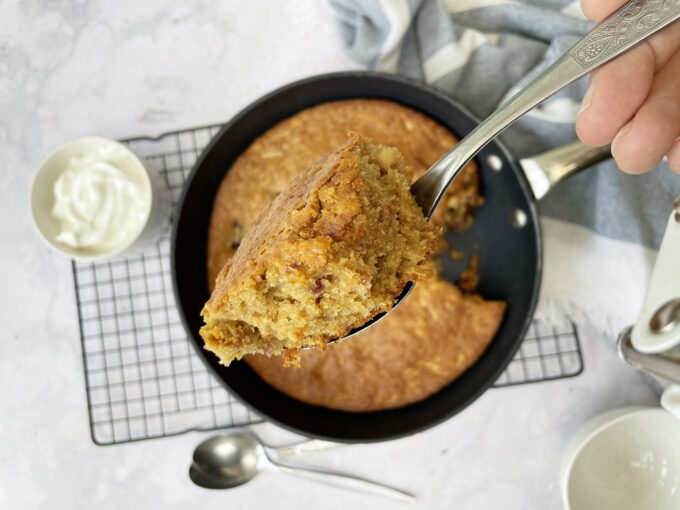 This blackberry and porridge skillet cake is one of the most glorious breakfast cakes made in a frying pan you'll ever eat. If a pan cake seems like an unusual idea to you then think again because it's such a simple way to make a cake and literally takes minutes.  I whisked all the ingredients together by hand and then you literally dump it into the pan and bung it in the oven.  What could be easier or taster?
TIP
Ensure you use an oven-proof frying pan with a metal handle (known as a skillet in the US) and be sure to wear oven gloves when touching the handle.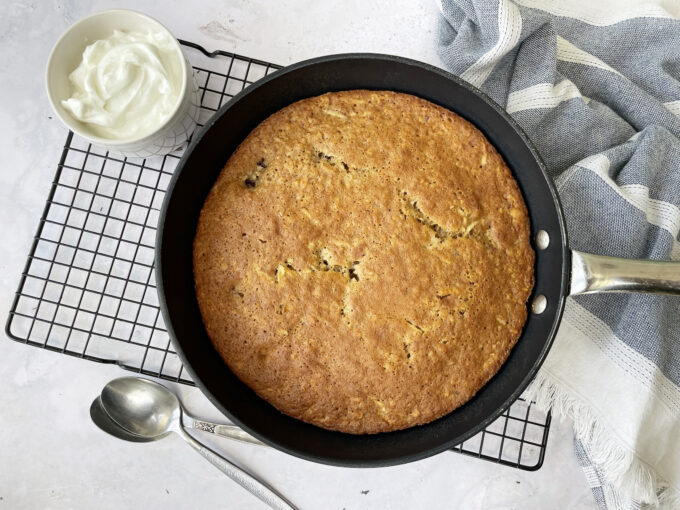 100g dark brown soft sugar
2 large eggs
90ml extra virgin oil
130g self-raising flour
1/2 level teaspoon bicarbonate of soda
100g blackberries
1 apple – grated
1 tablespoon jam
50g porridge oats – I used the wonderful Scottish porridge oats with maple syrup from Nairns
grated zest of 1 orange
Pre-heat the oven to 170ºC and grease a 20cm skillet pan that is oven-safe.
Place the sugar, egg and oil in a bowl and whisk them together for 2–3 minutes until the sugar has dissolved.
Sift the flour and bicarbonate of soda into the bowl and fold all this in gently. Once that is evenly combined,  add the rest of the cake ingredients and gently fold in.
Pour the mix into the skillet. Bake near the centre of the oven for roughly 35 minutes or until it's golden and risen and springy and firm in the centre.
Eat and of course, enjoy!