Last Minute Christmas Puddings, with a naughty chocolate sauce!
You're granny will have told you that you should have baked your Christmas puds months ago and let them mature under the bed.  She's probably right but just in case you didn't, here's a super-fast recipe for a last minute Christmas dessert that's part pudding and part cake.  It has all the ingredients; fruits, candied peel, nuts and of course booze, it's just a lot lighter than the more traditional puddings.  Plus it's served with a very naughty chocolate sauce laced with grand-mariner for that special chocolate-orange hit.
I'm using some adorable mini-bundt cake silicone moulds but it can easily be baked in a small loaf tin and sliced for serving.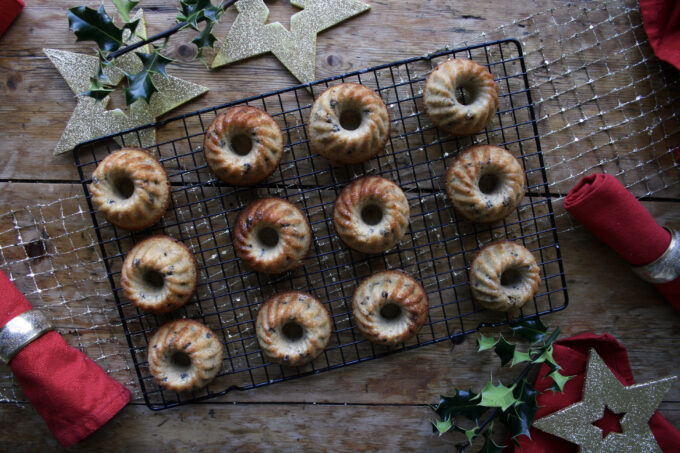 for the cake
225g butter – room temperature
22gg caster sugar
3 large free-range eggs – beaten
100g self raising flour
75g wholemeal flour
75g ground almonds
1 teaspoon ground cinnamon
1 teaspoon ground ginger
1 teaspoon real vanilla paste
the juice and finely grated zest of one orange
1 400ml jar of mincemeat
for the chocolate grand-mariner sauce
200g dark chocolate – chopped
240ml double cream
2 large nobs of butter
3 tablespoons of grand marnier or other liquor of your liking
Start with the cake
I'm using some fancy little silicone bundt moulds but you could use buttered ramekins or a 2lb loaf tin which you should grease and line with parchment paper.  Pre-heat the oven to 180C
It's an all in one cake and the only thing that really matters here is that your butter is very soft, so ensure you leave it out the night before making the cake.  Place all the ingredients except the mincemeat, into the bowl of a stand mixer and beat well for about 5 minutes until it's blended. Then add the mincemeat and beat in again. Spoon the mixture into your cake tins and bake for 25 minutes or until it's gloriously golden. Set aside to cool.
Meanwhile, to make the nasty chocolate sauce, heat the cream in a pan and when it's hot (but not boiling) take it off the heat and add the chocolate and butter to it.  Stir well until the chocolate has melted, then add a generous glug of Grand Marnier and stir in
Serve one per person, or a slice each, with the hot sauce (this can be kept warm on the hob or by a fire.)
For more Christmas recipes check out these on Dom in the Kitchen.
Eat and of course, enjoy!