#AD. This post is in conjunction with TUI but all thoughts are my own.
This is my version of a Canadian Metis venison stew with bannock and it's inspired by the fab new cookery show on Prime Video called The World Cook, which is available to stream from the 17th December. Essentially 16 contestants from around the world go head to head, creating dishes from their home countries!
I'm making this traditional Canadian Stew and flat-bread and it's an absolute winner in my opinion. It's also the perfect companion to this TV show for foodie lovers the world over!
The show is brought to us by our lovely friends at TUI which is genius because TUI is the world's number one name in travel, taking holidaymakers to 85+ destinations everywhere from the Med to Asia and the Caribbean. You can book your next holiday with TUI here.
I've slightly adapted the recipe from the original seen in the show to make it simpler to create.  I also don't have a pressure cooker (which was in the original recipe) so I needed add a slow-cooking element to this dish which adds a glorious depth of flavour and will diffuse an aroma through your home which is out of this world!
For the stew
1.5kg venison (if you can't get venison then stewing steak would work just as well
2 tablespoons olive oil
2 tablespoons butter
1 medium white onion – diced
2 garlic cloves – minced or grated
1 teaspoon salt
1 teaspoon pepper
1 carrot – diced
3 medium potatoes – diced
2 sticks celery – diced
2 tablespoons plain flour
1 litre stock – chicken or beef stock
3 dashes Worcestershire sauce
1 400g tin chopped tomatoes
For the bannock
2 cups strong white bread flour
2 teaspoons baking powder
1/2 teaspoon smoked seasalt
1 egg
1 cup milk
fresh sage – finely chopped
a little butter and oil for frying
I'm using a large casserole dish with a lid – pre-heat your oven to 150C
start with the stew
Place the venison into a bowl and sprinkle over a tablespoon of plain flour and a pinch of salt and pepper.  Stir it around so that all the cubes of meat are coated.  Set aside.
Melt a little butter and olive oil in your pot and then sauté the onions until beginning to soften, then add the garlic and the rest of the veg. Saute for a further 8 mins, then remove the veg from the pot and set aside.
Add a little more butter and oil to the pan and then add the venison.  You want to brown it off until it's a nice dark caramelised colour, so roughly 4 or 5 minutes.  Do this in batches to not overcrowd the pot.
Stir the vegetables back into the pot with all the venison, then add the tinned tomatoes and Worcestershire sauce and stir well.  Pour in the stock, pop the lid on and place it into the oven for a good 3 hours, maybe even 4.  You want the meat to be gloriously tender.
now make the Bannock
In a large bowl, combine the flour, baking powder, salt and freshly chopped sage.  Then slowly whisk in the milk and egg until the dough almost holds together.
Transfer it to a lightly floured surface and knead a few time until it comes together – but don't over-knead. Set aside and let it rest for a couple of minutes.
Place a large heavy pan on a medium heat and add some oil.  Divide the dough into 6 portions and flatten them out into rough triangle shapes. Make a slit in the middle of the triangle and then fry on both sides until golden.
As they come out of the pan, brush each one with a little melted butter.
Serve with the stew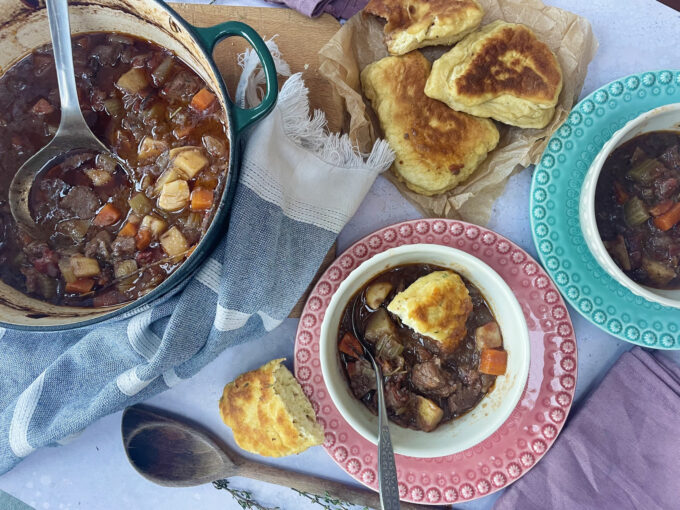 For more stew recipes, check these out on Dom in the Kitchen.
Eat and of course, enjoy!