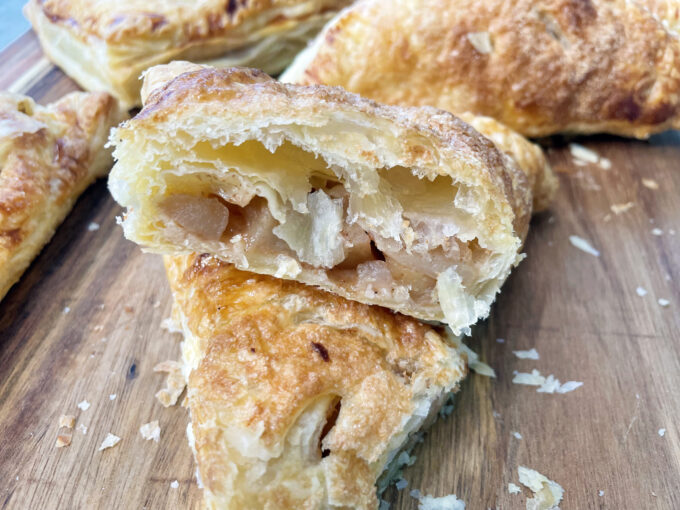 We were in one of the fancier supermarkets the other day spending the last of our money on eggs when The Viking noticed they had freshly baked apple turnovers for sale.  I hadn't had an apple turnover for years and they were rather wonderful.  Crunchy sugar-topped flaky pastry gave way to sweetly scented stewed apples. Simply glorious and Laos ridiculously easy to make at home.
Especially with the seemingly endless glut of apples that my neighbour brings me.  These particular apples which look a little like Royal Gala were actually quite bland but I thought they'd be perfect spiced up in an apple turnover with a little cinnamon and ginger.
This recipe makes 12 turnovers.
6 or 7 medium apples – I think a mix of eating apples is the best for a turnover
1 teaspoon cinnamon
1/2 teaspoon ground ginger
1 tablespoon golden syrup
the juice and zest of half a lemon
1 egg – beaten
a little sugar for sprinkling
2 sheets of ready-rolled puff pastry – I got mine from Sainsbury's
Start with the apples. You want to peel and quarter them, then cut away any core. Chop them.  I like them nice and chunky but they can be any size you like.
Place them into a pan and add the cinnamon, ginger, golden syrup, lemon juice and zest and stir well.
Place the pan on a gentle heat and let them stew, stirring regularly, for about 8 mins.  You want the apples to soften but not totally collapse.  A little bit is nice.  Set them aside to cool.
Roll out the pastry sheets and cut them into 6 squares.  These ready rolled puff pastry sheets come in regular large rectangles which should divide easily into 6 squares.
Gently fold the pastry squares over so their corners meet to create a triangle. Then unfold back to a square. Lay a spoonful of stewed apples onto one side of the fold leaving an edge all the way around so that when you fold it back over you can seal the edges.
Use water or beaten egg to seal the edges and then crimp with a fork. Once all the pastry triangles are filled, brush them with beaten egg and sprinkle with sugar.
Bake in a pre-heated oven set to 170C (fan) for 25 – 35 mins or until they have puffed up and are gloriously golden.
Set them aside on a wire rack to cool.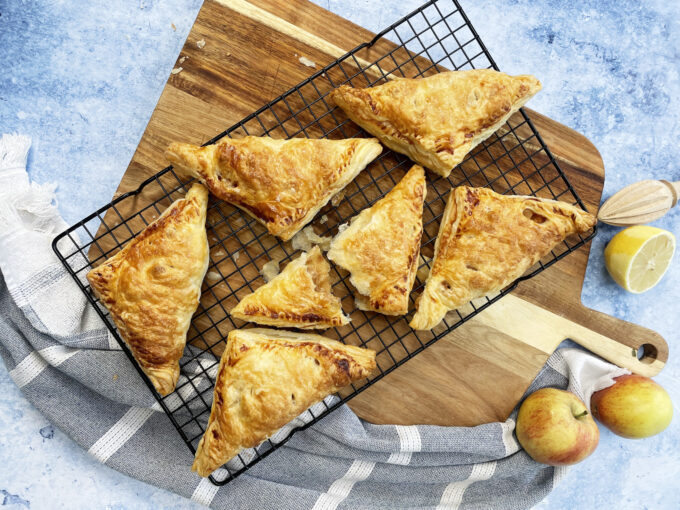 For more pastry dishes, check these out on Dom in the Kitchen.
Eat and of course, enjoy!