This creamy asparagus and sausage pasta bake is the perfect one pot meal and the ultimate in comfort food.  It's also a super-tasty option for a family-style Sunday lunch.  It will feed at least 4 hungry bellies and is easily adaptable to include either meat-based or plant-based sausages.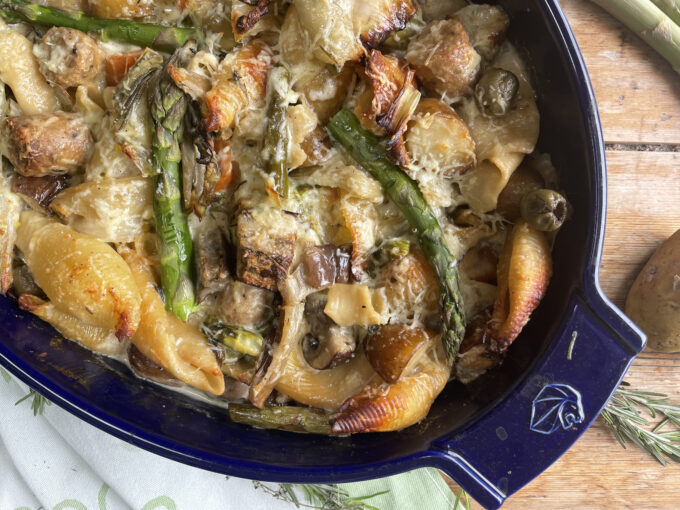 The Dish
PR SAMPLE | I'm cooking it all in my new Peugeot Saveurs Appolia 40cm ceramic oval baking dish in blue, which is such a brilliant large size.  As the name suggests it comes from the French car makers.  Who knew they made such stylish bakeware too?  It's one of those clever dishes that can go from freezer to oven without cracking, so I know it's going to be a really stylish and useful addition to my kitchenalia.
Here's the recipe:
1 medium onion – sliced into wedges
one large carrot – roughly chopped
1 large leek – roughly chopped
5 or 6 new potato – chopped
1 fennel bulb – cut into wedges
half an aubergine – cut into chunks
6 large chestnut mushrooms – cut into chunks
6 sausages – cut into bite-size chunks
1 whole garlic bulb – cut in half through the middle
a handful of olives
100g pasta – I used giant shells but any pasta would work
100ml white wine
100ml vegetable stock
olive oil
fresh herbs – I used rosemary and thyme
salt and pepper
150ml double cream
150g very strong cheddar – finely grated
So this is literally one of those 'throw it all into a pot and bung it in the oven' types of dishes, but actually I do do it in stages.  I set the oven to 180C (fan) and then place all the root veg into the pot, season with salt, pepper and fresh herbs, cover with foil and then bung in the oven for 35 – 40 mins.
Then I whip it out of the oven, take the foil off and mix in the rest of the ingredients along with the stock and wine.  It goes back into the oven for another 35-40 mins until everything is golden.  Even the pasta gets a bit crispy which I adore.
Finally I take it out of the oven, stir in the cream and the cheese and then it goes back into the oven for a final 10 mins to get more golden and bubbly.  So simple.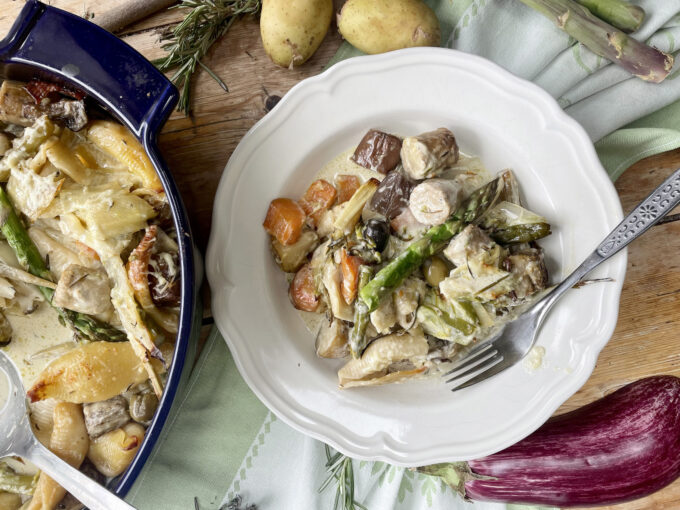 For more pasta recipes, check these out on Dom in the Kitchen.
Eat and of course, enjoy!