Chilled leek and potato soup with asparagus, fennel and lemongrass
If you think soup-season is over you clearly haven't tried my chilled leek and potato soup with asparagus, fennel and lemongrass.  It's a fancy vichyssoise but it's so smooth and creamy and served chilled from the fridge with some cucumber croutons it's the perfect summer lunch to eat al fresco.
To be honest this soup changes on a whim depending on what I have in the fridge but the classic base of leek and potato is always a constant as is the lemongrass.  It adds such a refreshing tang to the whole bowl that lifts this soup to another level.  If there's something you don't like, leave it out or sub it with a favourite vegetable, just ensure you keep the three mainstays in there. Try it with peas or celery or even a bag of rocket for a more fiery kick.
2 banana shallots – peeled and finely chopped
half a bulb of fennel – chopped
1 large leek – chopped
2 medium potatoes – chopped
2 garlic cloves – grated
1 teaspoon fresh thyme
salt and pepper (you guys have to get this stuff from the Cornish Sea Salt Company)
6 asparagus stems – chopped
1/2 litre milk (any milk will work – I used skimmed)
1/2 litre good quality veg stock (I use this stuff from Kallo)
2 sticks of lemongrass – snapped
1 tablespoon cream cheese (optional)
cucumber to serve
For most soups I use my 30cm shallow casserole cast iron pan with a lid from Denby but you can use any large pan as long as it has a lid.
Place it on a medium heat and add a large nob of butter (leeks love butter) and a drizzle of olive oil.  Once this begins to sizzle add all the veg apart from the asparagus. Allow it to sauté for about 8 mins with some gentle stirring, then add the garlic, thyme and some salt and pepper.  Stir in the asparagus, then pop the lid on and let it all sweat for a further 5 mins.
Pour in the stock and milk, then snap 2 sticks of lemongrass.  You don't want them to break into pieces, just snap so they release their fragrance into the soup. Lay them into the soup, turn down the heat and let it gently simmer for 10 mins.  Check on it frequently because the milk tends to over-boil.  A quick stir should help it calm down.
Turn the heat off, place the lid on and let the soup cool entirely.
Take the lemongrass out and add a tablespoon of cream cheese .  This isn't 100% necessary but it 100% should be!  Using a stick blender, blend until velvety smooth.
Pour the soup into a container and pop in the fridge for at least 3 hours or until fully chilled.
Serve with some chopped cubes of chilled cucumber.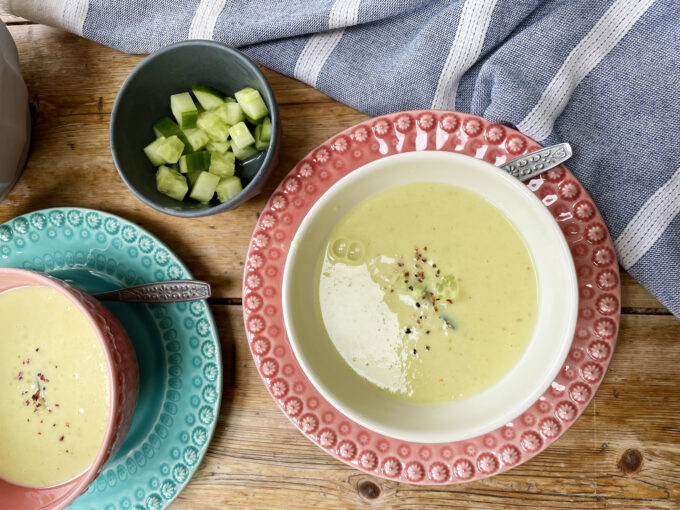 For more soup recipes check these out on Dom in the Kitchen.
Eat and of course, enjoy!