This apple streusel muffin loaf cake may be a mouthful to say but it's certainly a delightful mouthful to eat! It's one of those cakes that works so well served traditionally at teatime with a cuppa but also works nicely served at breakfast with a coffee.  I love a muffin-cake.  They're pretty failsafe and you can literally throw anything in them. Whatever's lying around.
I've used three types of flour; plain, almond and wholemeal and this gives the cake its nutty, muffin texture. It also gives it a slightly healthier vibe too, although let's not kid ourselves here, it's still packed with sugar and butter.  All the good stuff really.
Streusel Topping
The topping is what really gives it that added extra 'muffin' factor.  Again, I just grabbed what I had to hand; some muesli, some ground almonds and some crunchy Demerara sugar.  I also threw in some extra apples just to add that 'what's on the inside on the outside' vibe.
for the cake
140g caster sugar
140g butter – at room temp
2 large free-range eggs
80g wholemeal self-raising flour
20g ground almonds
40g white self-raising flour
1 teaspoon baking powder
2 tablespoons greek yoghurt
1 teaspoons cinnamon
1 teaspoon ginger
2 cox apples – tired but not peeled – chopped very finely
for the streusel topping
2 tablespoons muesli
50g butter
30g caster sugar
30g demerara sugar
20g ground almonds
30g plain flour
I've used a 2lb loaf tin which I greased and lined.
Pre-heat your oven to 160C (fan)
Start with the cake.  Mix together the flours, spices and baking powder and set aside.
In a large bowl, beat the butter and sugar until you have a pale but fluffy consistency.  This will take 4 minutes in a stand mixer with a paddle or about 8 minutes with a wooden spoon.
Add the flours, eggs and yoghurt and beat in well for a further few minutes.
Stir in the apples and scoop into your prepared loaf tin.  Smooth out the top and set aside.
In the same bowl, crumble together all the ingredients for the topping.  I just used my fingers but you want a rough consistency, nothing smooth or too fine. Sprinkle the topping all over the cake.
Bake for 45 mins or until risen and darkly golden on top. A skewer inserted should come out clean.  Set aside to cool in the tin and place it on a wire rack.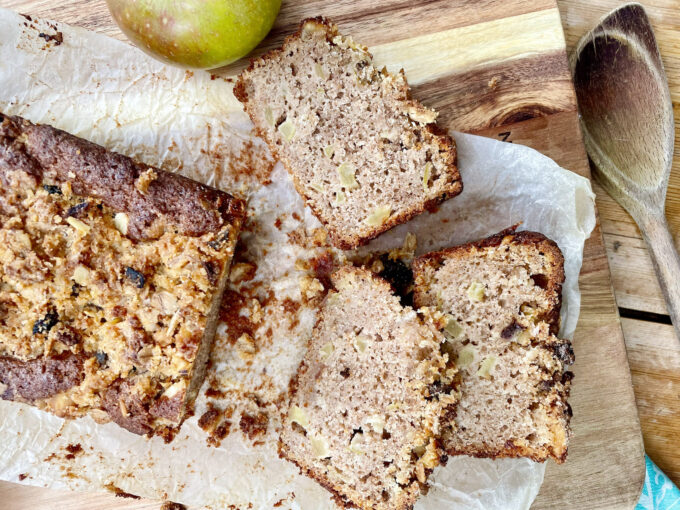 For more cake recipes please check out these recipes on Dom in the Kitchen.
Eat and of course, enjoy!