Grandma Sylvia
My Grandma Sylvia was quite a remarkable woman.  A doctors wife who was fiercely intelligent and independent for a lady born at the turn of the last century into a Jewish family.  She was also a large woman with a big bust who I'm sure could be quite intimidating especially if you were fortunate enough to be gripped in one of her infamous embraces, bosom first!  However she was also my grandma and she was filled with love for her family.  Her meals were hearty and homely and delicious but Grandma Sylvia's Cucumber Salad was legendary!
Acetic Acid
It's a very simple salad that traditionally used acetic acid which you had to buy from the chemist, and sugar to create a dressing that was poured over very thinly sliced cucumber. It's amazing served with poached salmon or fried fishballs.   As it turns out my mum says that her mum (Grandma Jennie) also used to make it, as did my aunties mother in law.  They were all Jews from Poland and Russia so it must be a traditional dish from that part of the world.  All I can say is that you simply must make it.  It's utterly divine and has the most wonderful intense cucumber flavour.  it will also last in your fridge for up to 4 days which is superb.
Just a note on the ingredients.  As mentioned above, it used to be made with acetic acid. It isn't so easy to get any more so most people sub it with white wine vinegar.  Mum gave me the recipe in 'glass full' measurements so I've adapted it to metric.  I would advise you to make it how  describe below and then the next time adjust the content of the sugar to vinegar ratio once you've tried it.
60ml (or 60g) caster sugar
120ml warm water
2 teaspoons white wine vinegar
1 whole cucumber – very thinly sliced.
salt to season
Love My Salad
The recipe calls for 1 hole cucumber but I'm actually using these adorable baby cucumbers sent to me recently from the lovely guys at Love My Salad.  These guys are brilliant and are encouraging us all to eat more salad vegetables.  Their website is adorable and filled with inspirational recipes.
Slice your cucumbers very finely.  A mandolin will do quick work of this but a food processor is much safer! Place them in a large salad bowl.
In a small bowl add the sugar and then top with hot water.  Stir until dissolved then wait for the water to cool.  Stir in the vinegar and then pour the whole lot over the cucumbers.  Let the salad sit for at least 30 mins before serving.
It will stay fresh in the fridge for 4 days.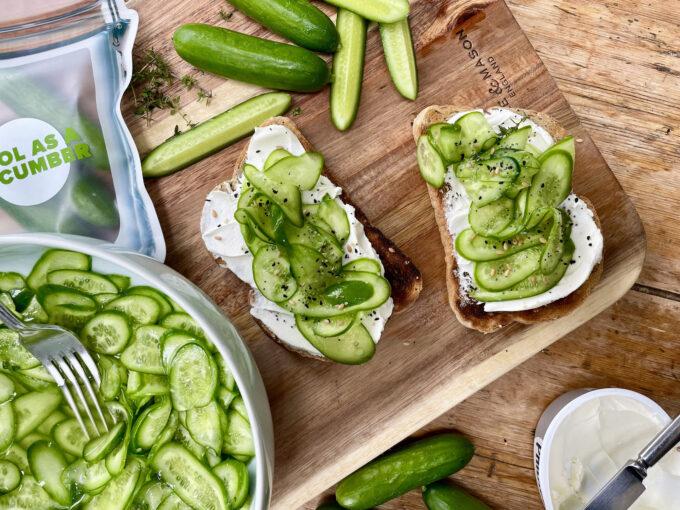 For more salad recipes check these out on Dom in the Kitchen.
Eat and of course, enjoy!