This warming spicy Cranberry and Cinnamon mulled cider drink is the most brilliant and fun alternative to mulled wine. I love putting a pot if this on the stove when I'm having a Christmas party.  It always surprises people when they're expecting the taste of mulled wine. Making it will fill your home with the most glorious scent of Christmas and have everyone thirsting for a glass.
Ingredients
1.5 litres good-quality traditional cider
½ litre cranberry juice
3 cloves
2 star anise
2 cinnamon sticks
A handfull of fresh cranberries
The juice and finely grated zest of 1 orange
4–5 tablespoons caster sugar
Method
Pour the cider and cranberry juice into a large pan on a low heat and let it warm through for a few minutes. Add all the spices, orange zest and juice and turn the heat up. Once boiling, turn down to a simmer and leave to gently bubble away for 5 minutes. The spices will infuse into the juices as it slowly heats through.
Stir in a little sugar and then taste it.  You don't want it too sweet; it should still have that sharp bite from the cider and cranberry juice.  Ladle into glasses or mugs and serve warm.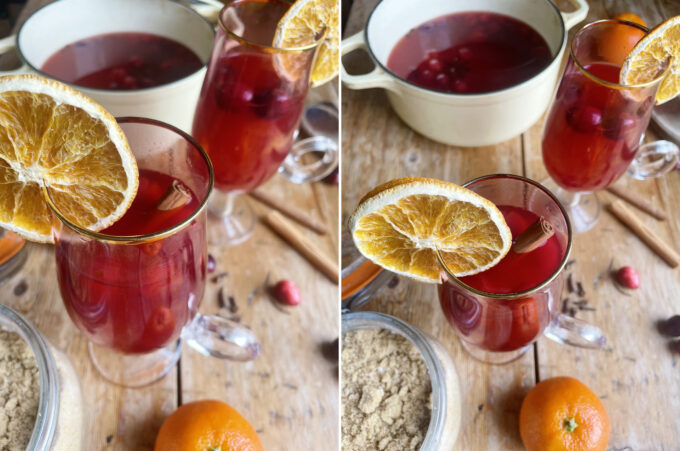 For more drinks and cocktail recipes check out the recipes on Dom in the Kitchen
Eat and of course, enjoy!