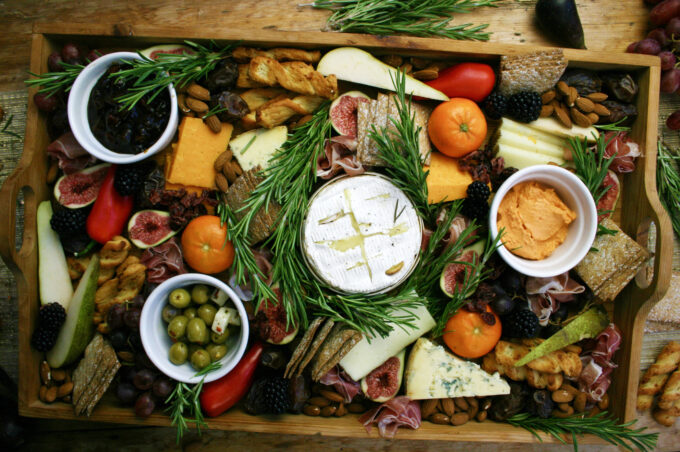 This Festive Grazing Cheese Platter first appeared in the December 2021 issue of the amazing Lincolnshire Life Magazine.
I've created this Festive Grazing Cheese Platter because this year, I'm feeling a little apprehensive about Christmas planning.  Instead of organising one big bash I'm going to throw a series of little soirees with just a few select groups of friends and family.  That way should anything get cancelled at the last minute at least I'll know I've not prepared a huge feast that gets wasted.  This year I have the perfect answer for the ultimate party food that will please everyone – The Festive Platter.
not a cheese and pineapple hedgehog
The Festive Grazing Cheese Platter is essentially a return to the classic food spread that we would have known back in the 70's but instead of the retro cheese and pineapple hedgehog or sausages on a stick I've created an abundant platter of plenitude that is bursting at the seams with colour, flavour and luxurious selection and the brilliant thing is that you can create any kind of platter.  A cheese platter, a vegetable and dip platter, or even a mince pie and cake platter.  The choice is yours, just ensure you go all out and fill every inch of space on the board for that fully luxurious festive look.
My tips for the perfect grazing platter:
Try and use a tray with sides. This way you can ensure that everything is squeezed on without the worry that something will fall off.
Work in threes. Three of everything is, for some reason, more aesthetically pleasing that two or 4.  For instance, create piles of three cheeses, then three types of cracker and three types of fruit.
Start in the middle and work outwards. I've used a baked camembert for the centre of my platter.  It's the focus of the board and means I can create a 'Christmas Wreath' style pattern around it. To bake the camembert simply remove it from the packaging and place it back in it's little wooden box.  Slice a few holes in the top and insert some slithers of garlic and rosemary.  Place it on a baking tray and bake on 170C (fan) for 20 mins.
Use nuts and dried fruit to fill in the gaps. This will add a feeling of abundance and luxury to the platter.
Try and choose a selection of textures, with something to dip and something to grab. A crunchy carrot or a soft fresh wedge of pear dipped into a festive hummus is lovely.
Festive colours are a nice touch. I've used fresh rosemary to simulate the wreath.  The green is very seasonal plus with added touches of red from the peppers and cranberries really gives it a pop of Christmas colour!
For more Christmas recipes check them out on Dom in the Kitchen
Eat and of course, enjoy!