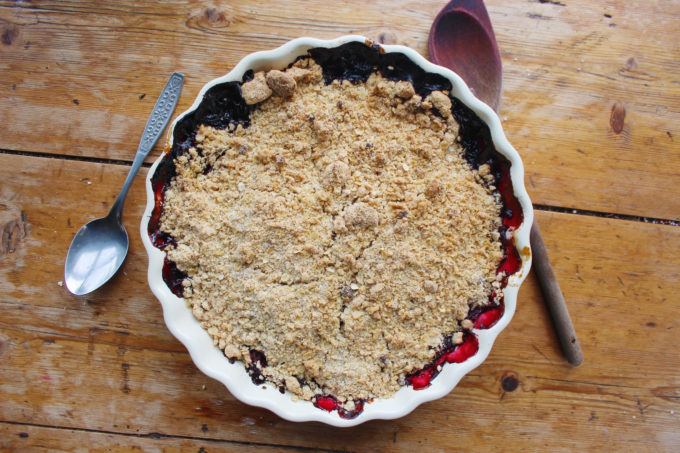 I love this foragers crumble. It's inspired by this wonderful autumnal abundance in the hedgerows. Whilst the weather now has turned, last weekend was rather lovely.  We managed to get back home and the weather treated us well.  We managed a spectacular walk through Swaby Valley which is as close to bucolic paradise as is possible.  The Viking had also discovered an apple tree hidden in a hedge that was laden with over-ripening fruit so he suggested we take a walk, take some apples and find anything else we could to add to a foragers crumble.  The bounty was fine.
foraging
The incredible hot weather earlier in the season most have set something aflame as the bramble, or blackberry bushes, were swelling with sweet and juicy fruit. I also remembered a plum tree that overhangs the road en-route that delivered in bundles and we were lucky enough to have beaten the wasps to the hoard, which is rare these days.  It's always so satisfying to bake with stuff you've found in the field and when it all tastes this good it makes you happy for those small moments…

foragers crumble
So we've got the apples.  I have no idea what variety they are but in their uncooked state they're very tart but once cooked they stay firm but yield a soft sweet texture similar to a bramley.  We've also got blackberries.  We always called them brambles and I remember that mum had a thorny bush in her back garden growing over an old air-raid shelter that's now sadly been pulled down.  I think she's lost the bramble bush but I haven't lost my memories of her incredible apple and bramble pie.
the best combination of fruits
Such an incredible combination of fruits… tart and sweet and devilishly blood red… and of course we have plums.  They are Victoria Plums, the dark purple variety and my favourite.  They're the type of plum that tastes of plum, if you get what I mean.  I've kept it all very simple with just a dash of cinnamon and vanilla bean paste but the crumble is really rather special with porridge oats, ground almonds and some little ameretti biscuits crumble in, that I found at the back of the cupboard.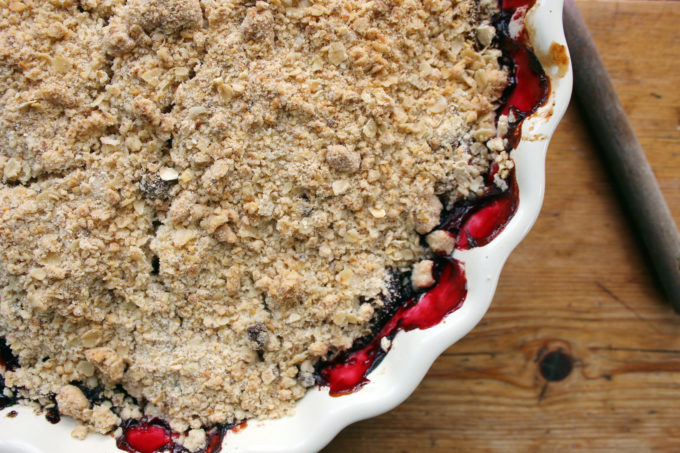 I apologise for the lack of weights and measures for the filling but it really shouldn't make a huge amount of difference what or how much goes in…
for the filling
5 medium apples – peeled, cored and rough chopped
7 small plums – stoned and halved
2 large handfulls of blackberries
1/2 teaspoon cinnamon
1/2 teaspoon vanilla bean paste
2 tablespoons dark brown sugar
for the crumble topping
150g plain flour
50g porridge oats
Fifty grams ground almonds
50g ameretti biscuits – roughly crumbled
200g butter
150g brown sugar
rinse all the fruit thoroughly in cold water and let the plums and berries sit in the water for 5 mins, then drain well and place all the fruit, cinnamon, vanilla and sugar into a large pan and gently heat for 15 minutes until the apples soften slightly – the berries will turn to mush but the apples and plums should still have their shape – pour into a large oven-proof dish and set aside
to make the crumble, place all the ingredients into a bowl and rub together with you fingers until you have a thick, crumbly consistency – then spoon the crumble onto the fruit and press down well
bake on 180C for 30 mins until the topping begins to turn golden brown and the juices of the fruit ooze through the sides
serve with cold cream or warm custard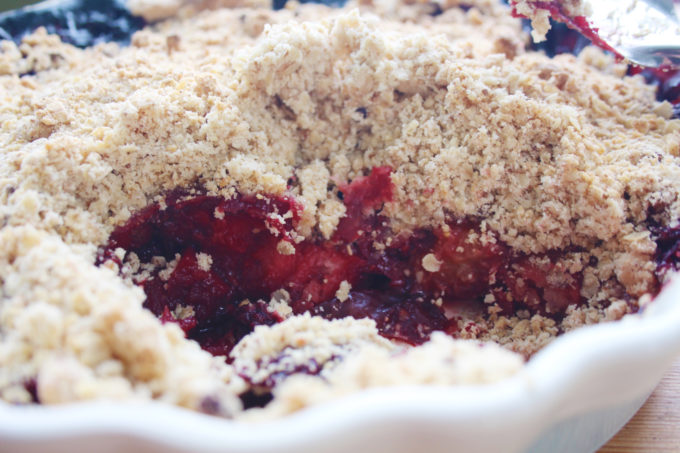 for more classic pudding recipes follow this link on Dom in the Kitchen
eat and of course, enjoy!