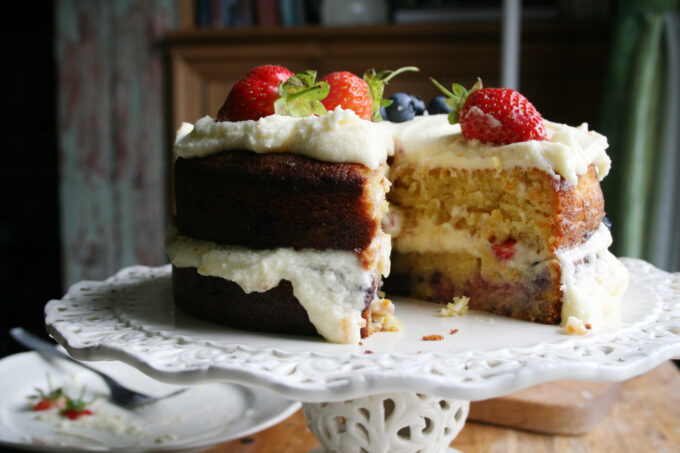 This orange, berry and yoghurt cake was inspired by some of the wonderful summer cakes by Karen over on Lavender and Lovage who always seems to knock out the most wonderful summery cakes. I do love a cake for a picnic or served traditionally with tea in the afternoon. It feels very 'British Summer' and a little bit fancy.
Decorating Disasters
Frustratingly I'm really not very good at decorating and icing. Which I think is why I'm more of a 'loaf cake' or 'traybake' kind of baker.  I just get frustrated and bung it everywhere. Plus I have zero patience, particularly when it comes to waiting for the cake too cool entirely which I guess is why my icing always goes sloppy halfway through.
Still, it's the taste that counts ands this orange, berry and yoghurt cake tastes divine.  I love that it uses 1 whole orange, whizzed to a pulp and you can really taste that in the cake and the slight bitterness all the zest brings really helps counteract all the sweet stuff!
for the cake
190g golden caster sugar
190g butter – at room temperature
3 large free-range eggs
100g self-raising flour
100g ground almonds
1 tablespoon greek yoghurt
1 whole orange – whizzed to a pulp
a handful of mixed merries
for the marmalade icing
200g butter – at room temperature
200g icing sugar
1 tablespoon greek yoghurt
1 tablespoon marmalade
Pre-heat the oven to 160C (fan) and grease and line an 18cm tall cake tin with a loose bottom
Take the orange, slice it and de-pip it, then bung it into either a food processor or a nutribullet and blizt until it becomes a rough pulp. Set aside.
To make the cake, cream the butter and sugar in a large bowl with an electric whisk (or in a stand mixer) until light and fluffy – roughly 8 mins
Then tip in the flours and eggs and beat well.  Add the orange pulp and yoghurt and beat in. Then fold in the mixed berries.
Pour into your prepared cake and cook in the oven for 40 – 50 mins until risen and golden and firm to touch. Set aside to cool in the tin and then slice through the middle into two even halves.
To make the marmalade icing, cream the butter in a large bowl with an electric hand whisk for at least 8 mins until pale. Then add the rest of the ingredients and carefully beat in.  It should be stiff like soft butter, add more icing sugar if you need it to be thicker.
Layer the bottom of the cake with a generous slathering of icing, then add some chopped berries.  Place the top cake layer on top and use the rest of the icing to cover the top and decorate how you like.
More glorious cakes on my blog.
Eat and of course, enjoy!