The wonderful thing about this spinach and leek lazy day lasagna is that you can completely do away with the pasta sheets if you don't want them.  If you're on a lower-carb diet or have intolerances then simply leave them out and the layers of vegetables will do the job. I'm going for broke and using both pasta sheets and vegetable layers in between layers of rich veggie mince and tomato sauce along with a creamy, cheesy béchamel.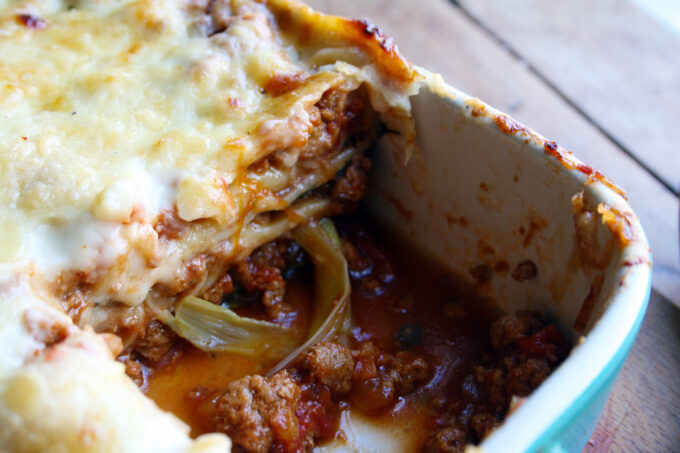 slow cooked rich veggie mince and tomato sauce
This is one of those sauces that just needs a little time to get really tasty.  I like to cook it in the morning and leave it on a low, slow simmer for a couple of hours.  It then needs to get cold before being re-heated and used in the lasagna.  It has that 'it tastes better the next day' quality to it that all Italian food seems to have built in! This is why I call it my lazy day lasagna because it needs one of those lazy days with nothing to do to make it.  Perfect for a bank holiday weekend.
Lasagne is such a versatile dish that you can make using all kinds of fillings and in all kinds of ways. I have loads of other lasagna recipes here on the blog – go take a look
for the béchamel sauce
500ml milk – I used skimmed and it works perfectly
50g unsalted butter
50g plain flour
100g strong cheddar – freshly grated
50g parmesan
salt and freshly ground pepper
for the rich tomato mince sauce
1 medium onion – finely chopped
one stick of celery – finely chopped
1 small carrot – finely chopped
2 cloves of garlic – crushed
500g mince – I'm using the Quorn veggie mince but any mince would work
butter and olive oil
2 tablespoons tomato puree
2 x 400g tins of chopped tomatoes
1 large glass of white wine
3/4 litre of good vegetable stock
1 tablespoon balsamic vinegar
rosemary, thyme and oregano
roughly 100g fresh spinach
1 leek
We'll start with the tomato sauce as this takes the longest.  You can actually make this a day or two before as it keeps well in the fridge and it freezes well.  Sauté the onions, celery and carrots until very soft and beginning to colour – this usually takes about 10 mins.
Then stir in the garlic and any herbs, followed by the mince. Stir regularly to brown.
Next stir in the tomato puree and glass of white wine. Next stir in the chopped tomatoes, stock and balsamic vinegar. Turn down the heat to its very lowest setting and let it bubble away gently for at least 2 hours.  Stir it every so often to ensure it's not sticking.  Set aside when done.
Now we can make the béchamel. Simply pour the ingredients into a saucepan on a medium heat and whisk continuously until it begins to thicken which should happen after about 5 mins. It should thicken nicely to a smooth thick sauce. Once this has happened, season well and then add the grated cheeses and stir until melted.
Trim the leek so you're left with mostly the creamy white bit with a bit of green at the top.  Slice it lengthways nearly all the way through but not quite.  Lay the leek in a roasting tin, sprinkle on a dash of water, cover it in foil and steam / bake it in the oven on 160C for about 20 mins. It should open up in the oven and once its cooled you can gently peel apart the layers to use.
Pre-heat the oven to 180C.
Now it's time to start layering the lasagne. I'm using a deep oblong ceramic pie dish that's roughly 22cm x 30cm. There really is no hard and fast rule as to how you layer it up, but I like to follow the; tomato sauce, lasagne, white sauce route but instead of just using lasagne sheets I alternate between layers of vegetables such as spinach leaves and the softened leeks. Think about layering green into the lasagne. I try to finish with a top layer of the meaty tomato sauce and then the white sauce which I then sprinkle with grated cheese.
Bake for 35 mins or until gloriously golden and bubbling on top.
Eat and of course, enjoy!