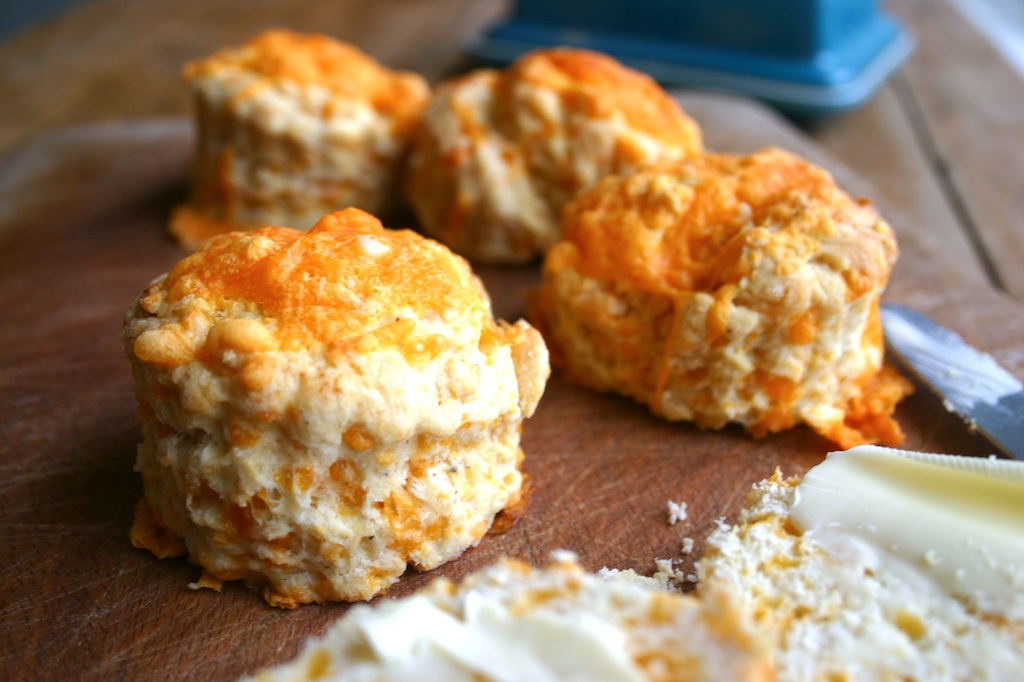 i do love a cheese scone… if you think of the normal, everyday sweet scone as a relatively dull vehicle for fabulous things such as jam and cream… the cheese scone is its tarted up younger sister… oh she's no toasted teacake, don't get me wrong… but she is a little more fancy and allows many a topping to be carried on her lofty cut-side…
the fine and rather handsome chaps at Lincolnshire Poacher live just over a hill from Belleau and it's wonderful to see them doing so well and on such an international scale… their traditional Poacher Cheese, which I think can be described as halfway between a cheddar and a parmesan, is now recognised as a British Classic and the variations available range from a Vintage, which has a proper kick to it, to a Smoked… I am using their Lincolnshire Red which is their only vegetarian cheese and it has a lovely Red Leicester quality to it…
Lincolnshire Red Scones
these scones are made for me to eat but i'm entering them into Karen and Kate's brilliant Tea Time Treats bloggers challenge…
12oz self-raising flour
1 tsp baking powder
1 tsp mustard powder
1 tsp salt
a nice healthy grind of black pepper
2oz butter
6oz cheese – grated
2 large eggs
6 tbsp milk
– pre-heat the oven to 200C
– sieve the flour into a large bowl, add the baking powder, mustard powder and salt, mix it up and then add the butter and work this through with your finger tips until you have a light crumbly texture
– add the cheese and stir it again
– add the eggs to the milk and beat together, then pour this into the flour and cheese mixture and bring it together with a knife until it forms a dough ball.
– flatten the dough out on a floured surface to the thickness of about 3cm (i usually do it to half the depth of the cutter) and then cut the scones out.  I used a smallish cutter and got 10 scones.
– brush the top of each scone with milk and then sprinkle a little more grated cheese on top
– bake for 15-20 mins or until risen and golden
eat and of course, enjoy!
i suppose I need to tell you that I haven't been paid for writing this post, i'm just very keen, as you know, to promote local producers… however if the fine boys insist on sending me cheese after reading this, who am I to turn them down?
!function(d,s,id){var js,fjs=d.getElementsByTagName(s)[0];if(!d.getElementById(id)){js=d.createElement(s);js.id=id;js.src="//platform.twitter.com/widgets.js";fjs.parentNode.insertBefore(js,fjs);}}(document,"script","twitter-wjs");