This raspberry and nectarine cake is a zingy taste of summer fruits. Any regular ready of this blog will know that I love that tart / sweet flavour combo. Anything with a sherbet twang really gets my taste buds going. So the raspberries, nectarines and then added lemon and orange zest just makes for the perfect cake.  It's really simple to make and I used the 'weight the eggs' method where you weigh your eggs in their shells and then use the equivalent weight each of flour, sugar and butter.  So I'll keep it simple with this blog post too and give you the recipe.
One note; I'm using these rather brilliant 'use once' paper cake tins that my mum gave me years ago but I never used. (You can find them easily on amazon or similar.)  They're basically for lazy-arse folk like me who can't be bothered to line a proper cake tin, plus they're paper so you can wash them and recycle them.  They're 21cm wide and 5cm deep so an equivalent cake tin would work well.
3 large free-range eggs (weighs in at 210g) – beaten
210g butter – soft
210g golden caster sugar
210g self raising flour
2 nectarines – chopped
150g raspberries
the zest and juice of 1 lemon and 1 orange
2 tablespoons icing sugar
a little milk
If using a cake tin, grease and line it well, the pre-heat the oven to 160C
First, toss the fruit in a little flour, coating the fruit helps prevent the pieces sinking in the cake as it bakes.
Beat the butter and sugar together until it is pale and fluffy.  This takes about 5 mins in a stand mixer with a paddle attachment or about a year with a large bowl and wooden spoon.
Add half the beaten eggs and half the flour and beat well into the mixture.  Scrape the sides of the bowl down and then add the remaining flour and eggs along with the finely grated zest of the orange and lemon.  Beat in again for another minute.  You may need to add a dash of milk to slacken the batter.  It should fall easily off the spoon.  I always add about a tablespoon.
Carefully fold in the fruit until incorporated, then pour into the cake tin or paper cake case.  Smooth over the top and bake for 35 – 45 minutes.  It should be golden and firm to touch and a skewer inserted should come out clean.
Whilst its baking, squeeze the juice from the orange and lemon and add a couple of tablespoons of icing sugar to the juice. Stir well.  When the cake comes out of the oven, lay it on a wire rack and prick it all over with a skewer, then gently spoon the syrup all over the cake.  Sprinkle the top with a little caster sugar.
Let us cool on the rack although to be honest we ate a couple of slices after an hour and they were just slightly warm and beyond incredible!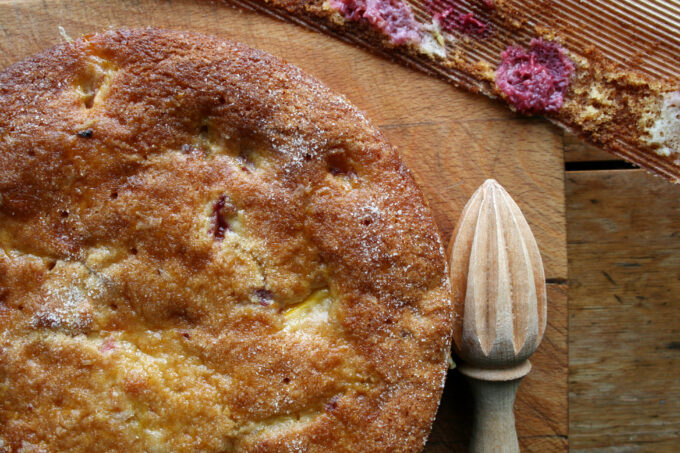 Eat and of course, enjoy!