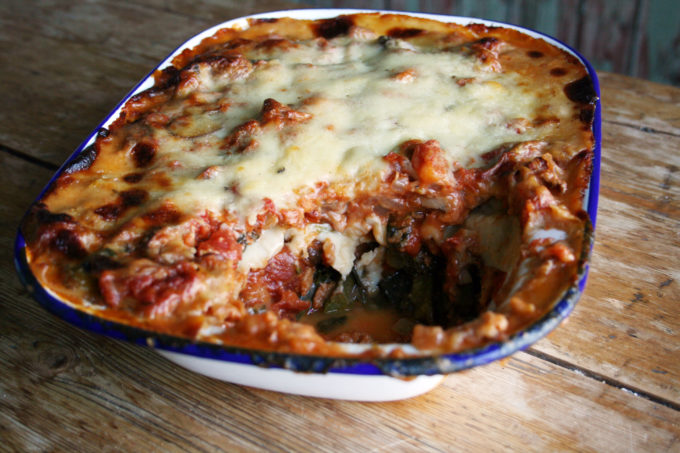 Whilst we're tucked up nicely, safe in our homes we've found ourselves the time to do all kinds of things, like make this superfood lasagne.  From the mundane to the creative many of us have found that keeping busy is the best way to pass the hours.  My house has never looked so clean (sorry Mrs T,) we've started to transform the garden, (in fact I fear The Viking is about to attempt some major landscaping that's going to get us both in trouble) and of course I've been cooking up a storm in the kitchen. Now is the time that I've put my hand to all those tricky and seemingly laborious things that I've never had the chance to do – sourdough croissants anyone?
The same goes for this superfood lasagne.  Not only is it packed with some incredible super-food ingredients that are sure to make us feel better physically and mentally, it also has three parts, two of which I would  normally I would simply open a jar for, the béchamel sauce and the tomato sauce. Now I can take my time, make everything from scratch and create a stunning meal full of flavour and wonderful ingredients.  I also love that it will last for more that one meal, in fact you can eat half of it fresh and then freeze the other half for another day.
I know that some ingredients are hard to come by at this time so I've tried to include stuff that most people already have in their cupboards or that I know are still readily available (at the time of writing this, lasagne sheets were the only things left on the shelves.) But I am also including some unusual swap-outs if you can't find things, such as using the cauliflower leaves instead off lasagne sheets, or foraging for wild garlic (which is essentially free and can be found on your daily exercise routine.)
for the béchamel sauce
550ml full fat milk
200ml good quality vegetable stock
75g unsalted butter
30oz plain flour
250g strong cheddar – freshly grated
salt and freshly ground pepper
for the tomato sauce
1 medium onion – finely chopped
1 stick of celery – finely chopped
1 small carrot – finely chopped
2 cloves of garlic – crushed
butter and olive oil
2 tablespoons tomato puree
2 x 400g tins of chopped tomatoes
1 large glass of white wine
3/4 litre of good vegetable stock
1 tablespoon balsamic vinegar
rosemary, thyme and oregano
for the filling
olive oil / butter
150g mushrooms – sliced
200g mince – I'm using vegetarian mince but any kind of mince would work
100g wild garlic leaves – or use spinach
100g kale – could use cabbage or even cauliflower leaves
100g broccoli (I used tenderstem)
We'll start with the tomato sauce as this takes the longest.  You can actually make this a day or two before as it keeps well in the fridge and it freezes well.  Sauté the onions, celery and carrots until very soft and beginning to colour then stir in the garlic and any herbs, followed by the tomato puree and glass of white wine. Next stir in the chopped tomatoes, stock and balsamic vinegar. Turn down the heat to its very lowest setting and let it bubble away gently for at least 2 hours.  Stir it every so often to ensure it's not sticking.  Set aside when done.
Now we can make the béchamel, start with the white sauce by boiling the kettle to make the vegetable stock, then pour in the milk and stir together so that you have 750ml of liquid.
Take a medium sized pan and melt the butter, then remove from the heat and stir in the flour with a wooden spoon until you have a thick paste. Put the pan back on a gentle heat and cook the flour, stirring continuously for about a minute
Take the pan off the heat again and add a little of the milk, continuing to stir. Adding the milk slowly and stirring like this will ensure no lumps form. Continue to add the milk a little at a time until it is al incorporated, then return the pan to the heat and cook until the sauce comes to the boil, season, turn down the heat to its very lowest and cook gently for another 15 minutes, making sure to stir often. It should thicken nicely to a smooth thick sauce, then add the grated cheese and stir until melted.
For the filling, start by steaming the kale or any other harder leafy vegetable such as cabbage – you want it to be el dente rather than too soft – set aside
Next, in a large shallow pan, heat some butter and olive oil, then add the mushrooms and sauté them gently with plenty of black pepper until soft and beginning to turn a golden colour. Add the mince and cook with the mushrooms as per the instructions – usually until the meat is brown and juicy. Stir in the tomato sauce and set aside.
Pre-heat the oven to 180C.
Now it's time to start layering the lasagne. I'm using a deep oblong enamel roasting tin that's roughly 22cm x 30cm. There really is no hard and fast rule as to how you layer it up, but I like to follow the; tomato sauce, lasagne, white sauce route but instead of just using lasagne sheets I alternate between layers of vegetables such as cauliflower leaves or steamed kale or rows of gently steamed tenderstem broccoli. Think about layering green into the lasagne. I try to finish with a top layer of the meaty tomato sauce and then the white sauce which I then sprinkle with grated cheese.
Bake for 35 mins or until gloriously golden and bubbling on top.
eat and of course, enjoy!