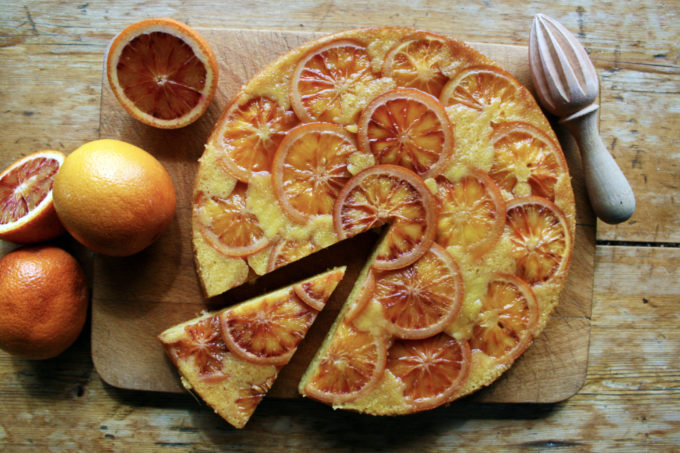 Something very special happens around March and April and that's blood orange season. This blood orange upside down cake perfectly celebrates the wonderful fruit.  The food blogs as well as instagram and other social media posts are usually awash with the incredible colours of these oranges.  Their light orange flesh speckled with deep ruby red. I love the fact that no two oranges ever look the same; sometimes you'll have one that has just a hint of colour, the fresh and skin just blushing with a tint of Burgundy, whilst others are dark, almost black with redness… and the taste.  A sort of rich, sweet orange with a hint of sherbet.
Sadly, because of the current global situation I've not seen much mention of the blood orange anywhere. I guess they're the kind of fruit that one is reminded of when one passes them in the aisles of the grocer but with less people going out and really only buying essentials, they've been looked over. So when I placed my recent supermarket delivery order and saw them as an option I hit the button without a seconds thought. I perhaps should have paid slightly more attention to what I was doing as I was convinced I was selecting individual oranges.  What I was actually chasing was purchasing 8 nets of oranges, with at least 6 oranges per net!
I've shared some with the neighbours but you can expect one or two blood orange recipes coming your way over the next week or so!
This cake is a classic middle eastern, olive oil cake, with ground almonds.  It has a slightly bittersweet taste and it can be an unusual flavour for some. I'm using an amazing Palestinian Extra Virgin Olive Oil which is gloriously fruity and adds to the middle eastern vibes of the cake but feel free to use a regular Olive Oil if you want a milder flavour.
for the oranges
4 tablespoons sugar (I used golden caster sugar but any sugar would work)
3 blood oranges, thinly sliced
roughly 300ml water (you want to just cover the oranges in the pan)
for the cake

150g caster sugar
zest of 1 blood orange
150ml olive oil (I'm using a Palestinian Extra Virgin Olive Oil)
3 large free-range eggs
170g greek yoghurt
125g self-raising flour (or plain flour with 1.5 teaspoons of baking powder)
75g ground almonds
Grease and line a 20cm round cake tin and sprinkle the base with a little brown sugar.
Heat the water and sugar in a pan until the sugar dissolves and then layer in the blood orange slices and leave to simmer and soften for 25 minutes. Carefully remove the orange slices and place on a wire cooling rack to cool completely. Return the pan to a medium heat and reduce the sugar syrup until around one-third is left in the pan. Leave to cool.
Preheat the oven to 180ºC.
Place the cooled orange slices into the greased tin in a single layer, overlapping them and arranging so they are in a pretty flower spiral pattern.
To make the sponge, beat the eggs, sugar, yoghurt, oil and zest until light and fluffy.  This should take roughly 5 mins in a stand mixer. Then fold in the flour and ground almonds. Carefully pour the cake batter over the orange slices in the bottom of the cake tin,
Bake for 35-40 mins, or until an inserted skewer comes out clean. Cool for 5 minutes in the tin, then carefully remove it from the tin and turn it over onto a cooling rack. Peel back the baking paper from the bottom and drizzle with the sugar syrup whilst the cake is still slightly warm. Leave to cool before serving.
eat and of course, enjoy!