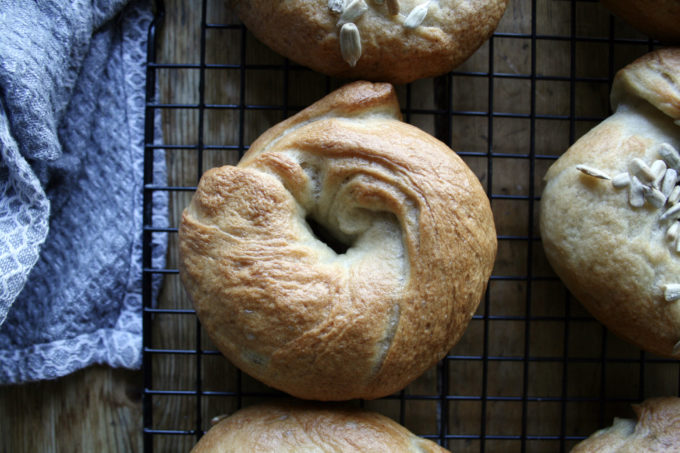 In my early twenties I did a lot of clubbing.  I actually met The Viking on the London club scene (this is a whole different story for a different time) but I had a gang of wonderful friends from fashion college and we would all get dressed up on a Friday and Saturday nights and drive into town from our college which was in the suburbs. (Don't worry, we were very sensible, there was always a dedicated driver.) We would have our fun and then at 2am in the morning we would drive back to college via the bagel bakery in Golders Green.  I think at the time it was one of only a handful of establishments open at that time of the morning and as such it was always a hive of activity with lots of club kids, most of them worse for wear, noshing on smoked salmon and cream cheese or salt beef bagels. I sometimes think that I enjoyed the bagels more than the clubbing.  They were good, properly chewy, golden bagels.  Hard to replicate at home but this recipe gets pretty close.
This brilliant bagel recipe is adapted from the beautiful Sophisticated Gourmet website. I urge you to go and follow, Karam is a wonderful cook. I wasn't going to publish this (I've been sharing a lot of bread recipes recently) but my friend Sian made these bagels last week and then I made them and they were so successful I felt I needed to share the recipe with you.  I've made bagels in the past and they were an utter disaster.  This recipe is almost identical to the one that went wrong and so similar to my basic bread recipe, so I'm not sure what's different other than time. With all things bread, if you give yourself time and a stress free environment, anything is possible.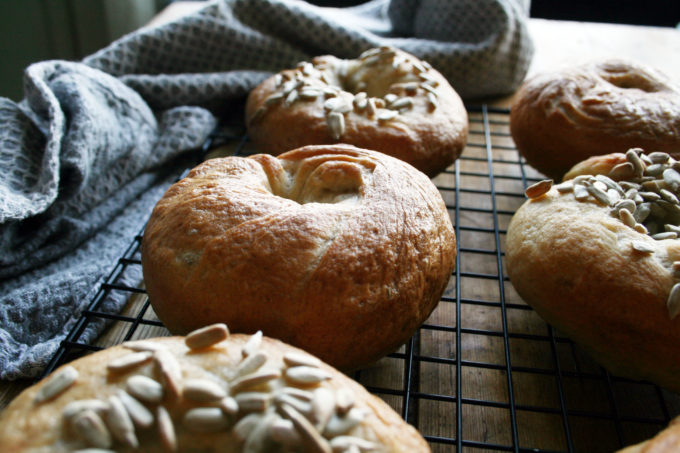 2 teaspoons active dry yeast
4 ½ teaspoons granulated sugar
300 ml warm water (you may need a teeny bit more or less)
500g strong white bread flour
1 ½ teaspoons salt
Take 120ml of the warm water and pour in the sugar and yeast. Do not stir. Let it sit for five minutes, and then stir the yeast and sugar mixture, until it all dissolves in the water
Mix the flour and salt in a large bowl. Make a well in the middle and pour in the yeast and sugar gloop followed by half the remaining water.
If you're using a stand mixer with a dough hook, turn the machine on and begin to slowly mix it together.  If you're doing it by hand, start to bring the dough together.  Add the rest of the water as needed. I used all my water and then added a little more flour as it began to knead.  You want a moist and firm dough after you have combined it.
Now knead it for 10 minutes, either on a floured surface or in the stand-mixer smooth and elastic. You want a firm and stiff dough after 10 mins.
Lightly brush a large bowl with oil and turn the dough to coat. Cover the bowl with a damp tea towel or clingfilm. Let it rise in a warm place for at least 1 hour or until the dough has doubled in size. Punch the dough down, and let it rest for another 10 minutes.
Prepare two baking trays with baking parchment and lightly oil the top of each sheet.
Divide the dough into 8 pieces (you can use a scale to be extra precise, but I don't bother). Shape each piece into a round. Now, ensuring your hands are a little oily (I wipe them into the bowl) take a dough ball and roll it between your two hands and as you roll begin to flatten it out slightly so it's more of a flat ball. Lay the flattened ball onto the baking sheet and continue onto the next ball until you've done them all.
Coat a finger in flour, and gently press your finger into the center of each dough ball to form a ring. Stretch the ring to about ⅓ the diameter of the bagel. (I actually spin the bagel on my finger to stretch it.) Repeat the same step with the remaining dough.
After shaping the dough rounds and placing them on the baking trays, cover with a damp kitchen towel and allow to rest for 10 minutes.
Pre-heat your oven to 220ºC
Bring a large pot of water to a boil. Reduce the heat to a simmer and using a slotted spoon, lower the bagels into the water. Boil as many as you are comfortable with boiling. I did two at a time. The bagels should pretty much float the top straight away.  Boil them for 1 minute on each side.  Or 2 minutes each side for a chewier, more traditional Golders Green style bagel.
If you want to add toppings to your bagels, such as poppy seeds or sesame seeds, or even caramelised onions, do so as you take them out of the water.
Carefully place the bagels back onto the oiled baking paper and bake for 20-25 minutes or until golden brown.
Cool on a wire rack if you can resist.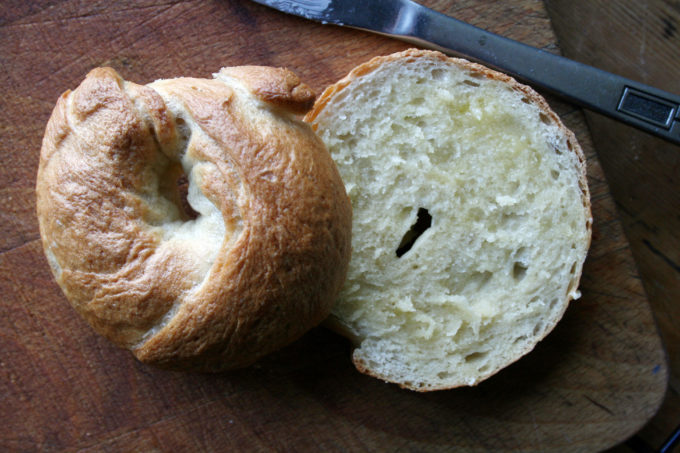 Eat and of course, enjoy!