This runner beans and cauliflower coconut curry reminds me that one of the best things about living in a rural community are the doorstep gifts.  Things will suddenly appear, hanging on the gate, swinging off a fence post or literally left on the doorstep.  When I was sick last year our lovely friend Rosie left a box of fresh hens eggs on the doorstep (and remembered to text me she'd done it so I didn't tread on them when I stepped outside!) A few weeks ago our neighbours dog Evie came for her weekly visit.  She tends to slip free on a Sunday afternoon and wander down the hill to come and say hello (and get fed treats from The Viking.)  It's always lovely to see her furry face but inevitably we walk her back home.  Last week we found a bag of incredible Victoria plums, freshly cropped from their own tree, hanging on the fence post as a thank you.
Just yesterday our dear neighbour June tucked a gigantic bag of stunning looking runner beans through the gap in our gate. Runner beans are lovely but they are also not something I would chose to eat everyday, which is why a vegetable curry is a great way to use them up. (Half are going into this curry and the rest are going into the freezer.)  I love a curry but a coconut curry is my absolute favourite. So rich and creamy and fragrant. I've never been to India and don't proclaim to be creating an authentic curry here but I know what I like and I know how to mix spices to create a lovely blend of depth and flavour and I think that's what cooking all about.  Be brave, do what you like and hopefully something good will of it.
For authentic inspiration I texted one of my favourite food bloggers Kavey who very swiftly suggested I check out her mums blog Mamtas Kitchen which is the most excellent resource for anything Indian food related.  It's actually one of the oldest recipe blogs on the internet and it's brilliant but be warned, if you're anything like me you'll be sucked into a rabbit hole of curry's, sauces and incredible recipes and could potentially not come out for days!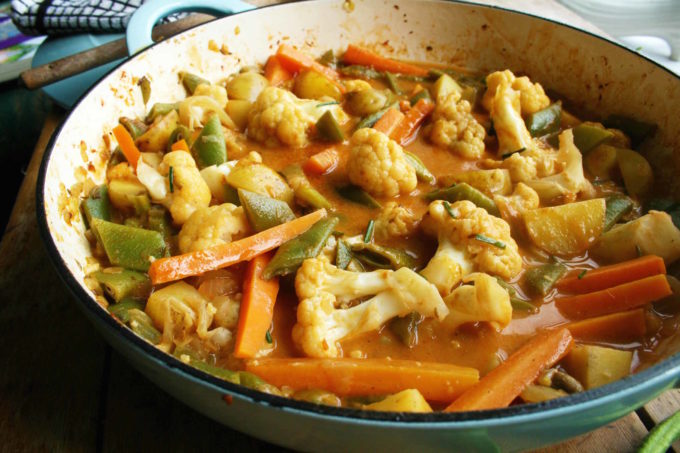 ingredients
roughly 3 tablespoons flavourless oil (I used sunflower but groundnut would work)
a little butter (but this is just for me, if you want the dish to be fully vegan, leave this out)
thumb-sized piece of ginger – grated
3 cloves of garlic – grated or crushed
1 medium white onion
1 fennel bulb – thinly sliced
2 teaspoons cumin seeds
1 tablespoon curry leaves (12 fresh or a tablespoon if you have dried)
1/2 teaspoon dried red chilli flakes
1 head of cauliflower – cut into florettes
1kg runner beans – cut into chunks
1 carrot – cut into batons
5 new potatoes – roughly chopped
1 tablespoon tomato purée
2 teaspoons garam masala
1 x 400 g tin of coconut milk
I'm using my 30cm shallow cast iron skillet with a lid, but any large pan will work.
Heat the oil in a frying pan over a medium-high heat. Tip in the cumin and mustard seeds and fry until they begin to pop.
Lower the heat slightly, add the curry leaves and dried chillies and continue to cook until the leaves are crisp and translucent. (If using dried, cook until they soften.) Stir in the onion, fennel, ginger and garlic and fry for a couple of minutes until the onions begin to soften.
Add the vegetables, season with salt and stir well, then lower the heat and cook for 7 to 10 minutes with the lid on.  You may want to give them a stir after 4 mins to remove the dark bits stuck to the bottom of the pan.
Now stir in the tomato purée, garam masala and coconut milk. Bring it to a simmer and cook for 10 minutes, or until all the veg are soft but still firm to the bite.
Sprinkle over some fresh coriander or fresh chives, then serve. I don't bother with rice or any other pulse as it has the potatoes in it already and it feels more like a one-pot stew, but do as you please.
eat and of course, enjoy!