… so today I had a gastroscopy.  It's a nasty little procedure where a very sweet doctor sticks a camera down your throat and takes a couple of biopsies on the way down.  If you've never had the procedure I don't recommend it.  It's uncomfortable and unpleasant and then they pump air into you which makes you want to fart all day.  Which is nice.  The reason I had the gastroscopy was because i'm having issues swallowing.  Not just food but also the action of swallowing itself… and of course for a food lover you can imagine how distressing this is.  Of course I thought the worse and assumed I had throat cancer and that years of smoking and cocktail drinking had finally caught up with me.  Lovely doctor assured me that this was not the case in any way.  It was the first thing he told me when the tube was removed.  He also told me that whilst everything was good on that front I had a very raw stomach lining and that clearly something was wrong and it looked as though I was allergic to something and have been for many years to cause that much redness.  Also a little distressing but something that is being investigated.  Of course this whole episode has made me think a lot about life and of course the food I eat and have eaten.
As you know I've always been very dubious about the nutrition deprivation brigade and quite frankly i've come this far and i'm basically still alive but funnily enough I seem to be living my life in reverse – in a sort of healthy version of Benjamin Button.  With the technologies and research that's come with modern living I think that people my age, who grew up in the 70's still eating what was perceived as 'bad food' are now learning about healthy eating and understanding that even at the ripe old age of 47 it's still not too late.  I'm taking part in HIIT classes with people who could be my children and I work with people of the same age and it's fascinating to see how they eat and their attitude to food.  I still think that I know how to live life a little better than they do but I think the millennial generation also have a lot to teach us about food.  It's an interesting time but then cake is still cake and this cake is still bloody delicious!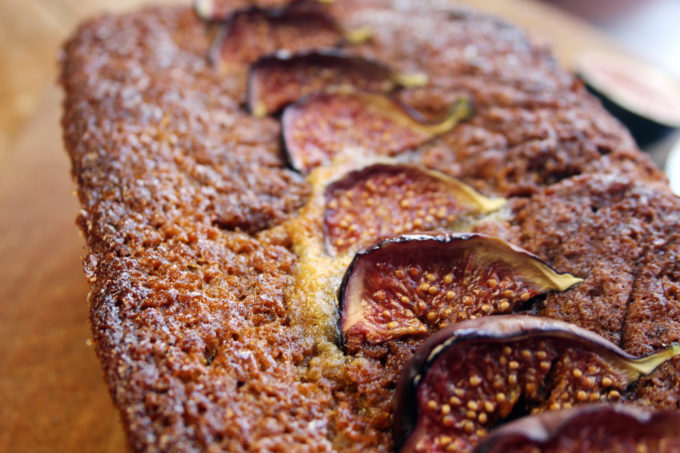 fig, date and ginger cake
the thing about this cake is that it's the taste of October… all those dark rich spices combined with the figs.  It's unbeatable.  I may be the only one (and slightly mad) but I love the smell of figs that have slightly turned.  The decaying smell just has a taste to it that I think this cake has captured.  It's rich and dark and throaty and so, so sweet.  Wonderful with a cup of tea… or perhaps a glass of whisky… if i'm allowed.
200g stoned dates, finely sliced
1 tsp bicarbonate of soda
75g unsalted butter
175g light muscovado sugar (we like Billington's)
2 tsp ground ginger
3 large free-range eggs
225g self-raising flour
2-4 pieces stem ginger from a jar, roughly chopped
2 ripe figs – one chopped and one sliced into wedges
3 tbsp chopped crystallised ginger to decorate
honey for glazing
pre-heat the oven to 180°C and grease and line a 1ltr loaf tin
put the dates in a bowl with the bicarbonate of soda and 300ml boiling water. Stir and set aside.
beat the butter and sugar in a large bowl until pale and fluffy, then beat in the ground ginger and the eggs, one at a time. Then add the flour, beat well, followed by the dates and their liquid and the chopped figs and mix well. The mixture will be runny but don't worry. Pour into your loaf tin and bake for 15 minutes then turn the oven down to 170°C and cook for 50-55 minutes until a skewer pushed into the centre comes out clean.
once the cake is cooked, slide the tray out from the oven and carefully lay the fig wedges on top and brush the top with honey, then pop the cake back into the oven for a final 5 minutes to finish off
remove the cooked cake from the oven and leave to cool in the tin for 10 minutes, then turn out and cool completely on a wire rack.
eat and of course, enjoy!