… well it's been another fortnight down in London for work (I have no complaints) but one of the best things about coming home to Belleau after an extended period, is to see how much the garden has blossomed.   Obviously it is most pronounced at this time of year.  You can literally leave the garden one day, looking like it's just a few shoots and bushes and two weeks later, wham! it's an explosion of colour and joy.  I'm very lucky because The Viking does all the hard work and I get to enjoy it, in fact i'm sitting on our front bench right now enjoying the lushness and the view… oh look, here's a photo to show you what i'm talking about…
… The Viking moan that it's not all plain sailing; there are all kinds of hurdles for him to battle with such as slugs and his current nemesis the rabbit, which seems to be eating all the young shoots but this happens every year and every year, without fail the garden flourishes into gloriousness.  The Viking even started a gardening blog a while back but this really was too much for him to keep up as well as the garden and our business.  His blog is still there if you have the time and inclination to pay it a visit, I think you'll agree his writing and musings on life is well worth it.  I guess it's the same as me moaning about cooking and what I have to do to keep the blog going.  He's right.  It can be soul destroying at times but the rewards out balance the pain and heartache.  He's off now at the garden centre buying plants and compost whilst i'm planning the next recipe, thinking about what needs to be purchased, what pots to use, how to make it a little different each time.  It could all seem like it's too much hard work but as I sit here, surrounded by the glory of the garden and the countryside, with cows in the field opposite the house and the warmth of the sun streaming on my back I would seem pretty ungrateful for all we have.


sticky toffee pudding loaf cake
this sticky toffee pudding loaf cake is one of the most-read recipes i've ever posted and the most requested cake I get asked to bake.  I usually use my mini silicone bundt moulds as they have the most perfect natural well for the toffee sauce but there's always enough batter left-over to bake a small loaf cake, which i'm concentrating on here.  It's a tremendously sweet and sticky cake and incredibly moist.  Once it's baked and cooled I like to place it in a shallow dish and pour the toffee sauce all over and then stick it in the fridge.  It becomes the most wonderfully unctuous dish served with ice cream.  The perfect pudding and the perfect antidote to a gloomy day… It's a breeze to make and of course contains madjool dates which a like darkly golden nuggets of molasses and will last for ever if you store them well and so a large bag can go a long way.  I've also included some sultana's and dried fruit –  a bag of which I have finally got to the end of since I bought it at Christmas, you just treat the dried fruit in the same way as the dates and it all goes in to making the cake even more special.
for the sponge pudding
125g dried stoned dates – finely chopped
100g raisins – finely chopped
175ml boiling water
1 tsp vanilla extract
175g self-raising flour
2 large, free-range eggs
1 teaspoon ground ginger
1 teaspoon ground cinnamon
85g butter
140g demerara sugar
2 tablespoons treacle or 2 tablespoons dark muscovado sugar
100ml milk
for the toffee sauce
175g light muscovado sugar
50g butter
225ml double cream
1 tablespoon treacle or dark muscovado sugar
i've used my 6 mini silicone bundt moulds but there was so much left-over I also greased and lined a small 1lb loaf tin – you will also need to pre-heat the oven to 180C
place the finely chopped dates and raisins into a bowl with the boiling water and vanilla extract and set aside until cool
in a large bowl beat the sugar and butter together with an electric hand whisk… keep going until you have a smooth-ish paste… it will never be perfectly smooth like a regular cake butter as the proportions of sugar are too high but keep going until it looks lighter.
add one egg and beat in followed by half the flour and beat in, then half the milk and beat, then add the second egg and beat followed by the remaining flour and beat in.  Now add the spices and the treacle or sugar followed by the remaining milk and beat again.
tip the soaked fruit into the batter and beat in once more then divide the batter between the cases or tins and bake for 20-25 mins until risen and firm – set aside to cool in the cases for a few mins and then remove from the tins and cool on a wire rack
to make the toffee sauce simply melt the butter, sugar and half the cream in a pan, stirring all the time.  Allow it to gently come to the boil, then add the treacle or sugar and let it bubble away for a couple of minutes and let it darken without burning.  Take it off the heat and stir in the remaining cream.
now, you can pour the sauce over the puddings once they've had a moment or two to cool and serve then and there or you can pour them in sauce once cooled completely and set aside to eat later, they should keep for at least 3 or 4 days out of the fridge.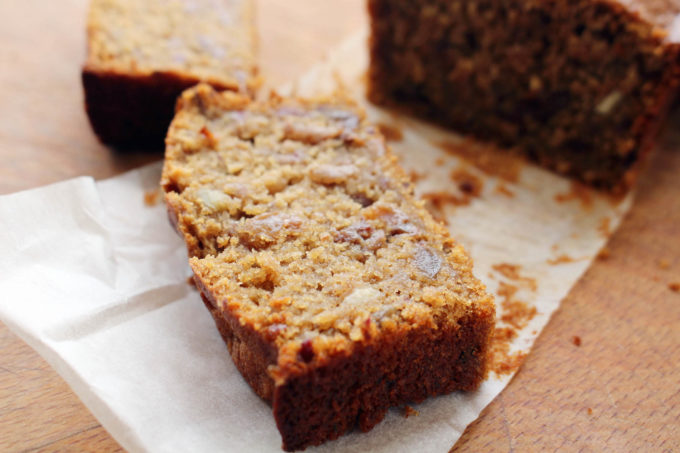 eat and of course enjoy!