… i'm so excited about Christmas that I keep getting those little thrills up and down my spine.  They come on suddenly and inexplicably like a wave of fairy dust is sprinkled on me.  We have good friends coming to the cottage next week to have a Christmas with friends pre-Christmas Christmas which in my humble opinion is the best kind of Christmas as it's stress free and alcohol fuelled and everyone who's invited is invited on purpose not just because they happen to be related so we know what we're getting ourselves into and there will be no family squabbles or embarrassing politically incorrect uncle.  We're all mucking in and it will be 48 hours of mad fun, fireside games and belly-rubbing fullness and then they'll disappear and The Viking and I can slip into the warm bath that is our regular Christmas of recharge and relaxation.  I'm trying out a few different ideas for food.  We'll most definitely be having turkey, prepared as I did in my last post but I think i'll also be slow-cooking some lamb… we also have to consider Lisa who's gluten intolerant and Kyra who's a pescatarian and not forgetting Dan who doesn't eat vegetables and of course The Viking who's a vegetarian… so in essence it's just me and Theo who are the only 'normals' and I'm mostly interested in the post-lunch Turkey sandwiches… bring on the alcohol… quick!
I wouldn't normally bother with a starter, being way to keen to get to the main event but this soup, which I made as part of my work with Leisure Cookers on my glorious new range cooker is so delicious that I may serve it up earlier in the day as everyone begins to get hungry as the aroma of roasting bird wafts through the house…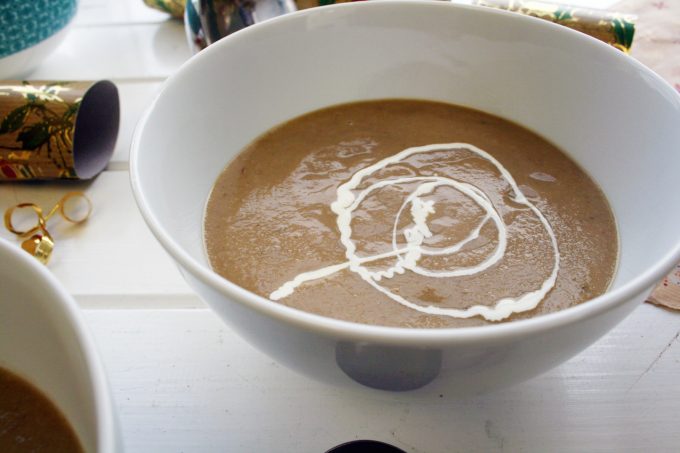 roast chestnut and mushroom soup
for me, this is essentially Christmas in a bowl. It's warming and hearty yet won't fill you up completely. It has the most wonderful Christmas taste and is a great way to ease you into the spirit of what's to come. It's also one of my mum's best soup recipes, she often made it for winter dinner parties leading up to Christmas, when we were growing up at home and the aroma of it reminds me of sitting on the stairs waiting for her friends to arrive before going off to bed, knowing what deliciousness they were about to enjoy!  You don't have to add the roasted chestnuts but they really do make for a wonderfully nutty addition to the soup and this soup is so easy to make that the added time it takes to roast the chestnuts really isn't a bind… plus your kitchen will have the aroma of a Victorian Christmas which surely can't be a bad thing!
roughly 250g chestnuts in their shells – with crosses cut in the top like you would a brussel sprout
1 large onion – finely chopped
1 celery stalk – finely chopped
2 medium carrots – finely chopped
roughly 10 chestnut mushrooms – chopped
1 250g tin of chestnut puree (not the sweetened kind)
2 pints of good quality vegetable stock
pre-heat the oven to 200C and lay your chestnuts in a large roasting tin and roast them for 30 mins until they soften and darken and begin to split open.  Remove from the oven and if you can handle them, remove them from their shells and set aside.
in a large pan, sauté the onions, celery and carrots in butter until soft and the onions are beginning to turn translucent
add the chopped mushrooms and roasted chestnuts, stir and then place the lid on the pan and let them sweat down for 10 minutes
add the stock and then the chestnut puree, let it simmer for 25 minutes before blitzing until totally smooth, with a hand-blender.
serve with a swirl of cream
eat and of course, enjoy!