… we spent last weekend working outside in Edinburgh and even though it was unbelievably cold (and when I say cold I mean freezing cold… I haven't been that cold in quite some years – it was that unbearable coldness that eats into your bones) it's still my favourite city in the UK.  I love how it feels like a village but is quite clearly an international city with so much history and culture, which also makes it a really romantic place too.  It's also so wonderfully easy for walking around.  You can see the lay of the land from the top of the Castle Rock but you also catch glimpses of the coast as you wander up and down the hills and bridges.  There are some incredible restaurants there too, with some adventurous chefs serving some very interesting Scottish twists on international cuisine.  We stayed at the Ibis Styles hotel in St Andrew's Square which was also rather impressive for both its budget prices but also it's rather clever use of interior design.  But mostly we were impressed with the beautiful Christmas decorations.  The whole city was aglow with such beauty.  Lights twinkling on every street and there was very little tacky stuff but a lot of impressive wreaths wrapped with an abundance of lights… some of them so incredible we actually stopped to stare in wonderment and awe.  The Dome bar was particularly impressive and gave us the full, head-on Christmas experience.  I also ordered my first Amaretto on Ice of the season which always makes me feel so warm and tingly inside…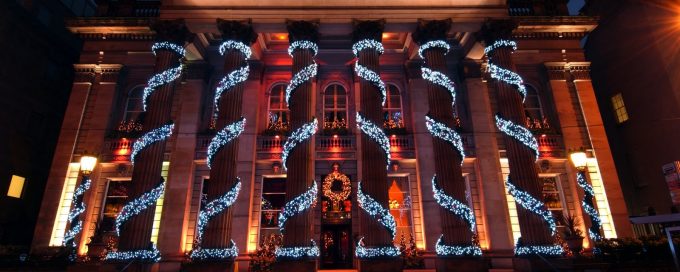 chocolate truffle meringue pie
an indulgent pudding to say the least but very special there's no doubt… I had a glut of my favourite almond and cream cheese pastry left-over from prepping for my forthcoming demo-cooking  weekend at the Lincolnshire Food and Gift Fair as well as 5 large free-range egg whites so I knew a meringue pie was in the mix.  I would have usually gone for lemon or something else sharp but a surprising lack of lemons combined with a lot of rain meant that I had to make do with what was in the house so the two bars of chocolate become a chocolate truffle pie!  The pastry is genius as it's so rich and so light it doesn't need to be blind-baked yet I promise it will come out perfectly crispy and flaky… I have no idea what happened with the meringue.  It came out of the oven nice and high but seems to have collapsed overnight as it cooled.  Perhaps I over-beated the eggs, so do watch out for this…
for the almond and cream cheese pastry
300g plain flour
3/4 teaspoon baking powder
112g caster sugar
150g unsalted butter
100g full fat cream cheese (I used cottage cheese which was excellent)
75g ground almonds
1 egg yolk a little milk to bind
for the chocolate truffle filling
200g dark chocolate (70% cocoa solids), roughly chopped
150g unsalted butter
60g golden caster sugar
2 large free-range eggs, plus
3 large free-range egg yolks
80g plain flour
for the meringue
5 large free-range egg whites
275g caster sugar (i used coconut sugar)
1 tsp cornflour
1 tsp vanilla bean paste
20g cocoa powder
i'm using a 22cm round loose-bottomed fluted tart case which i have generously greased with butter
start with the pastry – sift the flour, baking powder and sugar into a bowl, add the butter and rub until it resembles breadcrumbs – add the cream cheese, ground almonds and egg yolk, take a knife and mix until it comes together into a dough, you may need to add a little milk here, as I did. – chill the dough for at least 30 mins
pre-heat the oven to 180°C
roll out your pastry on a very well-floured surface – I am very generous with the flour on the top and underneath this pastry – and then roll out (I adore this pastry nice and thick)
lay the pastry into the case and gently tease it into the fluted sides and press down then trim the edges, pop it into the fridge whilst you make the truffle filling
for the filling, put the chopped chocolate into a heatproof bowl over a pan of barely simmering water (don't let the water touch the bowl). Melt gently, stirring now and then, then add the butter and stir until combined – remove from the heat and set aside
whisk the sugar, eggs and egg yolks for about 8 minutes until pale and creamy then stir in the melted chocolate until it's all incorporated, then gently fold in the flour using a large metal spoon… remove the pastry tin from the fridge and spoon the chocolate filling into the pastry case, level the top with a spatula, then bake for 12 minutes.
now make the meringue using an electric mixer, whisk the egg whites until they form stiff peaks. Gradually whisk in the sugar until you have a stiff, billowy meringue whose peaks stay standing when you lift out the whisk. Beat in the cornflour, cocoa powder and vanilla bean paste.
after the chocolate truffle filling has been in the oven for 12 minutes, remove from the oven and lower the oven temperature to 150°C, then using a metal spoon, carefully spoon the meringue on top of the chocolate tart, swirling slightly as you go.
return the tart to the oven and bake for 20 minutes more or until it has a thin crust on top but is still soft in the centre. Leave to cool completely before removing from the tin.
eat and of course, enjoy!