… I love my real job, honestly I do.  OK, I may moan about it quite a bit but it's not all bad running a creative agency in the heart of London and we at The Persuaders do get up to some exciting things once in a while… these past few weeks we've actually been working on a very exciting project and something a little different to our usual thing… we've spent the past 5 weeks designing and building FriendsFest.  As the name suggests it is a festival dedicated to 90's TV show Friends.  We've recreated Monica and Rachel's apartment, a full-size Central Perk, the Title Sequence where you can frolic on the infamous orange sofa in front of the fountain and we've even created a few extra little bits such as the front door of the Little Chapel of Love in Vegas where Ross and Rachel got married!  Now of course i'm young enough to remember the very first episode of Friends being broadcast on UK television back in the early nineties and i've always loved the show (it is on TV pretty much 24/7 these days) but the fans who have been turning up are from all ages and from all over the globe.  It's quite a phenomenon and one which we really weren't expecting even though the box office began to sell out in under a week… and the stuff these guys remember is astounding so we've had to be really detail-heavy in all the work we've faithfully reproduced.  It's been a labour of love but we're quite proud of the results and it's not over yet either as the whole festival tours around the UK for the next 6 weeks!
… frustratingly for many fans, the tickets (all 60, 000 of them) have entirely sold out for all venues but we will be returning with an even bigger and better festival next year… and there's even a rumour we'll be doing a special Christmas tour in December so watch this space for more info…
… in the meantime it's back to reality and some rather delightful oven-baked goodies…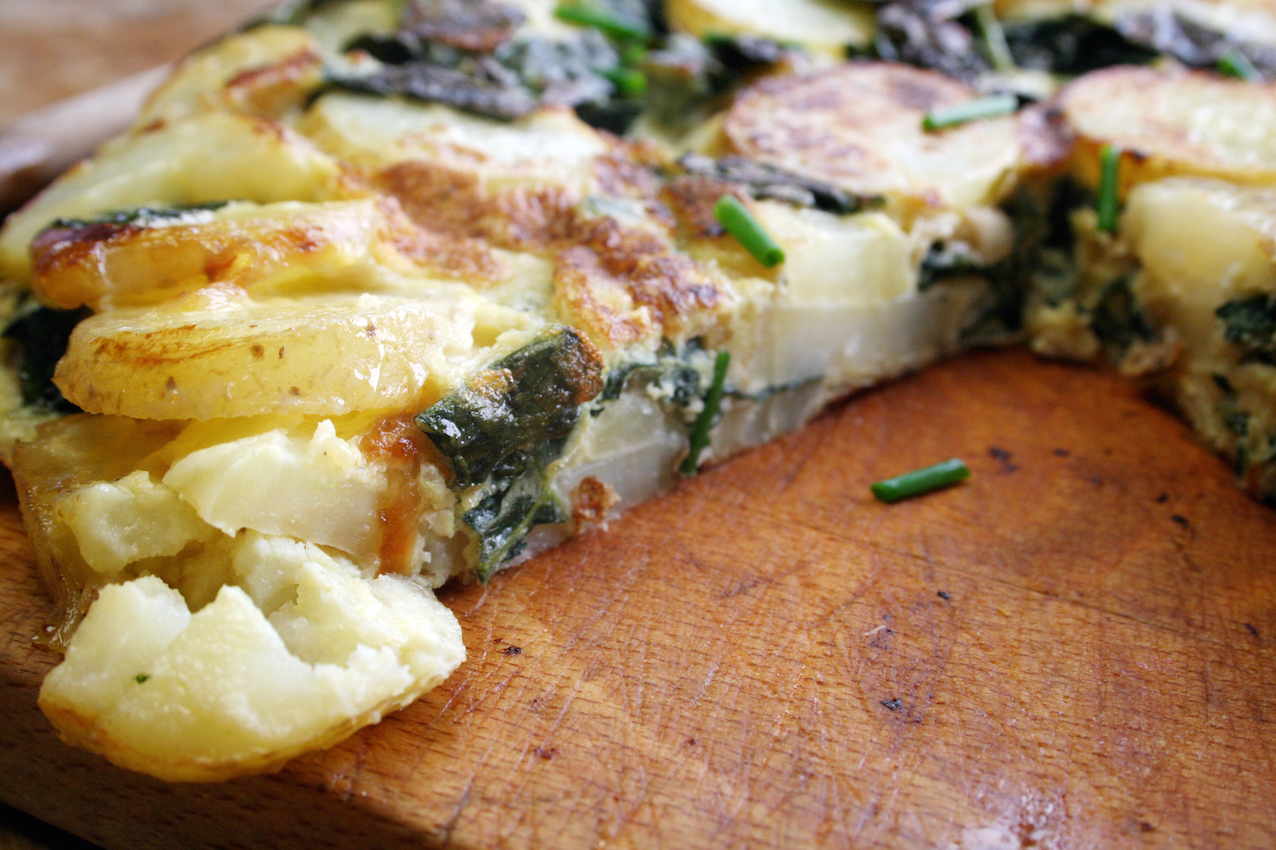 potato and cavolo nero frittata
more lovely ingredients from my rather wonderful #OrganicUnboxed delivery, it's quite incredible how much variety there is in the world of British organic food, I will have meals for weeks…
… there seems to be not much between the frittata and the spanish tortilla other than the frittata is baked in the oven rather than fried in a pan on the hob and is therefore is a little more hands-free although to be honest there's very little in it and I quite like the control I have over the pan… however, for the sake of a little variety I've gone for the oven-baked version here.  I'm absolutely crazy in love with cavolo nero.  It is essentially a type of kale from Tuscany… or Tuscan Kale if you will and has the most wonderful dark dark green colour and tastes like a very rich and deep cabbage.  When it's available and in-sotre I always purchase and put it into as many things as I can from soups and stews to risottos and this wonderful frittata along with some divine organic potatoes… the pre-roasting of the potatoes and onions really adds another dimension to the dish and a little extra texture too… if your guests have the patience it makes for an excellent Sunday brunch which is ready to serve in just under an hour but it is also divine served cold with salad and will keep for 2 days in the fridge…
400g organic potatoes – un-peeled and thickly sliced
1 large organic white onion – finely sliced
5 or 6 stalks of cavolo nero – sliced in a frivolous fashion
150ml extra-virgin olive oil and a large nob of butter
a sprig of fresh thyme
6 large free-range eggs
for the above ingredients I am using a 25cm deep round casserole dish with a lid
pre-heat the oven to 180C, add the onions and potatoes to the dish along with the oil, butter and herbs and plenty of salt and pepper and stir around, place the lid on and roast for 15 minutes, then take the lid off and roast for 15 minutes more until the potatoes begin the turn golden and crispy, then add the chopped kale and pop the lid back on for a further 10 minutes
meanwhile, in a large bowl, beat together the 6 large eggs with a little milk and some salt and pepper, then take the roasted veg out of the oven and pour it all into the eggs, stir them all together and then pour the whole lot back into the dish
pop the dish back into the oven and bake without the lid for roughly 10 minutes, although you should keep and eye on it and take it out once it begins to fluff up and turn golden brown
let it sit for a few moments before serving
eat and of course, enjoy!