… ever since I visited my friend Shannon in Pamona, Southern California, way back when we were both younger than we can remember I've had a thing for Mexican food.  Back then it really wasn't a big deal in the UK, there was perhaps one, not so good Mexican restaurant that was more 'Tex-Mex' than it was authentic as the true trend for Mexican food really didn't start till about a decade ago.  We're now spoiled for choice but for the true taste of chipotle you had to pack your bags to travel.  We ate at a stunning Mexican restaurant and i'm not sure if it was the incredible guacamole that the waiters made fresh at our table or the dozens of rather potent margaritas that did it for me but I fell in love hard and have never looked back.  Surprisingly I don't make it at home that often, even though The Viking also loves a hot and spicy fajita as much as I but now that i've had a play with these wraps I'm definitely going to explore a little Mexican home-cooking further…
Mission Deli wraps can be used in so many different ways other than the classic 'wrap n roll' and because they're super soft they're easier to fold and hold fillings better… which of course means you can get more creative with them!  I've loved working in collaboration with Mission Deli because it means i've been able to discover fun ways to use their wraps… I love using them for an extra thin pizza base when i'm feeling super-lazy and they also make incredible cheese and ham toasties (although don't tell bread or it will get hugely jealous…) and i'm even planning a sweet 'wrap and butter' pudding for later in the week… so watch this space…
chipotle roasted chicken and vegetable deli wrap bake
this is such a simple recipe and although it's quite time consuming, it's all done in the oven and so you can prepare it slowly over the long weekend and build it all together just before you plan to eat… it can be made ahead of time and heated when you're ready or even frozen before the final bake.  I've roasted a whole chicken but don't feel you need to do it this way, you could simply use chicken portions or even buy pre-cooked chicken to shred.  I've also prepared my own chipotle spice mix but again feel free to use a pre-mix here as the results will be just as phenomenal…
serves 6
for the chipotle seasoning:
a packed of pre-mixed chipotle spice or…
1 teaspoon ground chipotle chilli
1 teaspoon garlic powder
1 teaspoon onion powder
1 teaspoon ground coriander
2 teaspoon smoked paprika
black pepper
1/4 teaspoon cumin
1/4 teaspoon ground oregano
1/4 teaspoon salt
1/4 teaspoon cayenne pepper
plenty of olive oil
1 yellow pepper – sliced
1 red pepper – sliced
2 large flat mushrooms – thickly sliced
1 large white onion – thickly sliced
1/2 cauliflower – roughly sliced
1 courgette – chopped into thick batons
1 whole chicken (or chicken portions)
1 onion – quartered
1 lime – quartered
6 misson deli wraps
100g strong cheese – grated (I used cheddar)
4 tablespoons sour cream
fresh chives – chopped
fresh tomatoes – chopped
pre-heat the oven to 180C and have handy 2 roasting tins – one for the chicken and one for the vegetables
lay the chicken into the roasting tray, stuff with the onion, drizzle with olive oil and sprinkle with 2 tablespoons of the chipotle spice mix and rub it all over.  Lay the lime quarters around the chicken – cover tightly with foil and roast for an hour, then remove the foil, turn the chicken over and roast for 30mins, then turn the chicken back over and roast for a final 30 mins till golden brown – set aside to cool covered in foil… once cool, rip apart and shred in a bowl
meanwhile treat the vegetables in the same way – spread them out onto a large roasting tin, drizzle with plenty of olive oil and then sprinkle with 1 tablespoon of the chipotle seasoning and plenty of salt and pepper, then get stuck in with your hands and mix the whole lot together coating the veg well with the seasoning, cover with foil and roast for 30 mins, then without the foil for a further 30mins or until soft and beginning to char a little at the edges – set aside to cool
lay out your first wrap and spread a healthy spoonful of sour cream on top, then a little of the shredded chicken and a little of the spicy vegetables, then sprinkle generously with the grated cheese and roll tightly before cutting into five even pieces which you should lay vertically in an oven-proof dish… continue this way until the oven dish is full… I used half the chicken and 6 wraps
sprinkle the whole bake with a little more cheese and then bake on 160C until golden and sizzling… serve with a little more sour cream and some fresh tomatoes and cut chives sprinkled on top
the good folk from Mission Deli Wraps want to challenge people to think beyond simply putting fillings inside a wrap so I encourage you all to get creative and as innovative as you wish and then share your #WrapHacks on their Facebook page to be in the chance of winning a pack of wheat and white wraps!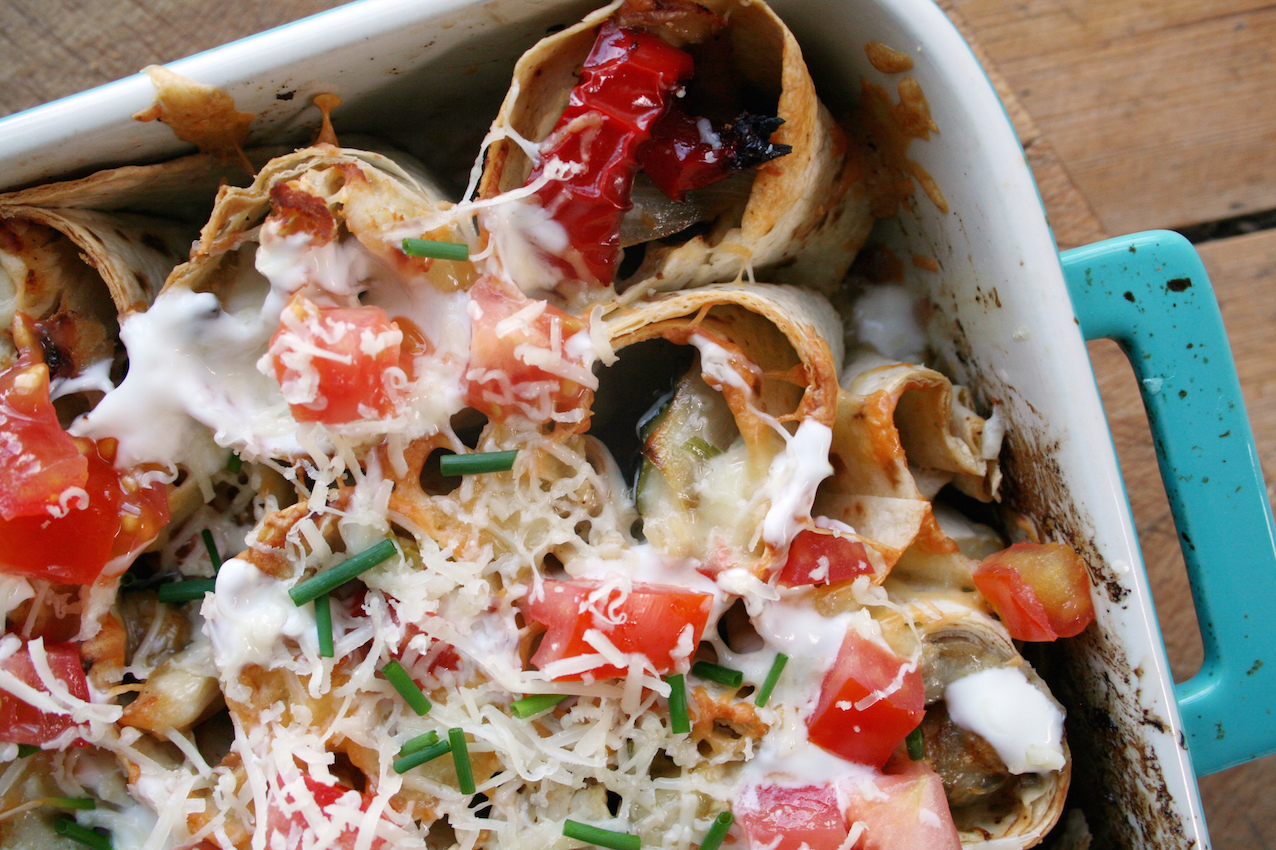 eat and of course, enjoy!