… sometimes i've worked so flat out during the week that I spend the whole of Saturday laying in or on the bed watching TV… this is an entirely guilt-free activity but it's taken a good few years of adult life for me to become totally happy with it.  I know I work hard and sometimes this includes both weekdays and weekends but my free weekends are precious to me, so to seemingly waste one of those days is akin to sinning… but now that i've realised that there is no such thing as a work/life balance i've made peace with the fact that sometimes I am allowed to be a slob. My favourite thing is to find a properly tacky TV show that's a few years old and then watch 3 or 4 seasons in a row, only moving to fuel the body and poo.  Of course, me being an international food blogger and all my 'fuelling' is usually slightly more elevated than cheese on toast… but only just…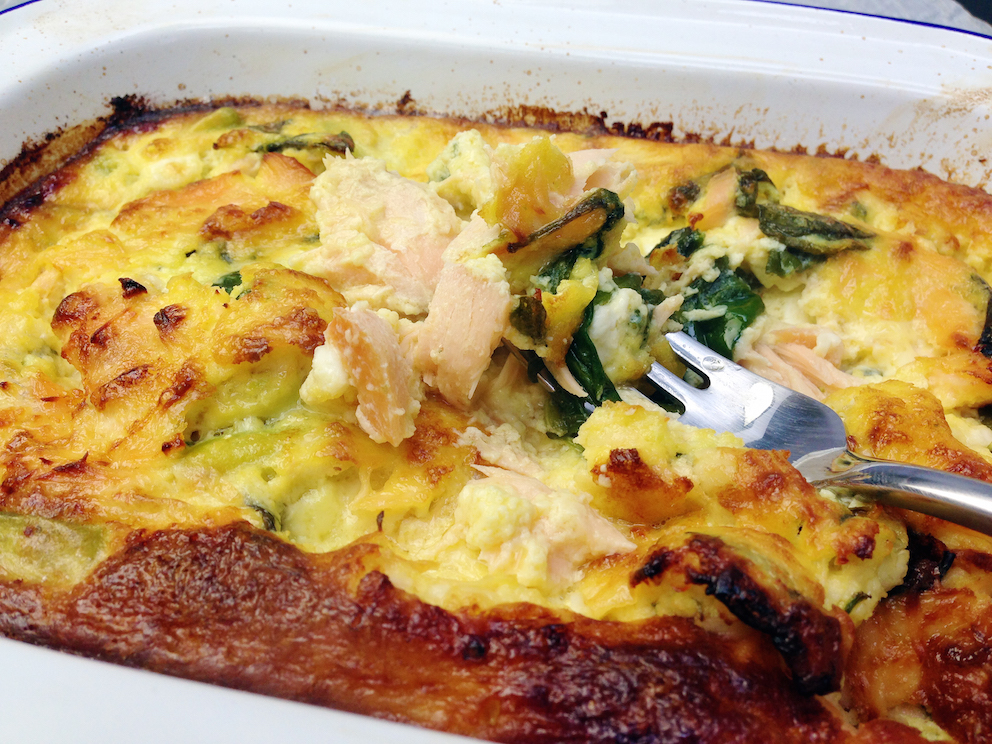 trout, avocado and spinach souffle
I think this is less a souffle and more a baked omelette or crustless quiche but I think souffle sounds a little more snazzy if you know what I mean.  If i'm honest I did have all intention to attempt a proper souffle but quite frankly I couldn't be bothered and all I had in the fridge was cottage cheese and some delicious TOTAL Greek yoghurt so it is what it is.   I love this dish.  It's so easy to throw together and it's packed with all the wonderfully healthy, protein-heavy things I love… and if you're turning your nose up to baked avocado then think again.  There's something wonderful that happens to the humble avocado when it's baked.  It becomes extra creamy and wonderfully smooth and it just works so well here.  Potentially some spring onions could have added a little crunch but I didn't have any in the house so i've kept it properly simple.
2 large free-range eggs
100ml cottage cheese
100ml TOTAL Greek Yoghurt
2 fillets of trout or salmon – these can be pre-cooked or raw
1 avocado – peeled and chopped
50g strong cheddar – grated
a large handful of spinach
butter
salt and pepper
pre-heat the oven to 180C and butter an oven-proof dish
in a  small pan add a drop of water, the spinach and a large dollop of butter, season well with pepper and salt, place the lid on and let it steam on a low heat until the butter melts and the spinach is soft – set aside.
in a large bowl beat the eggs, then add the cottage cheese and yoghurt and salt and pepper and stir in, then add the cheddar, avocado, fish and spinach and stir it all together trying to leave the fish in large flakes
pour into the buttered oven-proof dish and bake for 20 minutes or until it's all golden and risen and glorious.
i'm linking this glorious egg dish to my Simply Eggcellent link-up which is celebrating the theme of anything goes this month
eat and of course, enjoy!