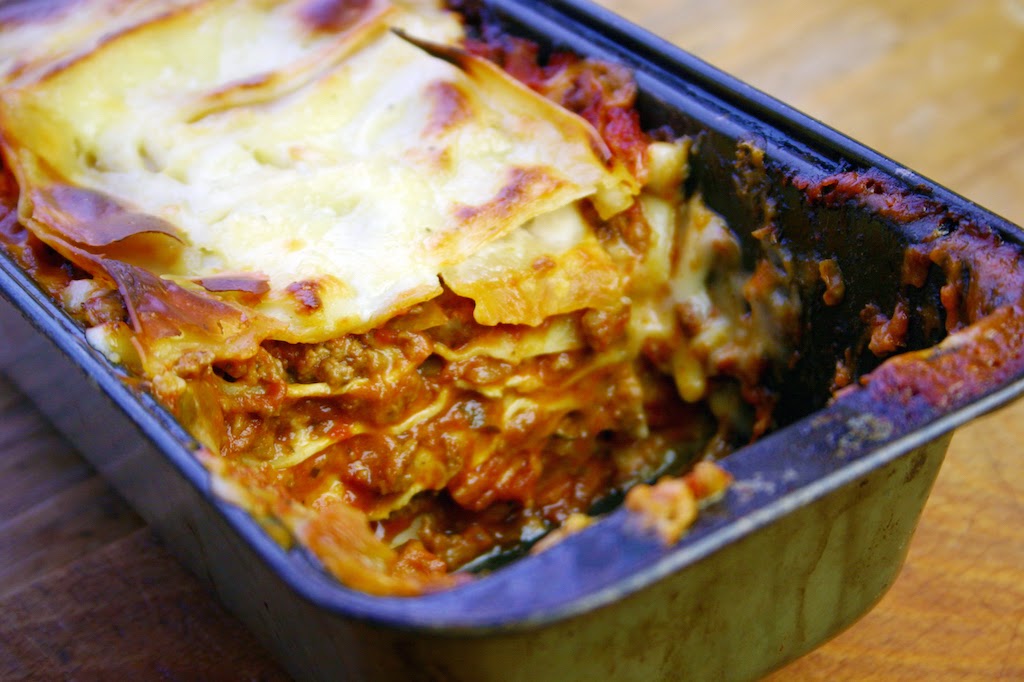 … i'm still not 100% well.  This has been the longest bout of flu i've ever experienced.  It's been horrid and I wouldn't wish it on anyone.  I'm hoping it's not because i'm older.  I know quite a few people of all ages who've suffered from this and it seems as though it's been a long illness for everyone but I do worry about how my age is effecting things when it comes to my health.  All this has not been helped by the fact that mum turned up for Mother's Day lunch with an article she'd cut out of The Times about men's health and their age.  It was grouped into decades and spelt out keys facts about what you should be doing in your life now that you're in your 30's / 40's / 50's etc… she said she'd brought it for The Viking (bless) but I felt compelled to read it anyway… you could tell she'd pulled it from The Times as one of the top tips for a healthier lifestyle for someone in their 40's was to 'grow your own vegetables'… thanks for that…
veggie mince lasagne
sometimes, when i'm feeling generous and my guard is down, I let The Viking into the kitchen.  He is in fact a more than competent cook and if I allowed him to get on with in unhindered i'm sure we'd eat like kings.  The issue is that i'm a control freak and I can't let go, so even though I was feeling like death warmed up this last weekend I still had to hover over his shoulder, which of course he hates.  Whilst he's very creative in the kitchen he tends to have little patience for cooking and so i'm forever turning down the heat on searing hot frying pans and boiling liquids… if only he'd learn this one simple thing he'd be far less stressed and our food would be far less burnt…  other than this the results are usually pretty phenomenal…
even though lasagne is, i'm sure, a staple in most house-holds we very rarely eat it.  The Viking is not a big van of what he calls 'tomato goo' which very often seems to be the typical vegetarian offering when people don't know what to cook… it's a shame because I actually love a bit of tomato goo but I guess it also means that it feels a little more special when we do eat it.  I love the fact that The Viking chose to use my loaf tin to make this lasagne.  It's actually the perfect size for two and means we're not over-eating a giant tray of food.  Well, he thought he was pretty clever anyway…
for the bolognese sauce:
1 medium onion – chopped
2 garlic cloves – finely crushed
1 celery stick – finely chopped
2 packets of 300g frozen Quorn Mince
1 large 250g tin of chopped tomatoes
1 large 250g tin of vegetable stock
2 teaspoons tomato puree
1 courgette – diced
1 glass of white wine
fresh rosemary and thyme
2 bay leaves
for the cheese sauce
75g unsalted butter
1 tablespoon plain flour
1 pint of liquid made up of half milk and half vegetable stock
8oz of strong cheddar – grated
1 teaspoon of French mustard
– to make the sauce, gently saute the onions, garlic and celery in a large heavy pan until the onions are translucent, add the mushrooms and let them sweat until tender, then add the mince, stir and let the whole lot sweat gently for about 5 minutes as the mince soaks up all the vegetable juices
– add the tomatoes then refill the tin with hot vegetable stock and add that too, then add the rest of the ingredients, stir and let it simmer very gently for at east an hour
– to make the cheese sauce, melt the butter over a gentle heat, remove the pan from the heat, add the flour and stir with a wooden spoon until all the butter is absorbed
– place the pan back onto the gentle heat and add a little of the milk/stock and stir continuously until it becomes a smooth paste.  Slowly add a little of the liquid whilst stirring until all the liquid has gone and the sauce becomes nice and thick, then let the sauce cook a little.
– after about 5 minutes add the grated cheese and mustard and stir until melted
– pre-heat the oven to 180c
– take a large ovenproof dish and layer the lasagne, sauce first, then pasta, then cheese sauce… I try and go for 3 layers, finishing with white sauce and topping with freshly torn mozzarella and a little more grated cheddar
– bake in the oven for 30 minutes or until beautifully golden on top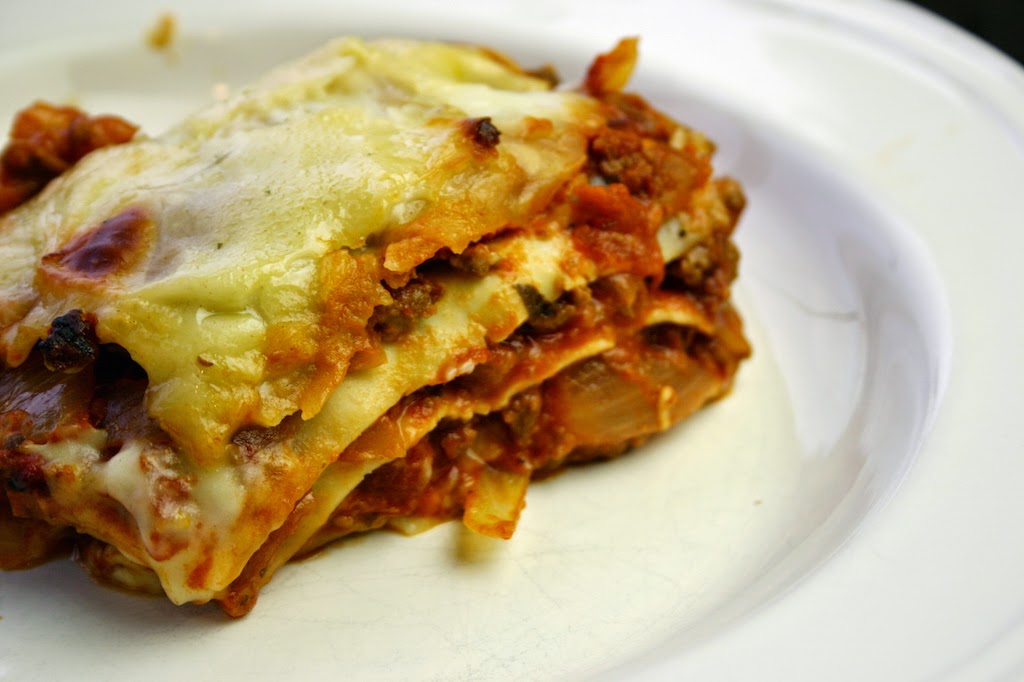 eat and of course, enjoy!