… what a funny month this January has been.  Usually January can be quite a gloomy month – back to work… the post-Christmas blues… dealing with the diet and those pesky resolutions… but this year for me at least it all seems to have whizzed by in a blur of craziness… work has taken me up and down the country already – i've seen more of the UK in the past 28 odd days than I did for much of last year and so i've been thinking that I may start the 'keep busy in January' life-style plan.  Either that or hibernation…. these seem to be the best two ways I know of getting through January and i'm sticking to them!
chunky cucumber, feta and fennel dip with toasted fennel seeds and torn coriander
new year, new you and all that – the problem is that that's all very well and good but as we all know, in practice it doesn't always work that way and we're all too soon slipping back into old eating habits.  So this year I thought i'd try a different approach and with a little help from my good friends at popchips, the innovative popped snack company, i've developed a healthy treat that delivers that naughty flavour you want but with less calories.  You see, my thinking is that rather than cutting out the stuff that's not so good for you, simply eat healthier versions of it… we all love to veg-out and  munch on chips and dips in front of a good film, particularly on a miserable January evening and with these lovely salt and black pepper popchips which are less than half the fat of regular fried chips and less than 100 calories per serving served alongside my chunky dip, packed with the deep roasted flavours of toasted fennel seeds how can you say no… you can't, you can say yes with a clear conscience!
1 cucumber – peeled and diced into mini cubes
1 block of feta cheese – finely crumbled
1 fennel bulb – very finely chopped
1 tablespoon fennel seeds
1 bunch of fresh coriander
3 tablespoons olive oil
the juice and zest of one lemon
the idea here is to chop the vegetables as small as possible, I find this pretty easy but a sharp knife helps although feel free to use a mixer with a fine dice attachment or a mandolin
gently heat a small frying pan, then add the fennel seeds and toast for a minute or two to release their aroma, being careful not to burn them
place the chopped cucumber and fennel into a large bowl, add the toasted fennel seeds and crumble in the feta… you could grate the feta in if you like a finer more even texture, then add the lemon zest and juice and torn coriander, then drizzle over the olive oil… I like a lot of oil but you can hold back if you're feeling you need to
stir it all well together and divide into bowls to serve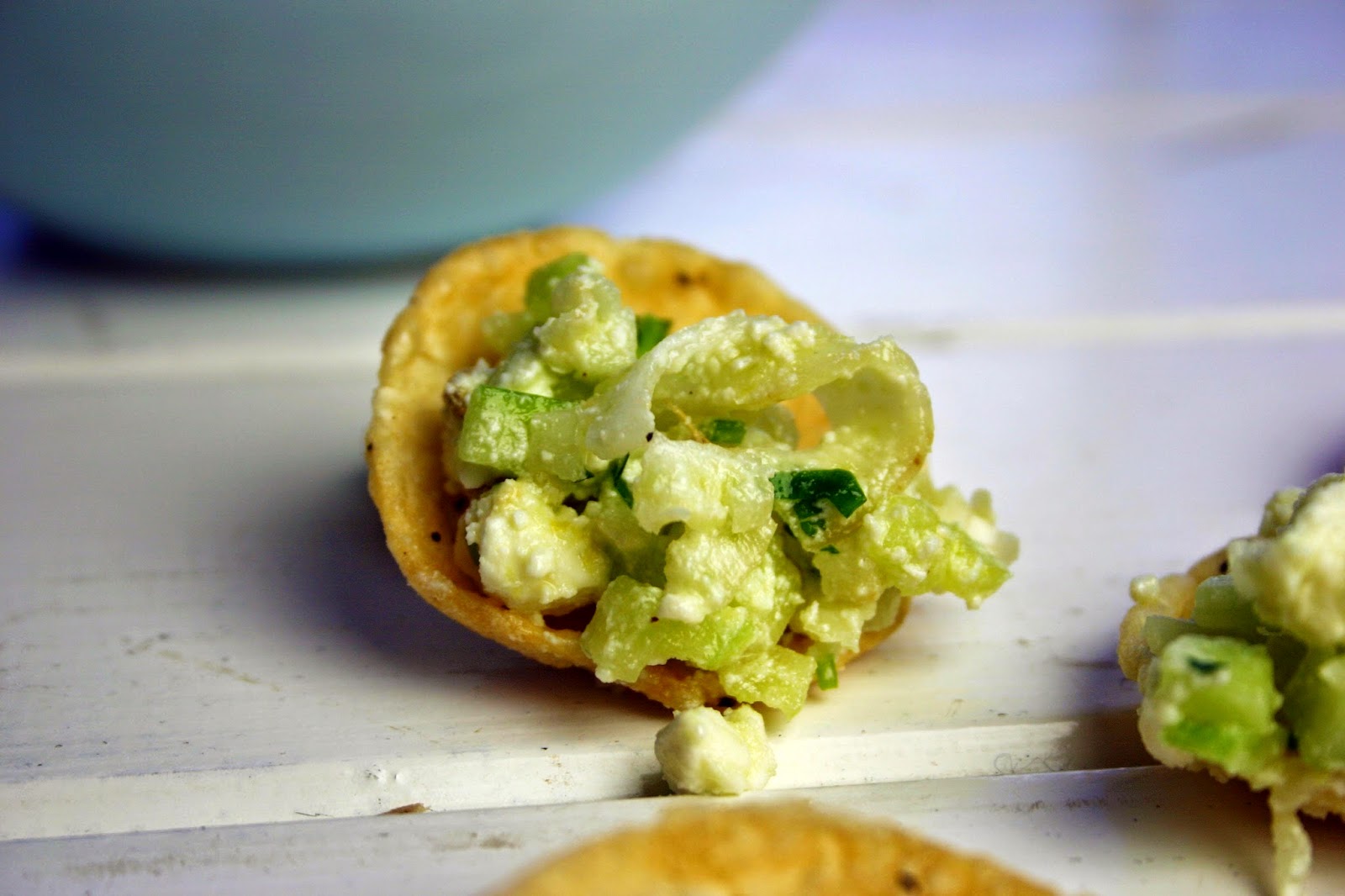 eat and of course, enjoy!