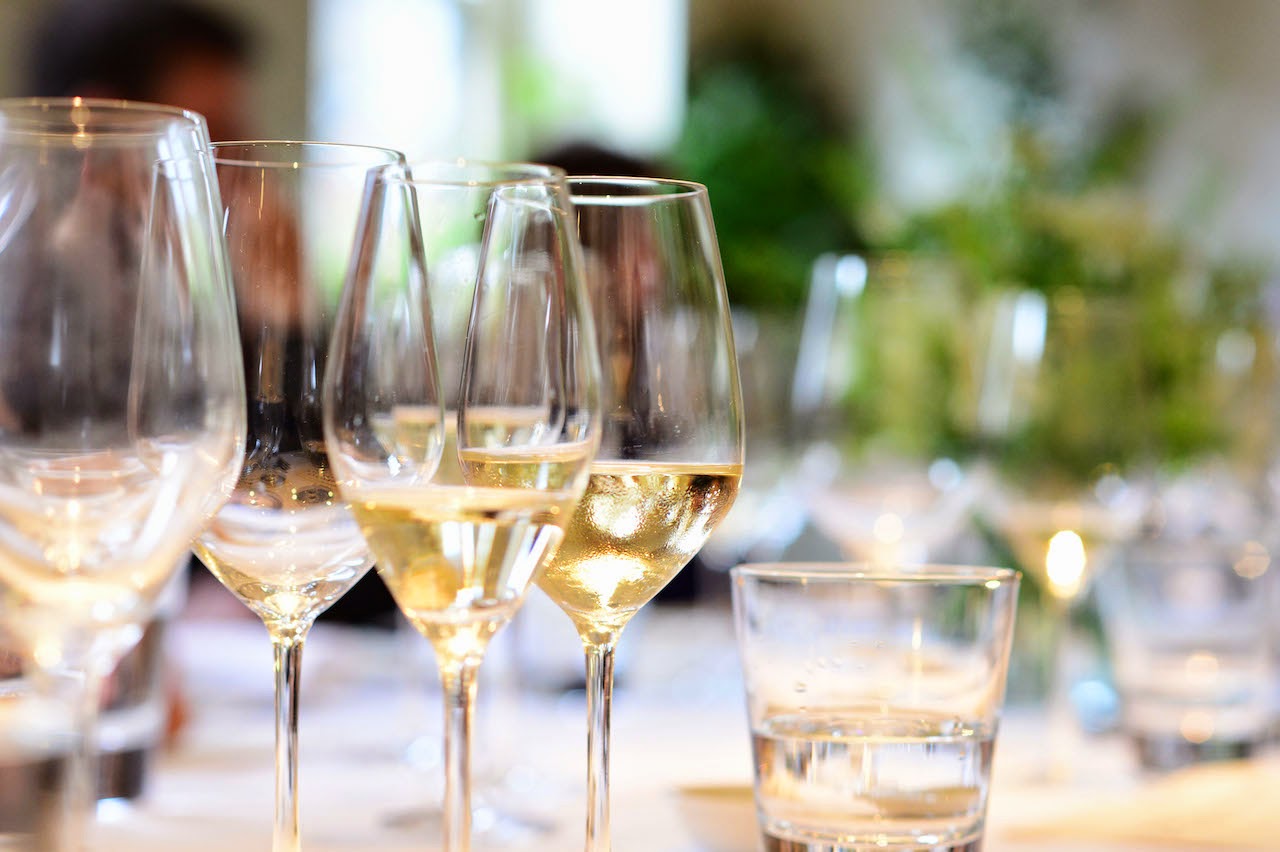 … with Christmas literally over a hill, it looks as though of us are already stocking up on our favourite drinks for the festive season – and there's one bottle appearing on everybody's wish list this year…sparkling wine… incredibly figures show sales of sparkling are up 21 per cent as increasing numbers of consumers make the move away from pricey Champagnes for their choice of fizz. I'm a true believer that it doesn't have to be Champagne to be enjoyable and have road-tested many a sparkling plonk to help me make up my mind – I know, the sacrifices we make right?
the lovely Marty Spate
Last week I was fortunate enough to meet a man who has been key to orchestrating Blossom Hill's wine revolution in the UK, Master Winemaker, Marty Spate. Marty flew in to London from very close to where my dad lives in California, to join me and a group of influencers for a meal at top restaurant Quo Vadis to showcase the brands finest wines in the run-up to Christmas.
Blossom Hill's sparkling wines have captured the global trend among consumers for sweeter, lighter bottles and as a direct result of their popularity have recently added a Sparkling Moscato to their range… I was very suitably impressed.  The sparkling Moscato is both fresh and juicy and has just the right levels of sweetness to make it instantly drinkable without leaving a horrid cloying headache two seconds after drinking…
holding court at the table… who me?
Marty has been working with large commercial wine brands for more than a decade having previously learned his trade at a small family winery following university.  Born and raised in the agricultural heartland of Central California, Marty was brought up in a farming family working on vineyards from a young age before heading off to study at California State University – the only university in the world with a commercial operating vineyard on campus. He is so passionate about wine that when he was describing the taste of one of the wines we tried he told us it reminded him of his grandmothers apple pie and he started to get choked up and began to cry.  It was quite a moment, bearing in mind that Marty is a big bear of a man I think it touched everyone at the table as a genuine moment!
crab with lemon mayonnaise
This was soon swept away as we were treated to a selection of Blossom Hill wines chosen by Marty to be served alongside a series of tasty dishes… starting with a choice of crab or pumpkin – I had the crab which was gorgeous and so fresh and worked beautifully served with Blossom Hill Pinot Grigio 2013. The wine has subtle pear and citrus aromas, with a hint of almond on the nose. The palate is dry, with a lively acidity supporting its fruity flavour and medium weight. This un-oaked wine has a crisp and lean finish.
Next for me was the pan-fried turbot, which was melt-in-the-mouth delicious served along side buttered new potatoes and some glorious butter sauce.  Marty selected the Blossom Hill Merlot 2013 – a medium-bodied wine with soft fruity flavours, reminiscent of red and dark berries. It is mellow in taste, equally ideal as a restaurant glass or to cosy up to at home in front of the fire on a cold winter night.
pistachio cake
Finially for dessert I had pistachio cake which was served with a taste of both the Blossom Hill Blossom Hill White Zinfandel 2013. The award winning wine has a delightfully-crisp aroma of strawberries or red, ripe watermelon which has excited consumers. Lively on the palate, it is medium-bodied with a refreshing finish.
As you can imagine we all left the restaurant suitably stuffed but I also left with this incredible memory of food and wine pairing and of course a bottle of my new favourite sparkling wine – perfect for the upcoming festivities.
the new Blossom Hill Sparkling Moscato is available at Tesco
eat and of course, enjoy!