… and just as autumn took its grip on the UK, we turned into September and the sun came out again like it was summer… in fact i'm sitting here writing this post in my shorts, my legs desperately clinging on to the last vestiges of an Italian tan as I moisturise furiously – now there's an image for you.  I'm not sure quite how short lived it will be – the good weather, not my shorts which are short enough, so it's best that we make the most of it whilst it's here and autumn finally slams its fist down on the year.  You won't hate me will you if I tell you that The Viking and I are planning another little getaway for our birthday on the 24th… I know that it will mean my 3rd holiday of the summer but we've been busy boys and it looks as though we have a busy few winter months ahead so we're going away.  Not sure where yet.  Any recommendations gladly accepted.  Obviously somewhere with fabulous food and amazing weather is a plus… in the meantime here's some pretty pink bread…
beetroot, cheddar and pecan bread
i'd seen quite a few beetroot breads on the internet recently.  I was particularly inspired by Karen's Beetroot and Walnut Rolls and Lucy's Beetroot Loaf, so when it came to using up a bunch of ageing beetroot that had been languishing in the back of the fridge for quite some time I thought i'd have to give beetroot bread a go… plus was really intrigued to see if the colour would stay bright and vividly pink.  I've included a really strong but glorious cheddar and some pecans that have been in my larder since Christmas and the combination is exceptional… to be honest you can't really taste the beetroot and my colour is more orangey pink that hot pink like Lucy's but I doubled my bread recipe without increasing the beetroot amount so I knew the colour wouldn't be quite so intense… the bread also toasts beautifully, so i'm more than happy…
… again i've used my low-knead method.  The dough is very wet but have patience and stick to the low-knead technique and you'll be fine.  I've added a 4th knead to my usual 3 kneads as I think the dough benefits from this, plus the first rising time is way over 2 hours so be patient.
makes 2 loaves of any shape:
500g raw beetroot – peeled
800g strong white bread flour
2 teaspoons fast active dried yeast
2 teaspoon salt (not table)
100g strong cheddar – finely grated
50g pecan nuts – roughly crumbled as you add
1/2 teaspoon fennel seeds
400ml liquid, either water or the water you boiled the beetroot in plus some of the squeezed out juice – you may need less, you may need more depending on how wet your beetroot is
extra virgin olive oil
scrunch some parchment then line your loaf tin or baking tray… saves heaps of time!
cut your beetroot into cubes and boil until tender and set aside to cool, reserve the water, then blend the beetroot into a pulp with a stick blender, squeeze out the juice and add to your liquid measure.
place all the ingredients except for the oil, in a large bowl and bring together with a rubber spatula, it will be very wet but once combined set aside, cover with a tea towel and leave for 10 mins for the yeast to do its magic.
decide which hand you will knead with and which hand you will keep oil free… I use my right hand to knead… spill a little oil on your work surface, spread it around with the flat of your hand and then using your oiled hand grab the dough from the bowl and place it on the oil. Then swiftly drizzle a little oil into the bowl and wipe around using your oiled hand.
now turn to the dough and give it 8 'kneads'. This should take no longer than 30 seconds and you should already be able to feel the softness and air in the dough. Return the dough to the bowl, cover with a towel and set aside for 10 mins.
repeat 3 more times then cover the bowl with cling film and let the dough rise for at least an hour or until doubled in size
once doubled oil your work surface with your hand again and punch the dough into an oval on it, then starting at one end, roll the dough tightly into a sausage, tuck in the ends and plop into your prepped loaf tin. Pre heat your oven to 200C and set aside for 30 mins till risen.
Place the tin in the oven and bake for 10 mins then turn down the heat to 180c and bake for a further 20 mins. Remove loaf from tin then bake on the naked oven shelf for five more mins.
Set aside till completely cooled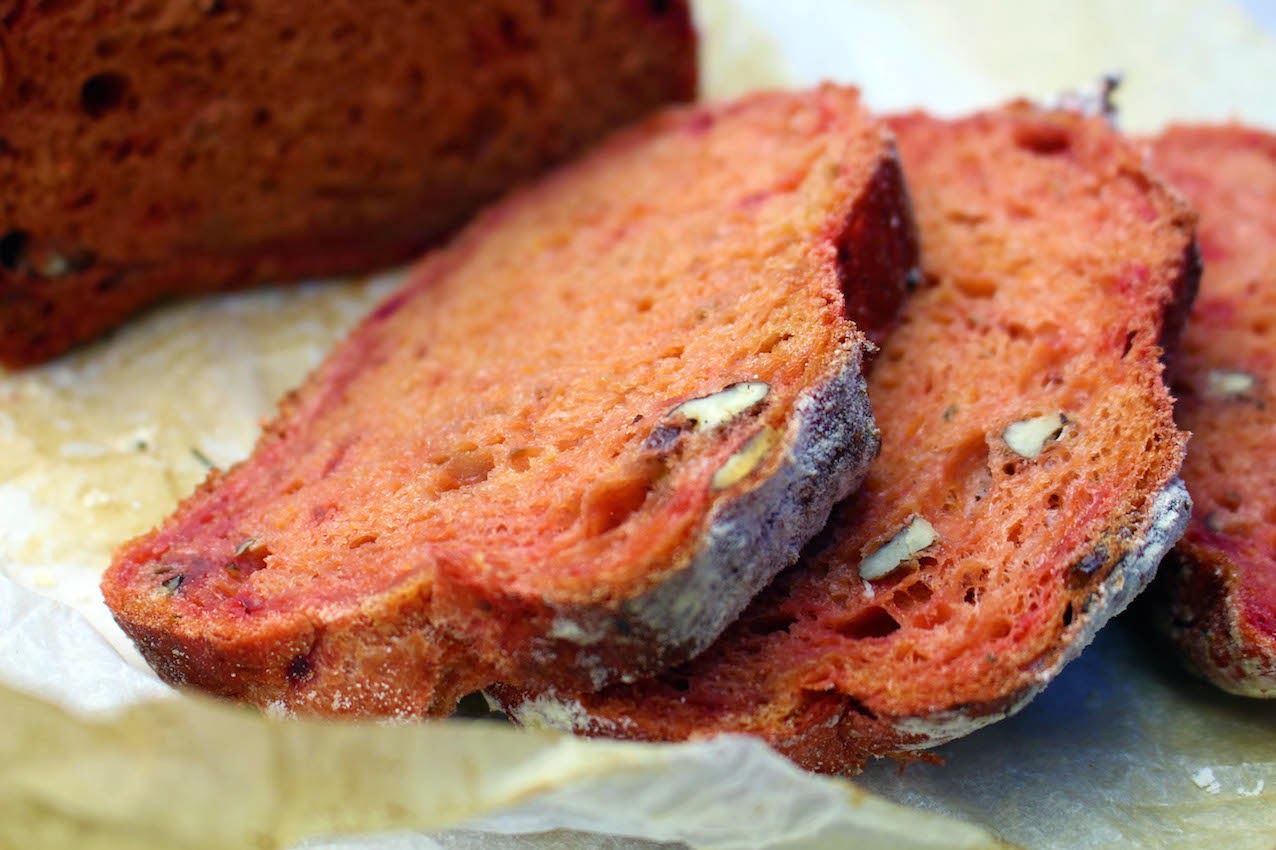 eat and of course, enjoy!