… the perfect Friday night dinner.  Like all good jewish boys the Friday night dinner holds a very special place in my heart.  Whilst we didn't consider ourselves a particularly religious family we proudly embraced any celebration involving food and this included the traditional Friday night dinner.  Most secular jewish households would welcome in the weekend sabbath with a big roast meal – the equivalent of the traditional Christian Sunday lunch which itself has become a very British institution these days of gastropubs and extended groups of friends.  As a child we we often invite good friends over to eat with us and we in turn would go to their houses for this special meal… and much like this I do like to gather the masses, be it family or friends and bung a chicken in the oven on a Friday night… the FND usually starts with a dish of chopped liver, followed by traditional chicken soup and then followed by a large roast meat of some kind, usually chicken… we like our chicken and will use every little bit of the bird if we can… it's a great way to start the weekend as you mean to go on, full of good food and a little bit tipsy with wine…

all in one – slow roast chicken thighs with plums, carrots, potatoes, garlic and celery
can you believe it's been nearly a year since I posted a chicken thigh recipe…many of my long-suffering readers will know all about my love of chicken thighs… just take a look at my word cloud in the right-hand column of this blog to see just how many recipe i've created… but should there be anyone out there who hasn't experienced the delights of the humble chicken thigh then let this super-easy, and ultra-tasty recipe get you hooked.  Chicken thighs – they MUST have their skin-on and bone in – are so wonderfully tender and tasty.  They have the perfect ration of fat to meat compared to the bland breast, which means they slow cook beautifully and after an hour or two on a low heat the meat falls of the bone and the juices become rich and deeply satisfying… they are thoroughly versatile and will take a lot of seasoning without losing their own special flavour so you can whip them into a curry or a gumbo with gusto and I suppose most importantly they are wonderfully inexpensive, even the free-range organic ones…
the victoria plums that i've added here are not traditional but work beautifully with the rich thigh meat… heavenly!
1 packet of mixed free-range chicken thighs and legs (my pack had 3 thighs and 2 legs)
1/2 large onion – roughly chopped
1 medium carrot – roughly chopped
1 large celery – roughly chopped
3 small potatoes – roughly chopped
3 victoria plums – quartered
1 bulb of garlic – cut in half through the middle
a selection of fresh herbs
a little seasoning and olive oil
pre-heat the oven to 140C
place all the chopped veg and plums into an oven proof dish or into a crockpot with a lid, season well and sprinkle with fresh herbs of your choice.
lay the chicken pieces on top, season again then cover tightly with foil or place the lid on and roast in the oven for at least an hour on 140C then take off the lid, turn the heat up to 180C and roast for a further 20 mins to brown the chicken and potatoes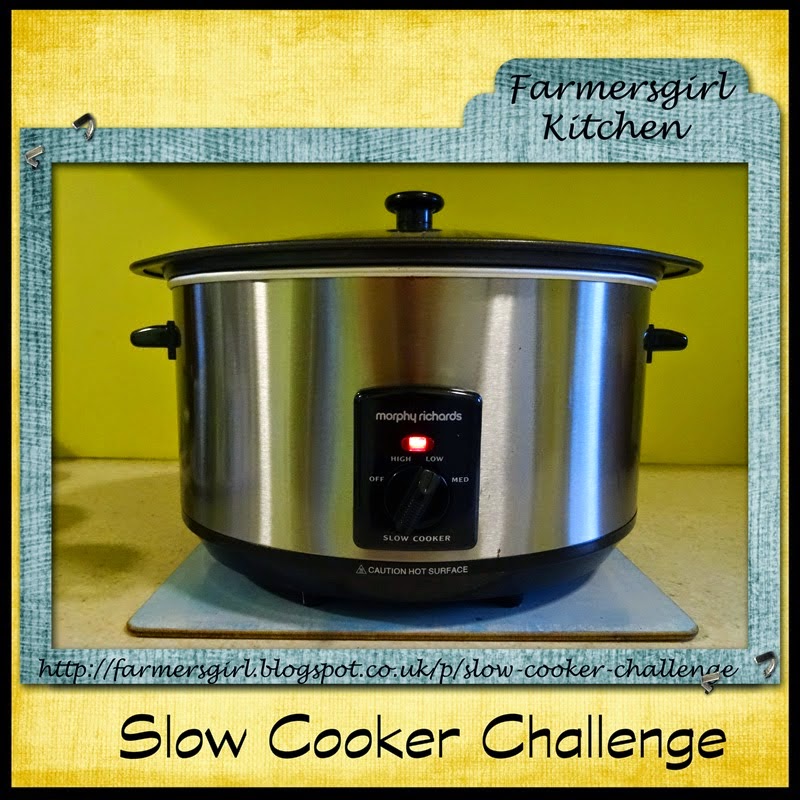 I'm also entering this dish into the Slow Cooker Challenge hosted each month by the jubilant Janice from Farmersgirl Kitchen… the theme this month is to cook something with fruit and yes I know I didn't make this in an actual slow cooker but it is slowly cooked and i'm stubbornly entering it wether she likes it or not…
eat and of course, enjoy!