… I always find it's funny when you get back from a holiday and even though you've only been away for a week it seems like it was forever, yet somehow you step back into your regular life almost without taking a breath and then another week rushes by, maybe two and that's it, the holiday has gone, ceased to be, entirely… everyone you meet kindly asks you how your holiday was and you say all the right phrases but you rarely take the time to fully appreciate quite how spectacularly different to your everyday life that last week was… and of course now with the advent of the digital age many of your friends and family will have been living the holiday with you via the pictures you've been posting to facebook and twitter so in a way you don't even need to tell them how beautiful the landscape was as they've already seen it.  I guess theres nothing wrong with this, it just seems to be the new way that we all live these days but what I really appreciate about having a blog is being able to take the time to document some of the special moments in my life through my love for food.  It seems to slow everything down just a little to make me stop and think about those little moments where perhaps I stroked a buffalo's nose…
… I made these girelle last Saturday, the morning after I got back from Italy and I spend a very lazy and long morning making them… they were beyond a doubt the most delicious bread-cake items I have made in a very long time and I think it was because I had the time and the memory of the holiday in my mind and the heat of the Italian sun still warming my back…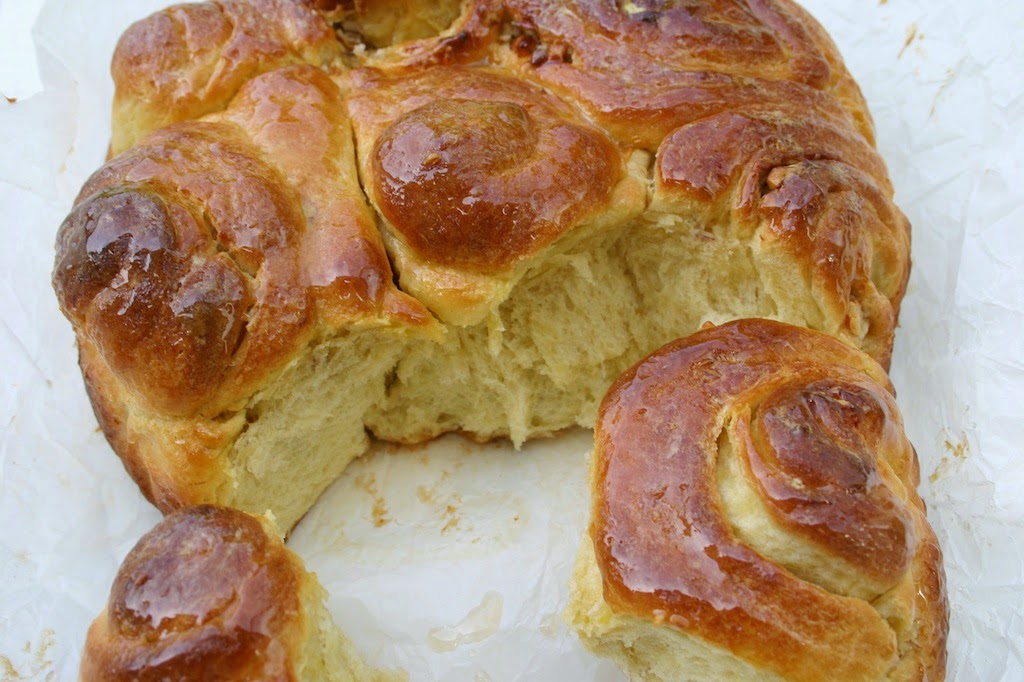 crushed almond honey girelle
the girelle we ate at the buffalo mozzarella ranch last week in Italy were beyond incredible… made with buffalo butter and buffalo milk they were rich and creamy yet light and fluffy.  The chef shared his recipe with me but it was pretty basic as he told me to make a rich brioche dough and then gave me instructions as to how to roll it into the famous girelle shape, so I was kind of left on my own here and I don't mind admitting that my first dough attempt was pretty disastrous.  This is a classic brioche recipe but the almonds in honey is my own addition.  I bought the almonds in honey in Italy but to be honest they are quite literally almonds in honey which you could make on the day you make the girelle.
if you want to be truly authentic you can find buffalo milk and butter from Laverstoke Park
you can do this by hand but a mixer with a dough hook is best… I used my kenwood hand-held mixer with it's dough-hook attachment
for the brioche dough
500g strong plain flour
70g caster sugar
2 teaspoons fast action yeast
2 teaspoons salt
4 large eggs
120ml milk – I used skimmed but any milk will work here
230g butter cut into small pieces
for the almonds in honey
1 small jar of runny honey
150g almonds
prep a large cake tin by greasing and lining with butter and parchment
start by bashing or crushing your almonds – you want them in nice crunchy pieces so do this however you like – I covered them in cling-film and bashed them with a rolling pin but if you have one of those natty nut blenders then use that – set aside
using your largest ceramic bowl and your electric mixer with the dough hook attached, mix the flour, sugar, yeast and salt until well combined, then add the eggs and the milk and continue to mix on a low speed until the mixture starts to come together, then increase the speed a little and knead for 4 minutes.  I found the dough to be quite wet and very sticky but I turned the bowl as I mixed and it worked well.  You may need to stop mixing for a moment to scrape the bowl and scrape down the dough hook so keep a silicone spatula or dough scraper handy.
with the mixer on a medium speed, add half the butter a few pieces at a time then remove the dough hook and knead the dough by hand in the bowl bringing the butter into the dough and folding it in on itself a few times.
then go back in with the dough hook, add the remaining butter and mix the dough on medium for another 4 minutes… then scrape down the bowl once more, increase the speed of the mixer and knead again for another 4 minutes… you're looking for a glossy, smooth finish to the dough and you should start to hear the dough slap against the side of the bowl a little.
generously flour your work surface and then scrape the dough onto the floured surface, it may still feel very sticky and wet but this is ok, just remember to have a light touch when handling the dough…
dust your hands and knead the dough a few times forming it into a bal by folding the sides up into the centre and turning it over to repeat.  Once you have a neat ball, place this back into your bowl, cover with cling film and let it rise gently in a warming place for at least an hour or until it has doubled in size… after this time, knock the dough back, scrape it out of the bowl, knead gently again for a moment and place back into the bowl, covered in film, to rise for a second time – again about an hour.
pre-heat your oven to 180C
now you're ready to form your girelle
again, generously flour your work surface and tip the dough out onto this.  dust a rolling pin and roll the dough out into a large thin sheet – go as thin as you dare without it becoming translucent
sprinkle your crushed nuts over the bottom half of the dough nearest you and then drizzle over your honey, then fold the top half of the dough over the bottom half and pat down with your hands
to form the girelle, cut long strips in the dough roughly half an inch wide and then gently roll them up into a snail shape or spiral…  the dough is very loose and floppy so you have to work fast… then place each girelle into the prepped cake tin, forming a flower shape with one central girelle surrounded by 6 others – I had enough dough to fill a large cake tin and some left over to form into a mini loaf – cover loosely in film and set aside for 25 mins
bake on 180C for 25 mins, then remove from the tin, place on the oven shelf and bake for a further 10 minutes – set aside on a wire rack to cook and as it's cooling brush the top and sides with a little honey
eat and of course, enjoy!