… as a food blogger I am often approached by brands and organisations talking about one initiative or another and inevitably the message always leads back to food sustainability and the environment.  I really don't need to tell you that it is now a huge part of our daily lives all over the globe and none of us can be nonchalant about the impact we have on the planets resources.  However when every brand shouts about it, it can all become a little beige and sometimes it's hard to see how taking part in whichever initiative is at hand, can really make a difference… and that is where the good people at Start come in very handy.  They've created a new initiative called #GetFoodSmart which encourages us all to really think about our food, where it comes from and the impact it has on the world around us, from air miles to local workers pay, from how the produce is grown to thinking about changing your diet to help both your health and the health of the planet…
… what's great about this initiative is that they don't just tell you to do it but they guide you with suggestions of how to do it and not only that but they're working with some of the UK's biggest supermarkets to help them do it the right way, so in essence you're doing your bit just by making your choices in the supermarket and getting involved with the #GetFoodSmart campaign… I know many of us already take part in a few bloggers challenges that advocate this ethos anyway but why not make one small change this week such as plant some salad seeds in a shoe-box and grow your own lettuce for the summer… or how about not eating meat one day per week… or how about trying to shop local for a whole week – the summer is the perfect time to eat seasonably as there's an abundance of food and you really wouldn't notice the difference…
the #GetFoodSmart team have created their 5 pillars of the initiative that I think help clarify the message neatly and they are:
1. eat seasonably 
2. buy local
3. eat less meat and more fruit and vegetables
4. grow your own
5. know where your food comes from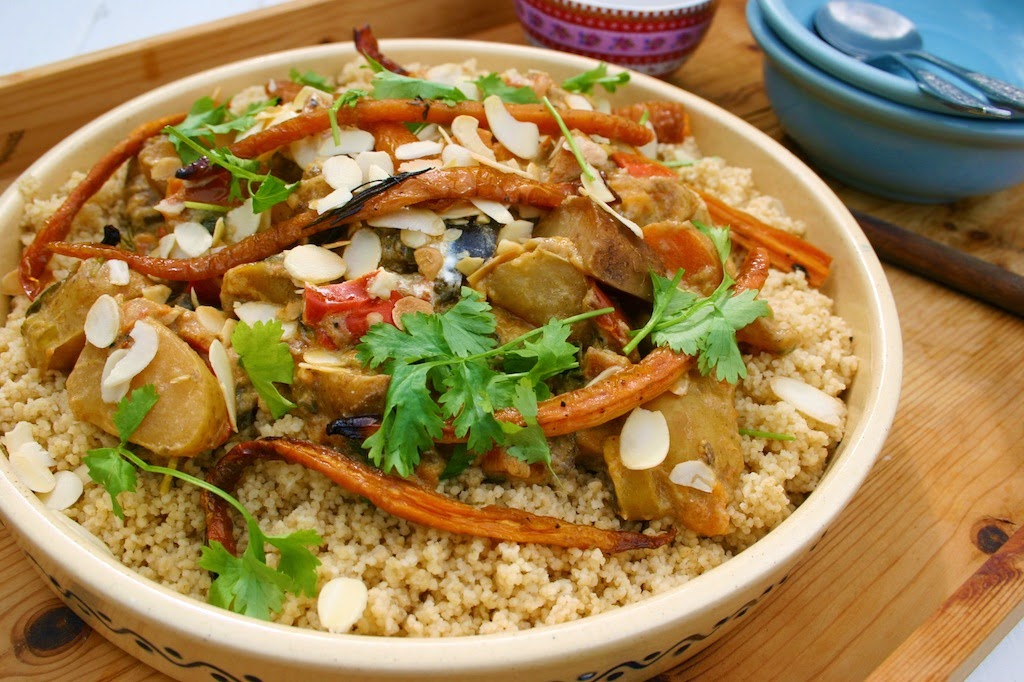 roast carrot and summer vegetable tagine 
to help promote the whole campaign I have been sent a couple of incredible boxes from local organic food growers Abel and Cole from which I want to make a couple of hopefully delicious dishes to help inspire you to think smarter about what you shove in your mouth… i'm starting early this morning as the delivery van has just pulled away from the cottage and I'm so excited about the vegetables… there are a couple of exotic and exciting looking cabbages that I don't think i've ever seen before but the rest is all lovely traditional veg perfect for all kinds of things including this vegetable tagine which has a summer twist as i'm using spring onions and new potatoes in the mix as well as an abundance of other glorious veg.  The sweet roast carrots add a different texture and flavour to the overall tagine and work well as a replacement for a sweet lamb or chicken.  This tagine is also perfect for today as we're having one of those typical British Summer thunderstorm days… it's not horribly cold but now the heating is off full time, having the oven on with a delicious slow-cooking tagine creating aromas that waft through the house is particularly warming and lovely…
for the roast carrots
6 or 7 long carrots – un-peeled, sliced lengthways
rosemary and thyme
olive oil
3 teaspoons dark brown sugar
for the tagine
5 large salad or spring onions – thickly sliced
1 medium carrot – sliced and halved
2 cloves of garlic – peeled and crushed
9 or 10 new potatoes – cut into chunks – skin on
1 courgette – thickly sliced
1 aubergine – cut into chunks
1/2 red pepper – sliced
1/2 yellow pepper – sliced
2 teaspoons ras el hanout spice mix
2 large beef tomatoes – roughly chopped
1/2 glass white wine
1 pint good quality vegetable stock
seasoning
fresh chives and coriander
olive oil
2 tablespoons TOTAL Greek Yoghurt
for the tagine i'm using a large heavy casserole pan with a lid that can go from hob to oven…
for the carrots simply lay them in a roasting tin, drizzle with oil, sprinkle with sugar, salt, pepper and fresh herbs and roast on 160C for about an hour, set aside
heat the pan and melt about 2 tablespoons of olive oil and a little butter then throw in the onions, carrots and garlic and let them sweat a little on a medium heat – roughy 5 mins
next, throw in the potatoes and 1 teaspoon of the ras el hanout spice mix, stir around, turn up the heat and let it all shimmy for another 8 minutes
reduce the heat, throw in the rest of the veg, stir and give it another five mins before adding the wine and half the stock.  Sir in the fresh herbs, place the lid on and let it bubble for a few mins before popping in the oven, set to 120C for at least 4 hours until it has all reduced and become a gorgeous, thick stew… you can take it out of the oven now and serve but I like to leave it in the cooling oven and about an hour before you want to eat, turn the heat back on, add the rest of the stock and bring it up to temperature
before serving add a tablespoon or two of TOTAL Greek yoghurt and stir in, i'm also serving this with some organic couscous with flaked almonds and honey
i'm entering this tagine into the Shop Local challenge hosted by Elizabeth's Kitchen Diary
eat and of course, enjoy!