the impressive facade of Inglewood
… as regular readers will know I am not really a restaurant reviewer.  If i'm totally honest I find reading reviews completely dull and I would much rather experience the food for myself and make my own mind up.  Most reviewers understand this about many of their readers which is why they have become such comedians with their witty writing style and acerbic penmanship… wether you love them or loath them, the likes of AA Gil and Jay Rayner are a great read, not because of what they say about the food but because of what they don't say.  It is an art and I leave it to them… but on occasion I get invited along to a place such as when I reviewed my disastorous tea experience at the Radisson Blu or when The Viking and I went to the wonderful Electric Bar and Restaurant at the DoubleTree Hilton in Lincoln… so when I received a request to come along and experience an evening of food, deep in the middle of the Berkshire countryside I simply couldn't resist.
the walmesley restaurant
A rainy and cold train journey took The Food Urchin and myself out of London's Paddington up to the little town of Kintbury where we were met by the team from The Walmesley and driven deep into the darkness of the surrounding gloom.  Fortunately The Walmesley is situated in what appears to be a glorious stately home and appears out of the wet night like a beacon welcoming us into its warm embrace.  It's an impressive building although we soon discover that none of it is real – the old building was in such a poor state that they had to raise the original to the ground and re-build it – and this sets us on what can only be described as a rather surreal evening of wonderful food and the old and recently retired… for you see The Walmesley is located in the heart of a luxury retirement village.  We had the obligatory tour of the Audley Inglewood retirement village which was all very nice and done to an incredibly high-spec but to be honest I found the experience a little depressing, firstly that it's the possible reminder of what's to come and secondly that i'll probably never be able to afford the likes of it anyway…
venison loin with red chard, charred carrot and juniper jus
… but the real reason we were there was to review the restaurant, which is open to the general public and inmates alike and if you find yourselves in the Berkshire countryside of an evening I would highly recommend it… we were joined by the adorable Urvashi from The Botanical Baker and given a paired-down version of the tasting menu, starting with a wonderfully velvety cauliflower soup amuse bouche with smoked trout which was delicious and a great way to set up the delightful meal to come… a jerusalem artichoke veloute was rather special but it was the pan-fried brill with brown shrimp and brussel sprout fricassee that really made me happy –  the fish was cooked to perfection and was presented beautifully with toasted almonds that were an unexpected but triumphant compliment to the fish… an extremely well prepared and beautiful venison loin followed the fish and the meal was rounded off with a slightly lack-lustre coffee and vanilla parfait…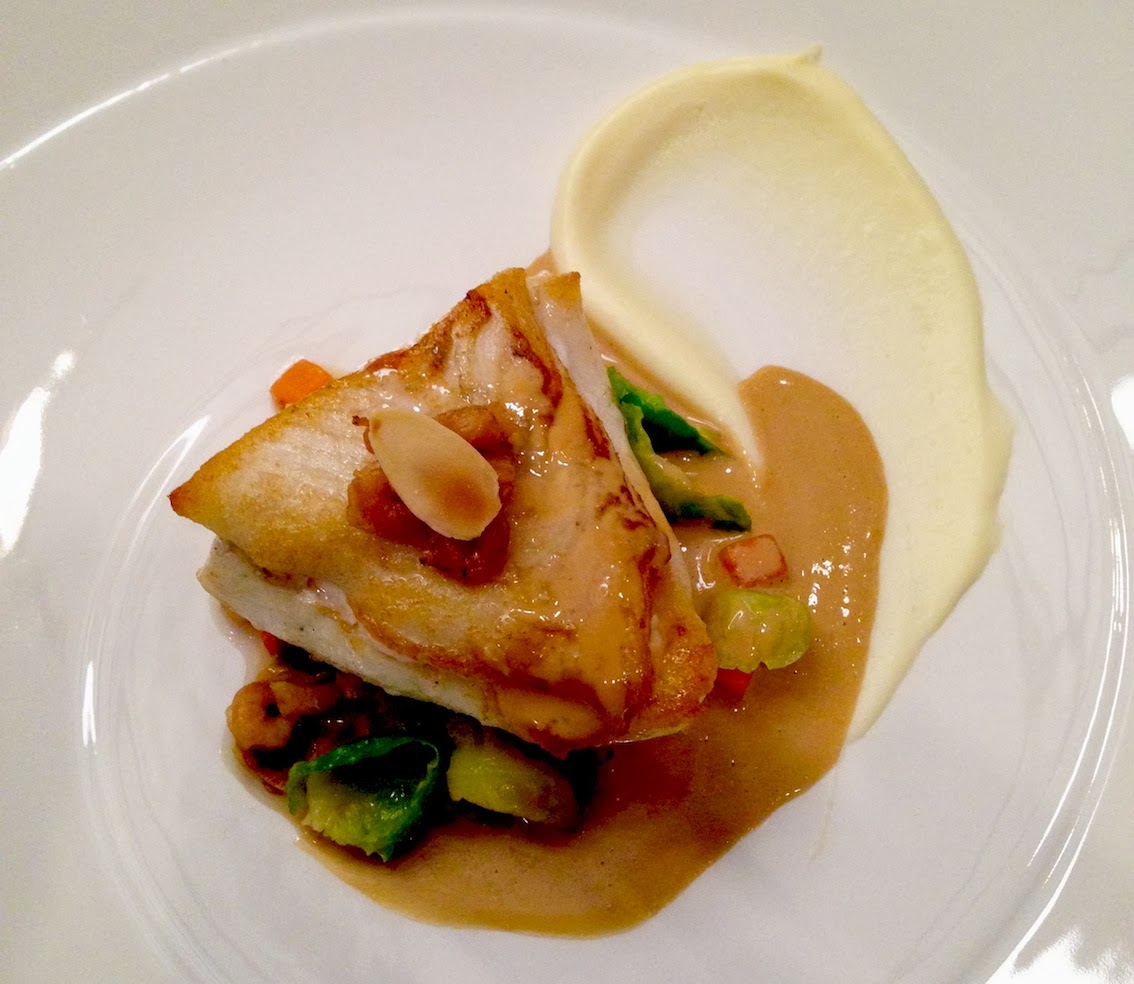 Pan-fried Brill with brown shrimp, brussels sprout fricassee, celriac and cognac bisque
… all in all the head chef Gert Pienaar excelled himself and impressed the entire table and my only critisism would be that everything was the same texture and almost the same colour… it was all a little soft and beige, something that even one of my instagram followers pointed out after seeing my tirade of gratuitous pictures of the evening.  I don't think this is intentional for the potentially loose-toothed residents, in fact it's a complaint I have of many of these 'fine-dining' type restaurants… everything is whipped and frothed and pureed and water-bathed to within an inch of its life and yes, if may taste amazing but I would have liked a little crunch here and there…
The Walmesley Restaurant is located at the Audley Inglewood Retirement Village, situated in the village of Kintbury, Hungerford, Berkshire… the tasting menu runs at a not so dreadful £55 per person not including wine.
Trains to Hungerford run regularly from Paddington via Reading.
eat and of course, enjoy!