… so of course whilst my physical travels may be sadly over, my culinary travels will never cease and even though i've been to california a number of times now I still have so much to learns about californian cuisine and all it has to offer… there's a huge amount of variety and global influence in the food, naturally there's a lot of seafood but there's also a huge amount of beef on offer as they pride themselves in their high-quality grass-feed hamburgers and it is true that even buying a burger from what can be perceived as a 'low-end' burger joint is a far more pleasurable experience than here in the uk.  They include some very 'left-of-centre ingredients in their cooking and being so close to the border also has a big influence on the californian pallet with many an ordinary dish being spiced up with the taste of mexico… from something as simple as an omelette to spicing up a plate of french fries… oh that's got me started now… the variety of fries on offer is as almost overwhelming from sweet potato to the regular chip there's a coating and a cut to suit every stomach… and as you can imagine I used very little will-power to say no on this trip…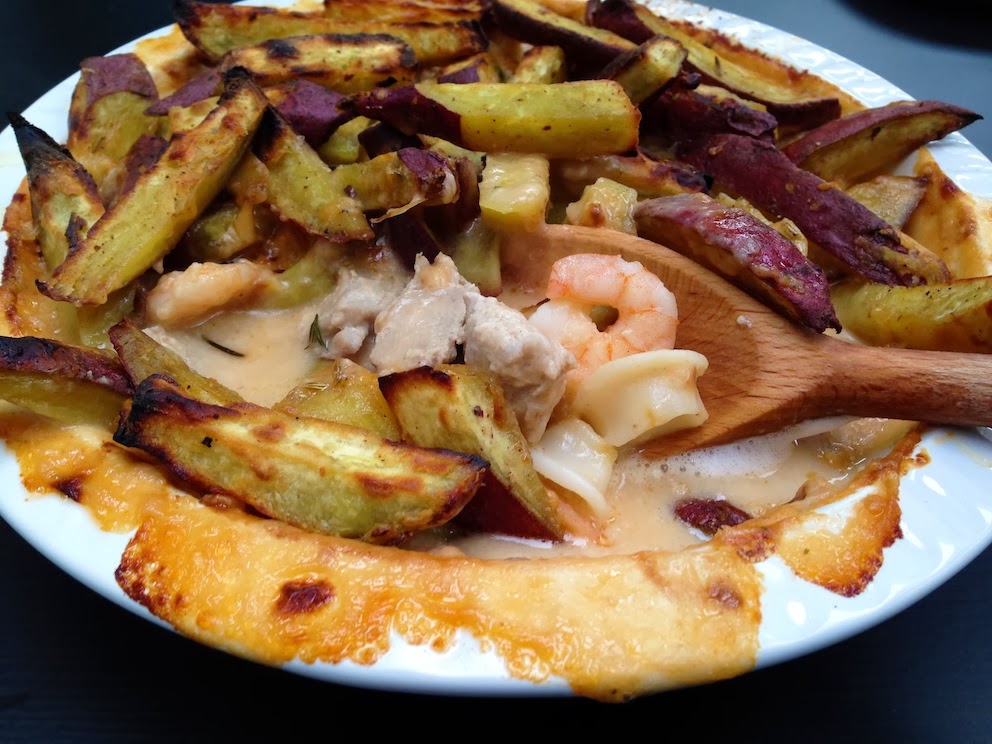 californian seafood pie with chunky sweet potato fries topping
in order to bring a some sunshine and a lot of comfort home i've gone for a little flavour combinations of my own here… i've also mixed up the classic fish-pie topping with a chunky sweet potato version.  I've used some wonderful fresh, californian inspired seafood but you could go for whatever fish variety you like… and i've spiced it all up with some classic mexican seasoning such as cumin and chili… i've also thrown a little goats cheese into the sauce to give it some californian freshness…
as you can see my sweet potatoes were the white variety… I actually wanted them to be orange but I was tired when I selected them… give me a break, i've quite literally just got off an aeroplane!
for the sauce
75g butter
1 tablespoon plain flour
1 teaspoon garlic powder
1 teaspoon cumin powder
1 teaspoon dried oregano
1 teaspoon chilli powder
1 pint of milk
a little goats cheese
1 medium tuna steak
500g uncooked king prawns
500g uncooked squid – chopped into rings
a pinch of fresh fennel
a pinch of lemon thyme
olive oil
for the sweet potato fries topping
3 large sweet potatoes – cut into chunks
1 teaspoon garlic powder
1 teaspoon cumin powder
1 teaspoon dried oregano
1 teaspoon chilli powder
olive oil
start with the fries by placing the cut potatoes into a bowl, drizzle with olive oil and sprinkle over the spices, shake it all together and lay out onto an oven tray and bake on 180C for 20 mins until begining to turn golden
next, to make the sauce first combine the spices with the flour then melt the butter in a pan over a gentle heat, then add the flour and stir into the butter off the heat, slowly add the milk a few tablespoons at a time, removing from the heat to stir so that you don't get any lumps.  Continue this way until all the milk is used, then gently heat through for about 5 minutes, watching it so it doesn't bubble over, you should end up with a thick sauce – crumble in the goats cheese and stir through, then throw in the dill and lemon thyme
place the fish into your dish, cover with the sauce and then lay over the chunky fries and bake for 15 minutes until bubbly and golden
eat and of course, enjoy!