or – a little something for meat lovers and veggie lovers alike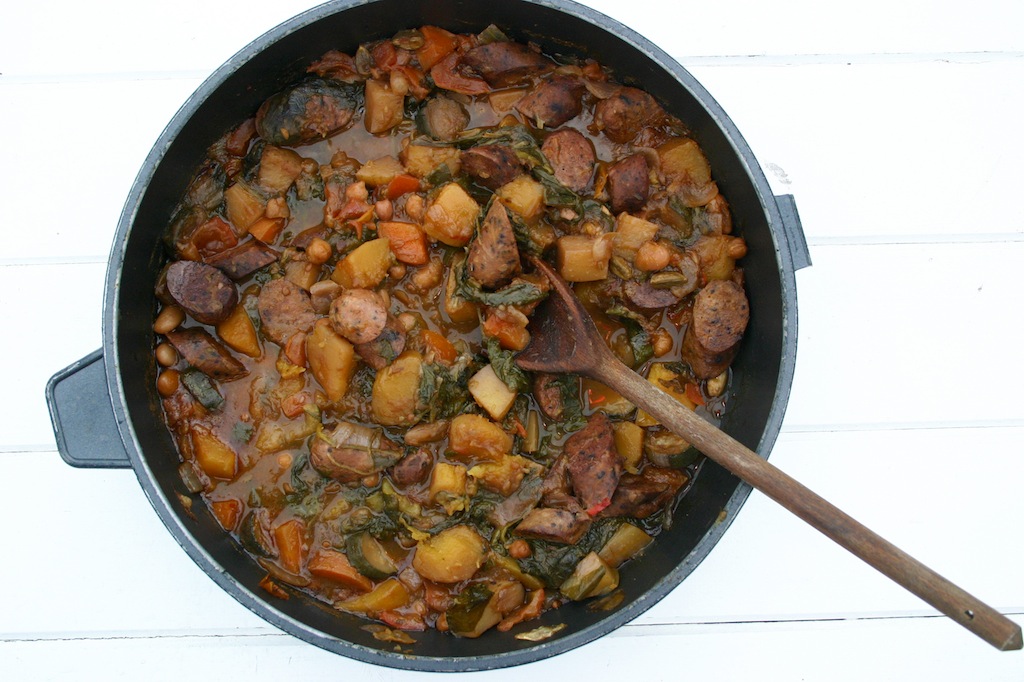 … the viking and I are off to marrakech on Friday and we're very excited as it will be our first visit and my first time on the african continent… it's a swift visit – just the weekend – but it's for a wedding of an old friend and it looks like it's going to be one of those 3 day, highly glamorous affairs, floating from party to sun-lounger to souk to party… the theme for the actual wedding event is 'colonial sheik' and as you can imagine we've spent the last few months planning and shopping for fabulous outfits and let's just say that we're not packing light!
I thought i'd try a little pre-trip flavour visit to the region, you know… just to get the taste buds into gear and with the weather turning rather grim this last weekend I thought i'd create this glamorous little number as my take on a collection of typically moroccan ingredients… ok so it's not 100% authentic but I have the essence of all that i've gleaned from the cookbooks along with some incredible organic ingredients such as the beef and the squash… I guess the important thing is that it tastes wonderfully rich, sweet and complex which I imagine the way the real morocco will taste…
moroccan stew – with either veggie sausage or beef
I am often asked if I cook two meals when i'm cooking for The Viking as I do seem to cook quite a lot of non vegetarian meals here on the blog and you'd think i'd spend my time prepping for him as well but if you really knew me you'd know that i'm waaaaay too lazy for that… mainly what I do is prep big, one-pot dishes, insuring the veg are sauted and spiced well and then divide the veg and add the meat at the end… it means having two casserole dishes but to be honest i've found it a really simple and great way to cook… I end up with some big meals that last over a few days or that can easily be portioned and frozen… as well as some lovely berlotti beans and chickpeas and a whopping butternut squash, I was sent some incredible organic aberdeen angus stewing beef as part of my second
Organic. Naturally Different.
package and it tastes utterly divine… i'm not just saying this but you can taste the quality and therefore any dish that makes this flavour last for as long as possible is bloody great…
this is the recipe for both the meat and the veggie version – each stew will easily feed four, if you only want to cook one, simply halve the ingredients
2 onions – roughly chopped
2 carrots – roughly chopped
4 cloves of garlic – crushed
1 teaspoon fennel seeds
1 teaspoon cumin seeds
4 or 5 cardamom pods – crushed
1 teaspoon paprika
1 teaspoon dried chili
a pinch of cinnamon
1 butternut squash – roughly chopped
5 tomatoes – roughly chopped
1 tin of berlotti beans
1 tin of chickpeas
1 large bag of baby spinach leaves
200ml red wine
200ml good veg stock
a handful of sultanas
salt and pepper
olive oil
6 vegetarian sausages – sliced
500g diced aberdeen angus organic beef
in one pot gently saute the onions and garlic in a little oil and butter and then as they turn translucent add all the spices and let them heat and simmer with the onions for about 5 mins, then add a little more oil, turn up the heat and add the squash and let this brown nicely, which will take a little while.
now, scoop out the onions and squash and set aside whilst you brown your meat… at the same time you can gently saute the veggie sausages on your other pan… if you're going for plain veggie sausages you could add a little more spice to the pan with them as you saute them… when the meat and veggie sausages are brown, scoop them out and set aside.
pop the onions and squash into the pan you cooked the veggie sausages this time and add the rest of the hard veg along with the tomatoes, let them simmer for about 8 minutes or so before scooping out half of whats in this pan and into the other pan… then divide the rest of the ingredients between both pans adding the meat into the meat pan and the veggie sausages into the veggie pan (phew… i'm exhausted and a little confused after all that…)
gently simmer both pans on the lowest heat for at least 3 hours if not longer then serve with some steamed cabbage and couscous
eat and of course, enjoy!