… i'm finally starting to feel like myself again and this can only be a good thing, all we need now is for the weather to at least pretend it's summer and the whole country might perk up a little… i'm feared that without a jubilee or an olympics we may all slump into a damp doldrum if we're not careful.  If I had my way i'd ensure the country of at least one enforced national tea party every month in the summer.  Home-made fairy cakes, bunting and cucumber sandwiches all an essential part of the kit.  With our growing reliance on the internet and mobile technology to 'keep us connected' we are I feel, more disparate than ever before and a little bit of community spirit goes a long way… I actually think it's one of the reasons why these dreadful, cheap television programs such as Britain's Got Talent etc. are so successful as what they actually do is bring the country together for a common cause and weather we're cheering a winner or booing an villain, there's nothing more us Brits love than a bit of national togetherness…
i'm glad I waited till I felt better to start baking bread again… they say you shouldn't bake bread when you're unwell as it will come through in your baking… well I think this lovely loaf is proof of an improving me… don't you think?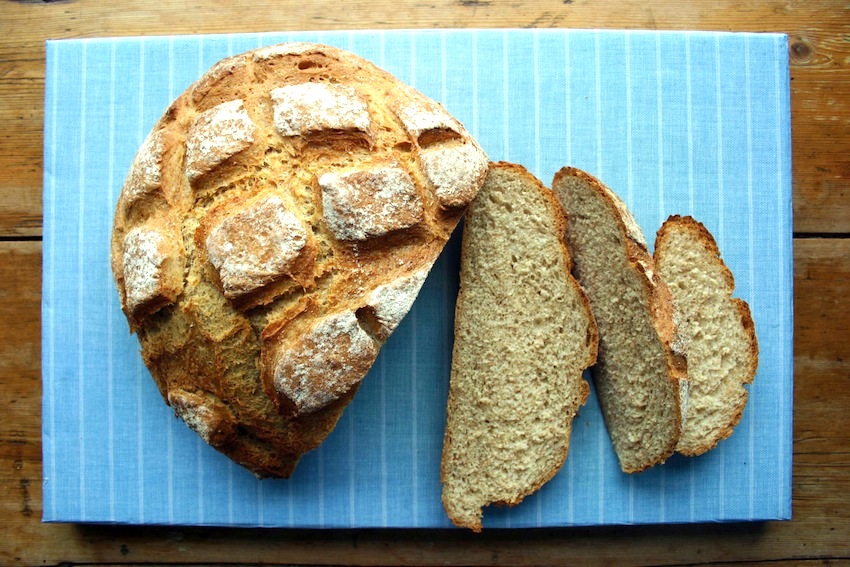 superfast wholemeal sourdough
i've stumbled upon a way to capture a little of that sourdough magic in a fraction of time it takes to grow a true sourdough starter… not that i'm advocating you shouldn't start a starter, it's a wonderful thing to be sure but if, like me, you're all over the place and tend to forget things easily when you're not focussed on one thing then you can end up killing the poor thing after you've spent months if not years growing it… this way you get a little glimmer of that glorious taste, not so much of the open texture but a lot of the crunch just with a lot less nurturing… the superfast starter you end up with here is enough for two loaves, one you can make after 8 hours and one the next day for an even fuller flavour…
to make the starter:
2 teaspoons fast-action dried yeast
225g white flour
300ml warm water
for the finished loaf:
200g strong white bread flour
175g wholemeal flour
1 1/2 teaspoon salt
1/2 teaspoon sugar
1 teaspoon sunflower oil
175ml warm water
the night before you're going to bake (min 8 hours) combine the starter ingredients in a bowl until fully mixed.  wrap in clingfilm and set aside overnight.
the next morning, take a large bowl and combine all the loaf ingredients with 225ml of the starter until you have a dough, tip out onto a lightly floured surface and knead for 10 minutes or until soft and elastic.  place in an oiled bowl, wrap in clingfilm and set aside for an hour or until doubled in size
meanwhile cover your starter and set aside to use the following day
after an hour, knock back the dough, turn it out onto a lightly floured surface and fold into a ball shape, place this onto a baking sheet, cover loosely with an oiled sheet of clingfilm and let it rise for another hour, then dust with flour, slash across its top, spritz with water and bake in a hot oven (210C) for 10 minutes followed by 20 minutes at 180C
tap the bottom for that hollow sound to know it's ready, then set aside to cool completely before cutting.
eat and of course, enjoy!