…it's been a completely crazy week again and what was once Monday is now Friday and I can't quite believe how i've managed to fit it all in… between the lovely film crew from yahoo.com spending the day in my kitchen filming me for a new collection of short stories about food heritage and making a Total Greek Yoghurt celebration cake at an Eric Lanlard masterclass, which quite frankly was a little more like a frenzied episode of the Generation Game than a study in elegant patisserie, I think i've done quite well not to collapse… body still healing and I've realised that 2 weeks in bed means I have no strength for the basic things like standing up for more than an hour or running up the escalator at Oxford Circus (believe me, I had to sit down for 10 minutes)… which is why a hearty bowl of fresh and healthy pasta and vegetables is exactly what I need to revive myself… quick and easy and just very very tasty…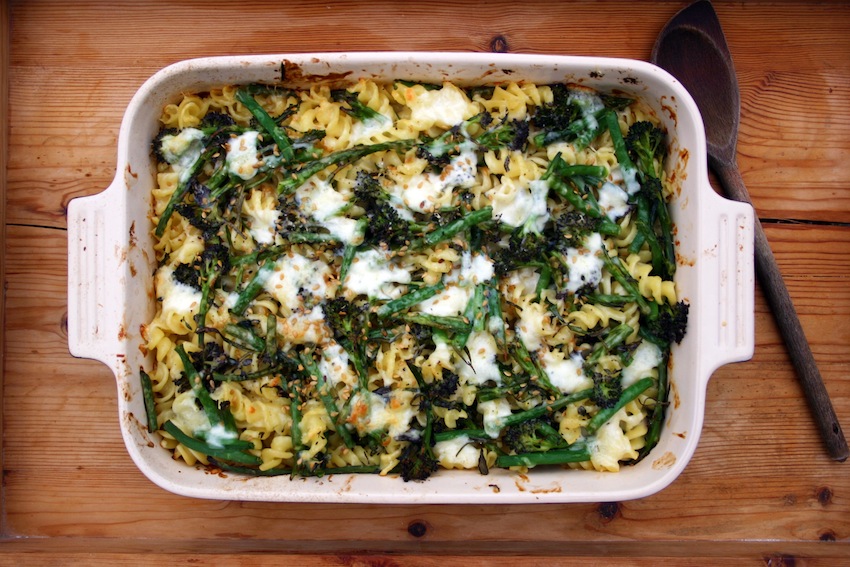 cheesy pasta bake with broccoli, green beans and linseed
I was recently sent some very tasty laughing cow light with emmental from the good people at the laughing cow who make the famous delicious cheese triangles… I always remember eating the original French la vache qui rit when we went on holidays to France as a child and have loved them ever since.  I've always found them to be a very good quality processed cheese and when you're in need of something cheesy and creamy on toast in the middle of the night they're a little triangle of loveliness… and now they're extending their range into a few other flavours… it's nice to see them grow up a bit with the emmental and blue cheese flavours… which work great on their own or perfect in this creamy cheesy pasta bake…
for the bake
500g Garofalo Fusilli pasta
a handful of purple sprouting brocolli
a handful of green beans
1 teaspoon linseed
50g parmesan
4 laughing cow cheese triangles
for the cheese sauce
50g butter
1 tablespoon flour
1 teaspoon mustard powder
1/2 pint milk and 1/2 pink veg stock
50g parmesan 
50g mozzarella 
4 laughing cow cheese triangles
start by par-boiling the pasta in a lot of boiling water… take it as far as the al dente stage then drain and pour into your baking dish
next steam your veg, again to the al dente stage, it needs a little bite as it's going to be baked again and you don't want it turning to mush, layer the veg over the pasta in the baking dish
now make your cheese sauce by heating the butter gently in a small sauce pan, then once it's melted take the pan off the heat and add the flour.  Stir this until you get a thick paste, then add a little drop of milk and stir this in… continue this way, placing the pan on and off the heat and you stir until you have a nice thick sauce, once all the milk has gone let it bubble very gently for about 5 minutes so that the flour cooks off then add the mustard and the cheeses and stir in.
pour this sauce over the pasta and veg, then add a few more torn bits of cheese and a sprinkling of parmesan and some linseed then bake for 20 minutes until golden and bubbling
eat and of course, enjoy!